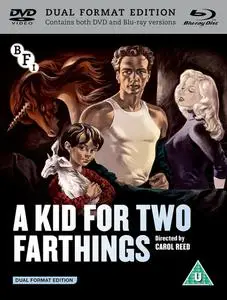 A Kid for Two Farthings (1955) [British Film Institute]
BDRip 1080p | MKV | AVC, 1440x1080, ~ 3.7 Mbps | 1hr 32mn | 2.68 GB | English: AC3, 2 ch, 448 kbps
BDRip 720p | MKV | AVC, 960x720, ~ 2.5 Mbps | 1hr 32mn | 1.78 MB | English: AC3, 2 ch, 256 kbps
Subtitles: English
Genre: Comedy, Drama, Family
In a lower-class London community of small shops, open-air vendors and flea-marketers, Joe, a small boy, lives with his mother, Joanne, who works in and rooms above the Kandinsky tailor shop. Joe is innocently and earnestly determined to help realize the wishes of his poor, hard-working neighbours. Hearing from Mr. Kandinsky the tale that a captured unicorn will grant any wish, Joe uses his accumulated pocket change to buy a kid with an emerging horn, believing it to be a unicorn. His subsequent efforts to make dreams come true exemplify the power of hope and will amidst hardship.