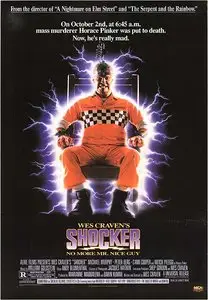 Shocker (1989)
A Film by Wes Craven
DVD5 | VIDEO_TS | PAL 16:9 | 01:45:29 | 4,11 Gb
Audio: #1 English, #2 Français, #3 Español- AC3 2.0 @ 192 Kbps (each track)
Subtitles: English, Français, Español, Nederlands, العربية, Português
Genre: Comedy, Horror, Thriller
A murderous TV repairman, Horace Pinker is killing people in a small town left, right and center. He eventually finds the home of Lt. Parker, who is investigating his crimes, and savagely murders Parker's wife, son and daughter. His other son, Jonathan has a strange connection to Pinker through his dreams, and he directs his father to Pinker's business, where a small group of officers enter. Pinker escapes in a horrific spree, killing four officers and then targeting Jonathan's girlfriend, Alison. Another dream leads Jonathan and his dad to a residence where they catch Pinker in in the act of kidnapping…..