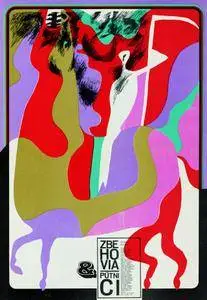 The Deserter and the Nomads (1968)
TVRip | AVI | 704x528 | XviD @ ~1850 Kbps | 99 min | 1,38 Gb
Audio: Slovenčina MP3 @ 128 Kbps | Subs: English (srt)
Genre: Drama, War
Through a variety of film styles that provide a surrealistic sensory overload, Slovak director Juraj Jakubisko provides three war stories that treat the fragility of the humankind through different approaches, with Death as a common denominator appearing in all stories. In the first chapter (WWI), a gypsy deserts the army to return to his town for a wedding. To protect himself, he dresses up as a woman. However, the Hussars spot him, unleashing violent confrontations in the village. In the second chapter (WWII), Russian partisans kill an old man suspected of being a German spy. The news that the war is over scatters. Celebrations begin. But a German unit is unaware of this, and stumbles upon the celebration. In the third chapter (Post-Apocalyptic Nuclear Holocaust), two survivors begin an extensive search for other remaining people, but Death seeks them out too.