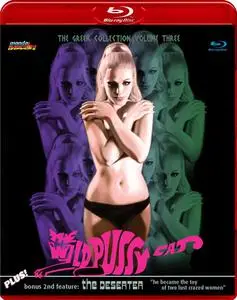 The Wild Pussycat (1969)
English and Greek versions
BDRip 720p | MKV | 1280 x 720 | x264 @ 2560 Kbps | 1h 24mn/1h 26mn | 1,61 Gb / 1,63 Gb
Audio: English / Ελληνικά - AC3 1.0 @ 160 Kbps | Subtitles: English (on Greek version)
Genre: Crime, Drama | Director: Dimis Dadiras
The WILD PUSSYCAT is an unsung classic of exploitation cinema. Produced in Greece in 1968, it was not officially released there until 1972 and then only in a cut and compromised version. The simple plot concerns a women whose sister was exploited and driven to suicide by a sleazy pimp. In order to get revenge on him the woman seduces the man, drugs him and imprisons him in a sound proofed room, tormenting him through a large one way mirror (he can see out, no-one can see in) by performing sultry strip tease dances and having sex with men and women while he can only look on, helpless to stop it or join in. Her final vengeance on him is so shocking it raises eyebrows even today.