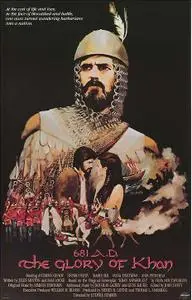 Aszparuh (1981)
WEB-Dl 1080p | MKV | 1920x1080 | x264 @ ~1200 Kbps | 323 min | 3,71 Gb
Audio: Български AAC 2.0 @ 125 Kbps | Subs: English (srt)
Genre: Drama, War
The 7th century is the time of the Great Migration of the Peoples. Under the pressure of the invaders the proto-Bulgarian tribes of Khan Kubrat are forced to split in four parts in the hope that one would survive. For twenty long years Kubrat's youngest son Khan Asparoukh led his people across many foreign lands to find eventually a new homeland on the Balkan Peninsula and this time forever. The story is told by Byzantine Velisarius, a hostage with the Bulgarian who witnesses the whole of their difficult march. He sees the suffering of the people whom he already feels close to his heart and the personal drama of their Khan Asparoukh. In 681, in alliance with the local Slav tribes, the proto-Bulgarian deal a decisive blow on numerous Byzantine army, thus 13 centuries ago the foundations of the Bulgarian state and nation were laid down.