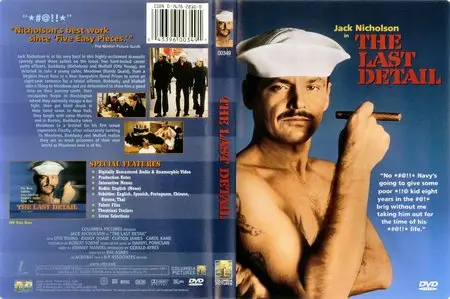 The Last Detail (1973)
DVD5 | VIDEO_TS | NTSC, 16:9 (720x480) VBR | 01:43:56 | 3.9 Gb
Audio: #1 English AC3 2.0 @ 256 Kbps | Subs: English, English HoH
Português, Español, 한국어 , 中文, ภาษาไทย
Genre: Comedy, Drama
Two Navy "lifers" and one military innocent briefly attempt to thumb their nose at Authority in Hal Ashby's The Last Detail (1973). "Badass" Buddusky (Jack Nicholson) and "Mule" Mulhall (Otis Young) are assigned to escort young sailor Meadows (Randy Quaid) from their Virginia base to a New England military prison, where Meadows will serve an eight-year sentence for attempting to swipe the commander's wife's polio donation can. Buddusky thinks that the sentence is a waste of Meadows' formative years, and he convinces a skeptical Mulhall to show the hapless Meadows a good time by partying on their per diem for the rest of the detail's allotted week.