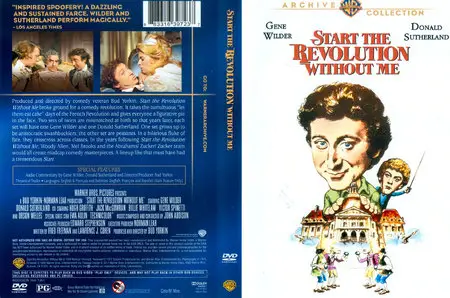 Start the Revolution Without Me (1970)
DVD5 | VIDEO_TS | NTSC, 16:9 (720x480) VBR | 01:35:59 | 4.2 Gb
Audio: #1 English AC3 1.0 @ 192 Kbps; #2 Français AC3 1.0 @ 192 Kbps
Subs: English, Français, Español
Genre: Comedy, Farce
Two French peasants are mistaken for a pair of aristocratic nobles in this historical situation comedy. Gene Wilder and Donald Sutherland play the dual roles. Happy to be taken for nobles, the pair soon runs to escape the guillotine in the wake of the French Revolution's blood purge of the upper class and royalty. Hugh Griffith play Louis XVI, with Billie Whitelaw as the amorous Marie Antoinette. The pair are chased by the evil Duke d'Escargot (Victor Spinetti). Orson Welles appears at the beginning and the end of the film as the narrator. Wilder and Sutherland encounter a variety of comical situations in their dual roles of peasants and blue-blooded eccentrics.