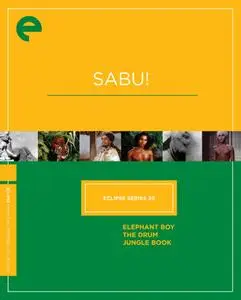 Eclipse Series 30: Sabu! (1937-1942) [Criterion Collection]
DVDRip | MKV | AVC, ~ 1700 kbps | 720x480 | 3 x ~ 1hr 30mn | 3 x ~ 1.3 Gb
English: AC3, 1 ch, 384 kbps | Subtitles: English
Genre: Adventure, Drama, Family, War, Action
In the thirties and forties, the young Indian actor known as Sabu (born Selar Shaik) captured the hearts of moviegoers in Britain and the United States as a completely new kind of big-screen icon. Sabu was a maharaja's elephant driver when he was cast in Elephant Boy, a Rudyard Kipling adaptation directed by documentary trailblazer Robert Flaherty and Zoltán Korda that would prove to be enormously popular. Sabu went on to headline a series of fantasies and adventures for the British film titans the Korda brothers, transcending the exoticism projected onto him by commanding the screen with effortless grace and humor. This series collects three of those lavish productions (which also included the classic The Thief of Bagdad): Elephant Boy, the colonialist adventure The Drum, and the timeless Jungle Book.