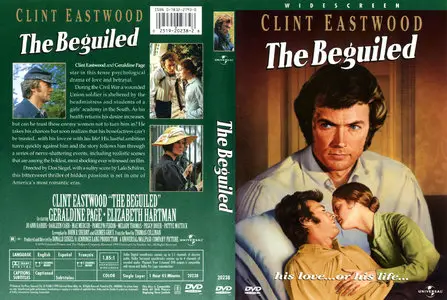 The Beguiled (1971)
DVD5 | VIDEO_TS | NTSC, 16:9 (720x480) VBR | 01:44:41 | 4.3 Gb
Audio: AC3 2.0 @ 192 Kbps (each): English, Français | Subs: English HoH, Español
Genre: Drama
The Beguiled is a Freudian mood piece from the team of actor Clint Eastwood and director Don Siegel. Eastwood plays Corp. John McBurney, a wounded Union soldier during the Civil War, who takes refuge in a prim-and-proper Southern girl's school run by Martha Farnsworth (Geraldine Page). Chauvinistic, insensitive and conceited, McBurney takes full advantage of the women by bedding each successively – and then learns the true meaning of "a woman scorned."