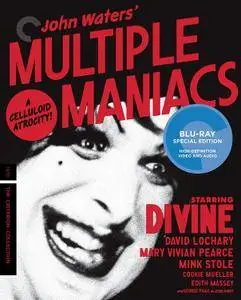 Multiple Maniacs (1970)
BDRip | MKV | 720x432 | x264 @ 1917 Kbps | English AAC 1.0 @ 159 Kbps | 96 min | 1,40 Gb
Genre: Comedy, Crime, Horror
John Waters' gloriously grotesque second feature is replete with all manner of depravity, from robbery to murder to one of cinema's most memorably blasphemous moments. Made on a shoestring budget in Waters' native Baltimore, with the filmmaker taking on nearly every technical task, this gleeful mockery of the peace-and-love ethos of its era features the Cavalcade of Perversion, a traveling show mounted by a troupe of misfits whose shocking proclivities are topped only by those of their leader: the glammer-than-glam, larger-than-life Divine, out for blood after discovering her lover's affair. Starring members of Waters' beloved regular cast, the Dreamlanders (including David Lochary, Mary Vivian Pearce, Mink Stole, Susan Lowe, Edith Massey, George Figgs, and Cookie Mueller), Multiple Maniacs is an anarchic masterwork from an artist who has doggedly tested the limits of good taste for decades.