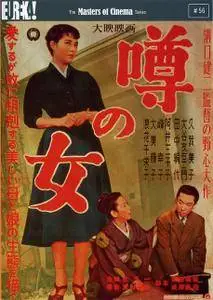 The Woman of Rumour (1954)
DVDRip | MKV | 720x540 | x264 @ 1999 Kbps | 84 min | 1,44 Gb
Audio: Japanese (日本語) AC3 2.0 @ 448 Kbps | Subs: English (embedded in MKV)
Genre: Drama, Romance
Director:
Kenji Mizoguchi
Writers:
Masashige Narusawa, Yoshikata Yoda
Stars:
Kinuyo Tanaka, Tomoemon Otani, Yoshiko Kuga
Hatsuko Umabuchi is a widow who runs a prosperous geisha house in present day Kyoto. Her daughter Yukiko returns from Tokyo following a failed suicide attempt, after her lover found out about her mother's profession. Hatsuko is having a discrete affair with the young Dr. Matoba, who looks after the geisha girls. The doctor is attracted to Yukiko, who initially despises him and everything connected with the geisha house. However Yukiko gradually changes her views.
Uwasa no onna is a graceful yet well performed Japanese drama about a geisha house in Kyoto. It was produced in 1954 as well as being set in the same period of the 1950's and highlights the changes to the fascinating traditions of geisha houses into the then post modern war era of mid-20th century.
The storyline is quite innocent, yet revolves amusingly around an older woman's desire for a young upcoming dashing doctor who is then ironically upstaged by her young daughter. However, Kenji Mizoguchi was not considered as a master of Japanese cinema for nothing and there remains more sewn into the fabric of this movie than what appears on the surface.
(click to enlarge)

More in My Blog