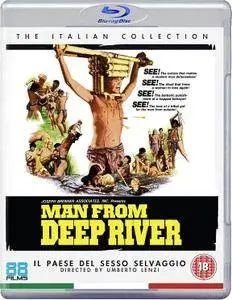 Man from Deep River (1992)
BDRip 1080p | MKV | 1686x720 | x264 @ 5000 Kbps | 90 min | 3,58 Gb
Dual Audio: Italiano and English - each track AC3 2.0 @ 224 Kbps | Subs: English
+ English Commentary track
Genre: Adventure, Horror
Director:
Umberto Lenzi
Writers:
Francesco Barilli, Massimo D'Avak (as Massimo D'Avack)
Stars:
Ivan Rassimov, Me Me Lai, Prasitsak Singhara
A photographer on assignment in the rain forest is ambushed and held slave by a primitive tribe, until the chief's daughter chooses him as her groom. After being initiated by various tortures, he becomes a part of the tribe and helps them against modern dangers and a cannibal tribe they're at war with.
I liked this one strictly for its exoticness. Ivan Rassimov (R.I.P Big Man) actually could have become an action star if he wasn't more inclined to stay in Europe. And Me Me Lay (Where is SHE now?) looks great dressed or naked. She has a great face. I have the Prism edition video. That one is missing a brief cannibal scene that later showed up in Lenzi's "Eaten Alive by the Cannibals." The cinematography was well done and I may catch some heat for this but I actually liked the music. Obviously it ripped off "A Man Called Horse" but the change in location gave it a bit more to work with. The love scene in the river came very close to XXX. A well placed bush (no pun intended) kept it soft-core. I heard rumors that Rassimov and Lay were romantically linked at one point but I don't know how true it is. Not much gore, so jungle flick fans should like it. I know I did.
(click to enlarge)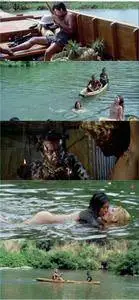 Note.
Audio commentary with Callum Waddell
More in My Blog