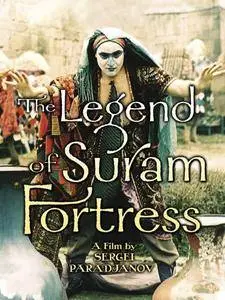 The Legend of Suram Fortress (1985)
DVDRip | MKV | 720x576 | x264 @ 1 800 Kbps | 86 min | 1,17 Gb
Audio: ქართული AC3 2.0 @ 128 Kbps | Subs (13): English, Русский, Deutsch, Français, Español, Português, Italiano, Nederlands, Svenska, עברית, العربية, 中文, 日本語
Genre: Art-house, Drama, Fantasy
Directors:
Sergei Parajanov, Dodo Abashidze (co-director)
Writers:
Daniel Chonqadze (book), Vaja Gigashvili
Stars:
Veriko Anjaparidze, Tamari Tsitsishvili, Dudukhana Tserodze
The Suram Fortress is in a constant state of construction – that's because it's always crumbling just as they are about to complete it. Since the fortress will serve to defend the kingdom from foreign intruders, this is a serious problem. To solve this perplexing mystery, a young man visits a fortune teller (Veriko Andzhaparidze) who offers a startling proclamation: For the fortress to stand, someone must be buried inside it. Soon enough, the young man realizes that this person is him.
Paradjanov made four films for which he is best known: Shadows Of Forgotten Ancestors and Color Of Pomegranates in the sixties; Legend Of Surami Fortress and Ashik Kerib in the eighties. In case you don't already know, between the sixties and the eighties he spent over a decade in a Soviet prison. I find this to be the strongest and most hypnotic one of the bunch, made soon after his release. One should take advantage of any opportunity to see these on the big screen.
(click to enlarge)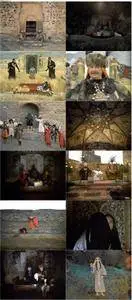 More in My Blog