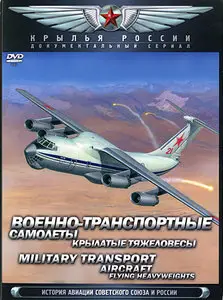 Military Transport Aircraft. Flying Heavyweights / История авиации Советского Союза и России. Диск 17. Военно-транспортные самолеты. Крылатые тяжеловесы (2008)
DVD Video | 0hr 51mn | PAL 4:3 | 720x576 | 3.44 Gb
Russian \ English: Dolby AC3, 2 ch; English: Dolby AC3, 6 ch
Subtitle: None
Genre: Documentary | Historical

Morning of 25th of December, 1979. About 300 military cargo planes are gathered at airfields of Middle Asia. Cargo compartments are filled with military vehicles and landing troops. Order arrives and planes, one group after another, are taking off, with strained roaring engines and raising clouds of dust.
What happens there reminds a great migration of people. Such was a picture of entering of Soviet Troops in Afghanistan. Almost 8.000 men, about 900 pieces of military vehicles and thousands of tons of cargo were transported in those first days. All the above was only 2% of the colossal volume of transportations, which were executed by Soviet Cargo Aviation in that war.
Сериал:
История авиации Советского Союза и России
Серия:
Крылья России
Название:
Диск 17. Военно-транспортные самолеты. Крылатые тяжеловесы
Год выпуска:
2008
Жанр:
Документальный, история, авиация, вооружение
Выпущено:
Россия, Студия "Крылья России"
В ролях:
А. Кулясов
О фильме:
Студия "Крылья России" представляет документальный сериал об истории развития отечественной авиационной техники. Зритель познакомится с уникальными киноматериалами, собранными студией. На каждом диске имеется дополнительная справочная информация по летательным аппаратам.
Утро 25 декабря 1979 года. На аэродромах средней Азии собрано около 300 военно-транспортных самолётов. В грузовых кабинах - боевая техника и десант.
Поступает сигнал, и самолёты - группа за группой - натужно ревя двигателями и поднимая облака пыли, идут на взлёт. То, что творится, напоминает великое переселение народов. Так выглядела картина ввода советских войск в Афганистан За эти первые дни было перевезено почти 8 тысяч человек, около 900 единиц техники и более тысячи тонн грузов. Всё это составило лишь 2 процента от того колоссального объёма перевозок, которые выполнила в этой войне советская военно-транспортная авиация.