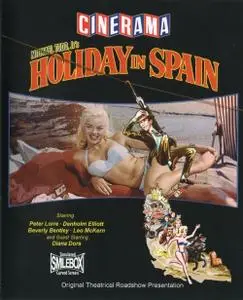 Holiday in Spain (1960) + Extras
BDRip 720p | MKV | 1280 x 720 | x264 @ 2560 Kbps | 1h 48mn | 2,44 Gb + 1,78 Gb
Audio: English AC3 5.1 @ 448 Kbps + Commentary track | Subtitles: None
Genre: Mystery | Director: Jack Cardiff
He was a young Englishman on a holiday in Spain and she was the kind of scenery he didn't want to miss. Even from the back, the long graceful legs, the slim waist, and the large hat were quite a sight. He didn't know her, but wanted to. Then he discovered they wanted to kill her. And if he didn't stop them within the next 36 hours, the only place he would see her again would be in the morgue.
(Enlargeable)

Audio Commentary
features David Strohmaier and Sandra Shahan hosted by Bruce Kimmel.
Extras:
–
Holiday in Spain Locations Short (14:37)
has host Dave Strohmaier visiting many of the Spanish locations utilized for the film.
–
Missing Scenes from Scent of Mystery Version (10:03)
are sourced from a "severely faded 70mm work picture", but at least give completists a few more minutes of the tantalizingly elusive original version of the film.
–
Exclusive Interviews (33:34)
includes interesting sit downs with Beverly Bentley, who plays Sally in the film, and Susan Todd, daughter of Mike Todd, Jr.
–
Newly Created Cinerama Trailers Gallery (34:21)
includes This is Cinerama, Cinerama Holiday, Seven Wonders of the World, Search for Paradise, Cinerama South Seas Adventure, Windjammer, Holiday in Spain and The Golden Head.