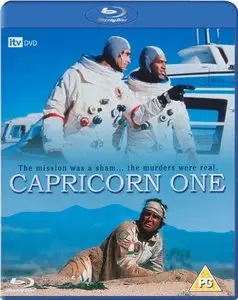 Capricorn One (1977)
BDRip 720p | MKV | 1280x544 | x264 @ 4857 Kbps | 123 min | 4,37 Gb
Audio: English AC3 2.0 @ 224 Kbps | Subs: English (embedded in MKV)
Genre: Action, Sci-fi, Thriller
Director:
Peter Hyams
Writer:
Peter Hyams
Stars:
Elliott Gould, James Brolin, Brenda Vaccaro
Charles Brubaker is the astronaut leading NASA's first manned mission to Mars. Seconds before the launch, the entire team is pulled from the capsule and the rocket leaves earth unmanned much to Brubaker's anger. The head of the programme explains that the life support system was faulty and that NASA can't afford the publicity of a scratched mission. The plan is to fake the Mars landing and keep the astronauts at a remote base until the mission is over, but then investigative journalist Robert Caulfield starts to suspect something.
This movie is indeed a noteworthy sci-fi/conspiracy flick, even after all these years.

Unmistakeably based on the real-life "moon hoax" pseudo-conspiracy, it takes the issue one step further and explores just how far your government might go to cover up its own incapacity and silence everyone who gets in its way (Ironically enough for that matter, the moon landings are portrayed in this movie as a non-hoax and really did take place).

When three would-be Mars astronauts are secretly pulled out of their capsule just minutes before liftoff due to a malfunctioning life support system that would have meant certain death, they are quickly transferred to an abandoned air force base out in the desert. Upon arrival, they are told that they'll have to play make-believe using the facility's very own "Mars" sound stage. It's got everything in place to fool the public about an actual Mars landing. Things go somewhat well and although the astronauts really begin to resent the big swindle they were drawn into, nobody really notices. That is, until their real-life landing capsule disintegrates while re-entering the earth's atmosphere. They figure that now that they're all supposed to be dead, the government will have them killed for real….

So much for the plot, the rest is yours to find out about. Definitely worth watching.


IMDB Reviewer
(click to enlarge)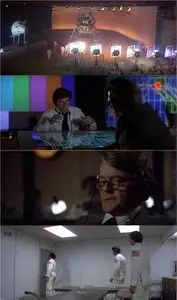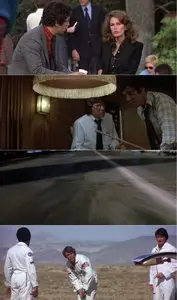 More in My Blog