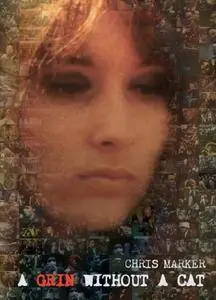 A Grin Without A Cat (1977)
DVDRip | AVI | 640x480 | XviD @ 1500 Kbps | 177 min | 2,44 Gb
Audio: English AC3 2.0 @ 448 Kbps | Subs: English hardcoded when needed
Genre: Documentary
Director:
Chris Marker (as Chris. Marker)
Writer:
Chris Marker
Stars:
Laurence Cuvillier, Davos Hanich, François Maspero
From the young anti-war protesters in America to the death of Che Guevara and the rise of leaders like Fidel Castro and Mao Tse-Tung, this documentary examines the rise and fall of the lefty movement of the 1960s and 1970s. The first segment delves into the beginnings of this liberal faction, focusing on 1967, when anti-Vietnam fervor sweeps the United States and invigorates the political debate. In part two, the disintegration of the movement, dubbed the "new left," is laid out.
When he officially abandoned the New Wave, Godard said that he no longer wanted to make "political films" but instead wanted to "make films politically." In Grin Without a Cat, Chris Marker manages to do both by presenting a Weberian genealogical analysis of revolution, and in doing so creates a more perfect kind of documentary. Focusing on specific events and individuals in an overarching context, he attempts much more than most political documentaries. He doesn't ask the question "How was the revolution successful or unsuccessful?" (although this is addressed), but the main inquiry is instead "Where does revolution come from, and once it's here, what function does it serve?" The breadth of the film is incredible, chronicling popular revolts in France, Vietnam, Cuba, Prague, Chile, Bolivia, China and others, but as many who have seen the film note, it moves incredibly fluidly, and the time spent watching it never seems to drag. There is also no lack of the flair of style seen in Marker's most popular works, Sans Soleil and La Jetee. In short, anyone with an interest in the documentary form will tremendously enjoy this film, though it is a bit depressing. Like politics itself, there are no heroes presented, only victims, oppressors, and the idealistically misinformed.
(click to enlarge)

More in My Blog