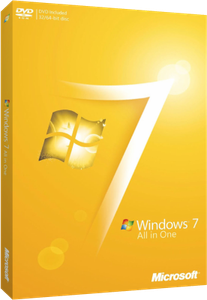 Microsoft Windows 7 SP1 AIO 9 in 1
OS and system related | Original Install File | x64x86 | 7.1 GB
Languages: Italian | Update: Maggio 2019
Che cos'è Windows 7? Il tuo PC, solo più facile. Windows 7 è facile, veloce e affascinante. Grazie alle nuove funzionalità per trovare e gestire i file, quali Jump List e migliori anteprime dalla barra delle applicazioni, puoi velocizzare le tue attività quotidiane. Windows 7 è stato progettato per garantire prestazioni più veloci e affidabili in modo che il tuo PC funzioni esattamente come desideri. Con la versione a 64 bit, puoi sfruttare al meglio la potenza dei PC di ultima generazione. Inoltre, eccezionali funzionalità quali Gruppo Home, Windows Media Center e Windows Touch rendono possibile l'impossibile.
Un PC che risponde in tempi ridotti, consente una maggiore produttività e offre una maggiore protezione dai rischi. Puoi eseguire numerosi programmi di produttività per Windows XP in modalità Windows XP e ripristinare facilmente i dati con i backup automatici. Puoi collegarti alle reti aziendali in maniera più facile e sicura con Aggiunta al dominio.
- Risposta immediata - Il tuo PC non è mai stato così veloce a entrare o uscire dalla modalità di sospensione
- Esegui numerosi programmi di produttività per Windows XP in modalità Windows XP
- Le nuove funzioni di sicurezza avanzata ti consentono di proteggere i dati e condividere file, cartelle e dispositivi in modo semplice, con o senza un server
- Progettato per tutelare le informazioni riservategrazie all'ottimizzazione del sistema di crittografia, alle tecnologie avanzate di backup e a miglioramenti in termini di protezione dai rischi provenienti da Internet, spyware e altri software dannosi.
Windows 7 Service Pack 1 è un aggiornamento che fa quanto segue: - Aiuta a mantenere i PC supportati. - Fornisce il miglioramento continuo del sistema operativo, includendo gli aggiornamenti precedenti distribuiti tramite Windows Update, oltre a continuare aggiornamenti incrementali per la piattaforma Windows 7 in base al feedback di clienti e partner. - Rende facile per le organizzazioni di distribuire un unico insieme di aggiornamenti. modifiche specifiche per Windows 7 il supporto aggiuntivo per la comunicazione con terzi Federation Services Ulteriore supporto è stato aggiunto per consentire a Windows 7 ai clienti di comunicare efficacemente con terze parti identità Federation Services (quelli che sostengono il WS-Federation profilo di protocollo passiva).Questo cambiamento migliora l'interoperabilità della piattaforma, e migliora la capacità di comunicare le informazioni di identità e autenticazione tra le organizzazioni. migliorate le prestazioni del dispositivo HDMI audio Una piccola percentuale di utenti hanno segnalato problemi in cui la connessione tra computer che eseguono Windows 7 e HDMI dispositivi audio possono essere persi dopo il sistema di riavvio.
Contiene tutte le versioni versioni di Windows 7 disponibili in commercio, 32 e 64 bit insieme. All'inizio dell'installazione verrà chiesto di selezionare quale versione si desidera installare tra le rispettive edizioni a 32 e 64 bit di: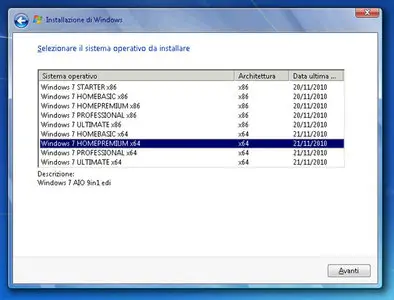 Contiene:
Windows 7 Starter Edition x86 (32bit)
Windows 7 Home Basic Edition x86 (32bit)
Windows 7 Home Premium Edition x86 (32bit)
Windows 7 Professional Edition x86 (32bit)
Windows 7 Ultimate x86 Edition (32 bit)
Windows 7 Home Basic Edition x64 (64bit)
Windows 7 Home Premium Edition x64 (64bit)
Windows 7 Professional x64 Edition (64 bit)
Windows 7 Ultimate Edition x64 (64bit)
Requisiti di sistema:
Se vuoi eseguire Windows 7 sul tuo PC, ecco cosa ti serve:
* Processore a 32 bit (x86) o a 64 bit (x64) da 1 GHz o più veloce
* 1 GB di RAM (32 bit) o 2 GB di RAM (64 bit)
* 16 GB di spazio disponibile su disco rigido (32 bit) o 20 GB (64 bit)
* Scheda grafica DirectX 9 con driver WDDM 1.0 o superiore
NOTA BENE
: Tenere internet scollegato durante l'installazione
HomePage
:
http://windows.microsoft.com/it-IT/windows/home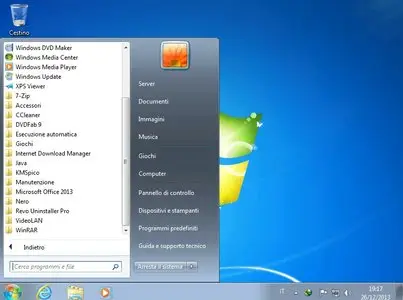 Pe... in ITALIANO CLICCA QUI
>&... Blog Here <<<
Subscribe to My Newsletter!
If you like this release please support Developer / Publisher and BUY it.
If you'll find that my links are dead please let me know through the Private Messages.
Please DO NOT MIRROR

Password:
programmi