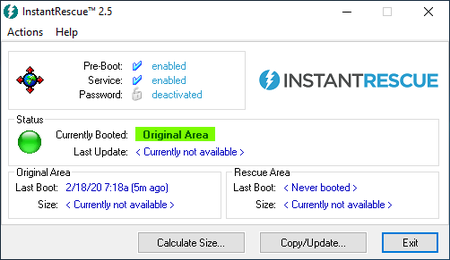 Raxco InstantRescue 2.5.0.325 | 8.6 Mb
InstantRescue Recover from ransomware attacks in an instant. Bootable system snapshots enable the instant recovery of desktops and laptops in the time it takes to reboot.
Ransomeware Recovery
Recover from a ransomware attack in the time it takes to reboot. Reinstalling Windows and all your applications is slow and painful step in ransomware recovery. Whether it's one server or hundreds, InstantRecovery can restore servers back to their pre-attack condition in just minutes. Don't spend days or weeks rebuilding or reimaging servers when InstantRecovery can do the job with a few clicks. <\p>
In the event of a Ransomware/Malware attack, failed system patch or application update or any software-related event that renders systems corrupt or unbootable, InstantRecovery restores systems to their original operating condition instantly upon reboot. <\p>
Instant System Recovery
InstantRescue creates a Rescue Area which allows you to instantly restore your entire working Windows environment in the case of a disaster that renders your system unusable.
Nothing can protect you from system failure like InstantRescue does – not even data backups or Windows System Restore.
Auto-Recovery
The InstantRescue Auto-Recovery mode rescues your system after 3 consecutive failed reboots. Auto-Recovery automatically reboots the system from the Rescue Area restoring the system to a trusted condition
Rescue Area Copy/Update
InstantRescue supports Rescue Area copy/update to keep the Rescue Area current.
File System: NTFS Only
Not compatible with FAT16, FAT32, exFAT, ReFS or Dynamic Disks.
Operating System:
Windows 10, 8, 7, Vista & XP
Home Page
-
https://raxco.com/products/instantrescue