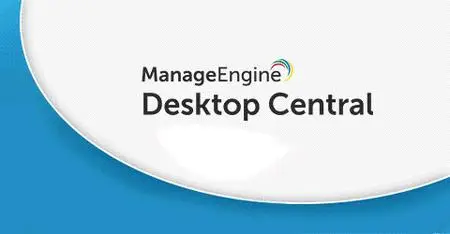 ManageEngine Desktop Central 10.0.551 Enterprise Multilingual | 368.7/372 Mb
Desktop Central is a unified endpoint management solution that helps in managing servers, laptops, desktops, smartphones, and tablets from a central location.
Automate regular endpoint management routines like installing patches, deploying software, imaging and deploying OS, managing assets, software licenses, monitoring software usage statistics, managing USB device usage, taking control of remote desktops, and more. Desktop Central supports managing Windows, Mac and Linux operating systems. Manage your mobile devices to deploy profiles and policies, configure devices for Wifi, VPN, Email accounts, etc., apply restrictions on using camera, browser, etc., and to secure your devices like enabling passcode, remote lock/wipe, etc. Manage all your iOS, Android and Windows smartphones and tablets.
Patch Management
Secure your network by automating patch deployment for Windows, Mac, Linux and Third Party Applications.
Software Deployment
Deploy Software to all the endpoints within your network in just a few clicks using 4,500+ pre defined application templates.
Mobile Device Management
Configure, manage and secure mobile devices centrally using mobile device management.
OS Imaging & Deployment
Automatically image and deploy OS on Windows computers, along with the installation of required drivers and applications using OS deployment.
IT Asset Management
Manage software and hardware assets within your network and track license and warranty details effortlessly.
Remote Control
Troubleshoot remote desktops with multi-user collaboration, file transfer, video recording, and more.
Modern Management
Unify endpoint management with a similar approach towards managing both mobile phones and Windows 10 devices.
USB Device Management
Restrict and control the usage of USB Devices in the network both at the user-level and at the computer-level.
Configurations
25+ pre-defined configurations including Power Management, USB Device Management, Security Policies, and so on.
Available Languages:
Desktop Central is available in English, Japanese, Turkish, Swedish, Spanish, Russian, Polish, Italian, German, French, Finnish, Dutch, Danish, Chinese, Brazilian Portuguese, Traditional Chinese, Norwegian and Portuguese languages.
System Requirements:
You can install Desktop Central Server & Distribution Servers on any of these Windows operating system versions:
Windows 7
Windows 8
Windows 8.1
Windows 10
Windows Server 2008*
Windows Server 2008 R2*
Windows Server 2012 R2*
Windows Server 2016*
Windows Server 2019*
* - recommended for managing 5000 or more endpoints.
Home Page
-
https://www.manageengine.com/