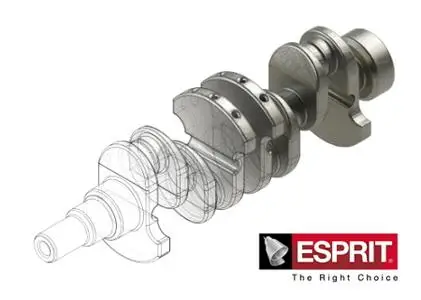 DP Technology ESPRIT 2020 R1 (B19.20.202.2653) | 1.8 Gb
Languages: English, Čeština, 中文 Simplified, 中文 Traditional, Français, Deutsch, Italiano,
日本語, 한국어, Português, Polski, Русский, Español, Svenska, Türkçe
DP Technology is pleased to announce the availability of ESPRIT 2020 R1 (B19.20.202.2653) their computer-aided manufacturing (CAM) software. Among the most significant developments last version are updates to the software's computer-aided design (CAD) interfaces and new or improved solutions for specific machine tools.
ESPRIT
is a powerful CAM system for CNC programming, optimization and simulation — supporting the entire manufacturing process. With factory-certified post processors delivering machine-optimized G-code and ESPRIT's ability to solve unique challenges with automation solutions, ESPRIT is the smart manufacturing solution for any machining application. With world-class technical support, ESPRIT empowers you to get started quickly and keep running at top efficiency. ESPRIT is the only CAM system you'll ever need.
New version of ESPRIT 2020 includes updates to the software's CAD interfaces, allowing users to improve the design and visualization of parts before manufacturing begins. It also offers enhanced support for 200 different Swiss-type machine models, as well as improved profile threading and probing capabilities.
Discover the ESPRIT difference in 5 minutes
DP Technology Corp.
is a leading developer and supplier of computer-aided manufacturing (CAM) software. Company reinforces its commitment to technical excellence by dedicating nearly 20 percent of its annual revenue to ongoing research and product development. This long-term focus has produced powerful technological innovations that have placed ESPRIT in an industry-leading position since its market launch in 1985.
Product:
DP Technology ESPRIT
Version:
2020 R1 (B19.20.202.2653)
Supported Architectures:
x86
Website Home Page :
www.espritcam.com
Language:
multilanguage
System Requirements:
PC *
Size:
1.8 Gb
ESPRIT 2020 System Requirements

Computer systems that meet the minimum supported hardware requirements will be able to run ESPRIT. Any hardware requirement that exceeds the minimum will improve the performance and user experience of ESPRIT.

ESPRIT Performance Specifications Example

Depending on your programming application of ESPRIT you can achieve better performance by exceeding the minimum hardware requirements. Below is an example of a system for performance with ESPRIT

ESPRIT Minimum Hardware Requirements

Processor Intel Xeon or i7
System Memory Maximum (16 GB DDR3-1866 MHz SDRAM)
Resolution 1920 x 1200
Graphics Memory +4GB OpenGL compatible
Hard Drive Notebook 250GB (SSHD), Desktop 2TB (HDD)
Operating System Windows 7 or Windows 10
Optical Drive DVD-ROM
Ports USB (required for ESPRIT security system)
Please visit my blog
Added by 3% of the overall size of the archive of information for the restoration

No mirrors please