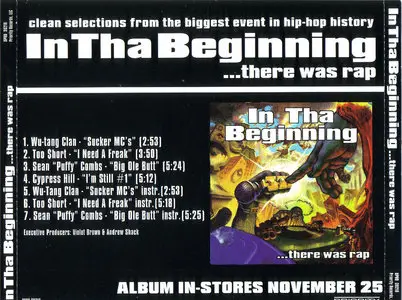 VA - In Tha Beginning…there was rap (Clean Selections) (US promo CD5) (1997) {Priority}
MP3 CBR 320kbps | RAR | 73 mb
Genre: rap, hip-hop
In Tha Beginning…there was rap
was a hip-hop album featuring then-modern groups performing new versions of old school rap songs. It is dedicated from the old to the new, to quote Gregory Nice.
In Tha Beginning…there was rap (Clean Selections)
is a promotional-only sampler that highlights four of the songs on the album, but in clean edits, which was not released anywhere. This CD also includes three instrumentals of those songs, also not available elsewhere but on this promotional-only sampler.