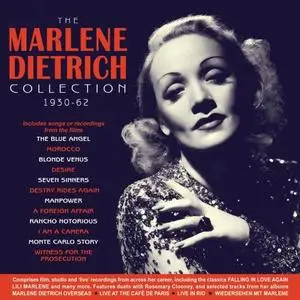 Marlene Dietrich - The Marlene Dietrich Collection 1930-62 (2018)
MP3 CBR 320 kbps | 02:23:59 | 330 Mb
Pop, Cabaret, Oldies, Female Vocal | Label: Fabulous
Marlene Dietrich was one of the most enduring and iconic stars of the 20th century, re-inventing herself as a stage actress, silent movie actress, and then a movie star whose exotic persona made her one of the highest-paid screen performers of the 30s and 40s, before becoming singer who commanded the concert stage with ease in her later career. Having made her mark in Germany in her early career, she turned to Hollywood during the 1930s spurning lucrative offers by Germanys Nazi government to return there and took US citizenship in 1937. All through her film career, she made notable musical contributions, and she built a legitimate career as a studio and live singer, with a highly individual and recognisable vocal style to match her striking looks and image. This great-value 51-track 2-CD selects a representative range of her recordings, encompassing her film performances, commercial studio recordings (some of which were of her movie songs) and live recordings, which combine to showcase the breadth of her talent and repertoire. It includes her duet recordings with Rosemary Clooney, which gave a her her only chart hit with Too Old To Cut The Mustard, selected tracks from her albums Marlene Dietrich Overseas, Live at the Café de Paris, Live In Rio and Wiedersehen Mit Marlene and from her collaboration with Burt Bacharach in the late 50s and early 60s which added another dimension to her oeuvre. It features songs or recordings from the films The Blue Angel, Morocco, Blonde Venus, Desire, Seven Sinners, Destry Rides Again, Manpower, A Foreign Affair, Rancho Notorious, I Am A Camera, Monte Carlo Story, Witness For The Prosecution. Its a fascinating and enjoyable celebration of unique and distinctive star.
Tracklist:
Disc: 1
1. Falling in Love Again
2. Naughty Lola
3. Peter
4. Jonny
5. Quand L'amour Meurt
6. Give Me the Man
7. You Little So and So
8. Assez
9. Moi, Je M'ennuie
10. If It Isn't Pain (Then It Isn't Love)
11. Three Sweethearts Have I
12. Awake in a Dream
13. The Man's in the Navy
14. I've Been in Love Before
15. You Do Something to Me
16. You've Got That Look
17. You Go to My Head
18. Falling in Love Again
19. See What the Boys in the Back Room Will Have
20. He Lied and I Listened
21. Lili Marlene
22. Symphonie
23. Illusions
24. Black Market
25. Sag Mir Adieu (Time On My Hands)
Disc: 2
1. Ich Hab' Die Ganze Nacht Geweint (I Couldn't Sleep a Wink Last Night)
2. Get Away, Young Man (From 'Rancho Notorious')
3. Too Old to Cut the Mustard - Rosemary Clooney & Marlene Dietrich
4. Good for Nothin' - Rosemary Clooney & Marlene Dietrich
5. Come Rain Or Come Shine
6. Love Me
7. Time for Love
8. Look Me Over Closely
9. Dot's Nice - Donna Fight!
10. It's the Same
11. Besides - He's a Man - Rosemary Clooney & Marlene Dietrich
12. Land Sea and Air - Rosemary Clooney & Marlene Dietrich
13. La Vie En Rose
14. The Laziest Gal in Town
15. Ich Hab' Noch Einen Koffer in Berlin
16. Back Home Again in Indiana
17. Near You (With Billy Vaughn)
18. Another Spring, Another Love (With Burt Bacharach)
19. I May Never Go Home Anymore (With Burt Bacharach)
20. Kisses Sweeter Than Wine (With Burt Bacharach)
21. Das Lied Ist Aus (Don't Ask Me Why) [with Burt Bacharach]
22. Wenn Ich Mir Was Wünschen Dürfte (With Burt Bacharach)
23. Cherche La Rose (With Burt Bacharach)
24. Marie Marie (With Burt Bacharach)
25. Ou Vont Les Fleurs (With Burt Bacharach)
26. Dejeuner Du Matin (With Burt Bacharach)