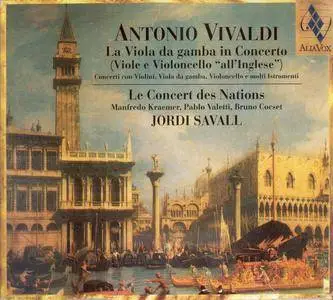 Jordi Savall - Antonio Vivaldi - La Viola Da Gamba In Concerto (2003) {Alia Vox AV9835}
EAC rip (secure mode) | FLAC (tracks)+CUE+LOG -> 378 Mb | MP3 @320 -> 147 Mb
Full Artwork @ 300 dpi (jpg) -> 30 Mb | 5% repair rar
© 2003 Alia Vox | AV9835
Classical / Baroque / Concerto
It is only recently that two seemingly unconnected names, those of Vivaldi and the viola da gamba, have been uttered in the same breath. The established, uncontested view on the matter was quite simply this: from the middle of the 17th century, the viol, which was still flourishing north of the Alps, had all but disappeared in Italy, where it had been replaced by the bass violin and, subsequently, by the cello.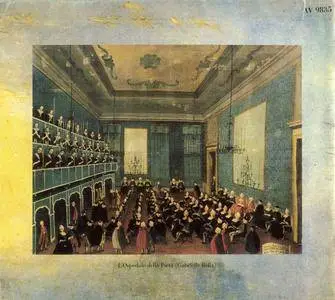 Yet, among the more than 800 surviving works by Antonio Vivaldi (1678-1741), five include movements for an instrument that Vivaldi refers to variously as "viola inglese" (English viol), "viola all inglese" or "violoncello all'inglese". Clearly, the instrument was not a member of the violin family, although for centuries musicians have performed these parts on the baritone cello. In fact, it now seems clear from recent research that the viola da gamba had not entirely disappeared in Italy: Vivaldi was introduced to the viol by his father Giovanni Battista Vivaldi (the latter being employed at the Ospedale dei mendicanti in Venice, which boasted a consort of seven viols). In addition to his violin classes, from 1704 Antonio Vivaldi also taught the "viola all'inglese" at Ospedale della Pietà. Evidence has been found of numerous instruments being loaned to the institutions of the Pietà by rich Venetians. The golden age of the viol at the Pietà therefore exactly coincided with the period during which Vivaldi composed works including this instrument, around 1720.

This album brings together all of Vivaldi's concerti containing one or several parts written expressly for the viola da gamba. Of these, three contain handwritten notes by the composer calling for the "viole all'inglese". The earliest, the Concerto in A Major RV 546, dates from 1720, giving a new lease of life to the use of this instrument; the contrast between the tones of the violin and the bass viol holds a special fascination. The Concerto Funebrein B flat major RV579, with soprano viola da gamba, lends a subtle tone to this highly expressive work. The Concerto con molti Istromenti in C major RV 555 uses two treble viols; it is an unusual work with some superb effects of instrumental colour. To these magnificent pieces are added the Concerto in F major RV 540 for violin and cello, the Concerto in B minor RV 580, with 4 violins and cello, and the Concerti in D minor and G minor, where the cello part is played by the viola da gamba.

The original autographs, which are preserved in the Turin National Library, bear witness to Vivaldi's extraordinary inventiveness in the combination of timbres and the development of the concertante and virtuoso language, which ranges from the elegiac Concerto Funebre to the dazzling Concerto per molti Istromenti.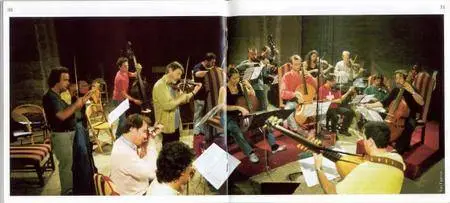 Personnel:
Le Concert des NationsManfredo Kraemer
&
Pablo Valetti
, violons
Bruno Cocset
, violoncelle
Imke David
, viole de gambe
Jordi Savall
, direction & viole de gambe
tracklist:
01 - Concerto con Violino e Viola da gamba RV 546 - Allegro
02 - Concerto con Violino e Viola da gamba RV 546 - Andante
03 - Concerto con Violino e Viola da gamba RV 546 - Allegro
04 - Concerto con 2 Violini e Viola da gamba RV 565 - Allegro, adagio e spiccato
05 - Concerto con 2 Violini e Viola da gamba RV 565 - Allegro
06 - Concerto con 2 Violini e Viola da gamba RV 565 - Largo e spiccato
07 - Concerto con 2 Violini e Viola da gamba RV 565 - Allegro
08 - Concerto Funebre RV 579 - Largo
09 - Concerto Funebre RV 579 - Allegro poco poco
10 - Concerto Funebre RV 579 - Allegro
11 - Concerto 'Il Proteo o sia il mondo al rovescio' RV 544 - Allegro
12 - Concerto 'Il Proteo o sia il mondo al rovescio' RV 544 - Largo
13 - Concerto 'Il Proteo o sia il mondo al rovescio' RV 544 - Allegro
14 - Concerto con 2 Violini e Viola da gamba RV 578 - Adagio e spiccato
15 - Concerto con 2 Violini e Viola da gamba RV 578 - Larghetto
16 - Concerto con 2 Violini e Viola da gamba RV 578 - Allegro
17 - Concerto con 4 Violini e Violonchello RV 580 - Allegro
18 - Concerto con 4 Violini e Violonchello RV 580 - Largo
19 - Concerto con 4 Violini e Violonchello RV 580 - Larghetto Adagio Largo
20 - Concerto con 4 Violini e Violonchello RV 580 - Allegro
21 - Concerto con molti Istromenti RV 555 - Allegro
22 - Concerto con molti Istromenti RV 555 - Largo e spiccato
23 - Concerto con molti Istromenti RV 555 - Allegro
EAC extraction logfile from 9. July 2006, 1:21 for CD
Le Concert des Nations, Jordi Savall / Vivaldi - La Viola Da Gamba In Concerto

Used drive : PLEXTOR DVDR PX-755A Adapter: 3 ID: 0
Read mode : Secure with NO C2, accurate stream, disable cache
Read offset correction : 30
Overread into Lead-In and Lead-Out : Yes

Used output format : Internal WAV Routines
44.100 Hz; 16 Bit; Stereo

Other options :
Fill up missing offset samples with silence : Yes
Delete leading and trailing silent blocks : No
Installed external ASPI interface


Track 1
Filename C:\Vivaldi - La Viola Da Gamba In Concerto - Jordi Savall (2003) [FLAC]\01 - Concerto con Violino e Viola da gamba RV 546 - Allegro.wav

Pre-gap length 0:00:02.00

Peak level 99.3 %
Track quality 100.0 %
Test CRC E91A915A
Copy CRC E91A915A
Copy OK

Track 2
Filename C:\Vivaldi - La Viola Da Gamba In Concerto - Jordi Savall (2003) [FLAC]\02 - Concerto con Violino e Viola da gamba RV 546 - Andante.wav

Peak level 87.4 %
Track quality 100.0 %
Test CRC C70906D5
Copy CRC C70906D5
Copy OK

Track 3
Filename C:\Vivaldi - La Viola Da Gamba In Concerto - Jordi Savall (2003) [FLAC]\03 - Concerto con Violino e Viola da gamba RV 546 - Allegro.wav

Peak level 99.3 %
Track quality 100.0 %
Test CRC A5CA1271
Copy CRC A5CA1271
Copy OK

Track 4
Filename C:\Vivaldi - La Viola Da Gamba In Concerto - Jordi Savall (2003) [FLAC]\04 - Concerto con 2 Violini e Viola da gamba RV 565 - Allegro, adagio e spiccato.wav

Pre-gap length 0:00:09.96

Peak level 99.3 %
Track quality 99.8 %
Test CRC 50B9EF24
Copy CRC 50B9EF24
Copy OK

Track 5
Filename C:\Vivaldi - La Viola Da Gamba In Concerto - Jordi Savall (2003) [FLAC]\05 - Concerto con 2 Violini e Viola da gamba RV 565 - Allegro.wav

Pre-gap length 0:00:00.09

Peak level 99.3 %
Track quality 99.9 %
Test CRC 353F55FA
Copy CRC 353F55FA
Copy OK

Track 6
Filename C:\Vivaldi - La Viola Da Gamba In Concerto - Jordi Savall (2003) [FLAC]\06 - Concerto con 2 Violini e Viola da gamba RV 565 - Largo e spiccato.wav

Peak level 85.9 %
Track quality 100.0 %
Test CRC D6879E90
Copy CRC D6879E90
Copy OK

Track 7
Filename C:\Vivaldi - La Viola Da Gamba In Concerto - Jordi Savall (2003) [FLAC]\07 - Concerto con 2 Violini e Viola da gamba RV 565 - Allegro.wav

Pre-gap length 0:00:00.06

Peak level 99.3 %
Track quality 100.0 %
Test CRC C0EB6FE0
Copy CRC C0EB6FE0
Copy OK

Track 8
Filename C:\Vivaldi - La Viola Da Gamba In Concerto - Jordi Savall (2003) [FLAC]\08 - Concerto Funebre RV 579 - Largo.wav

Pre-gap length 0:00:11.14

Peak level 98.0 %
Track quality 100.0 %
Test CRC 01F18AE6
Copy CRC 01F18AE6
Copy OK

Track 9
Filename C:\Vivaldi - La Viola Da Gamba In Concerto - Jordi Savall (2003) [FLAC]\09 - Concerto Funebre RV 579 - Allegro poco poco.wav

Peak level 93.4 %
Track quality 100.0 %
Test CRC 8382DA6A
Copy CRC 8382DA6A
Copy OK

Track 10
Filename C:\Vivaldi - La Viola Da Gamba In Concerto - Jordi Savall (2003) [FLAC]\10 - Concerto Funebre RV 579 - Allegro.wav

Peak level 99.3 %
Track quality 99.9 %
Test CRC A78A653A
Copy CRC A78A653A
Copy OK

Track 11
Filename C:\Vivaldi - La Viola Da Gamba In Concerto - Jordi Savall (2003) [FLAC]\11 - Concerto 'Il Proteo o sia il mondo al rovescio' RV 544 - Allegro.wav

Pre-gap length 0:00:13.66

Peak level 99.3 %
Track quality 100.0 %
Test CRC 73C3D0FC
Copy CRC 73C3D0FC
Copy OK

Track 12
Filename C:\Vivaldi - La Viola Da Gamba In Concerto - Jordi Savall (2003) [FLAC]\12 - Concerto 'Il Proteo o sia il mondo al rovescio' RV 544 - Largo.wav

Peak level 64.4 %
Track quality 100.0 %
Test CRC 98243377
Copy CRC 98243377
Copy OK

Track 13
Filename C:\Vivaldi - La Viola Da Gamba In Concerto - Jordi Savall (2003) [FLAC]\13 - Concerto 'Il Proteo o sia il mondo al rovescio' RV 544 - Allegro.wav

Peak level 99.3 %
Track quality 100.0 %
Test CRC ACF2153B
Copy CRC ACF2153B
Copy OK

Track 14
Filename C:\Vivaldi - La Viola Da Gamba In Concerto - Jordi Savall (2003) [FLAC]\14 - Concerto con 2 Violini e Viola da gamba RV 578 - Adagio e spiccato.wav

Pre-gap length 0:00:14.16

Peak level 99.3 %
Track quality 100.0 %
Test CRC 8EB58B51
Copy CRC 8EB58B51
Copy OK

Track 15
Filename C:\Vivaldi - La Viola Da Gamba In Concerto - Jordi Savall (2003) [FLAC]\15 - Concerto con 2 Violini e Viola da gamba RV 578 - Larghetto.wav

Peak level 99.3 %
Track quality 100.0 %
Test CRC 1088D152
Copy CRC 1088D152
Copy OK

Track 16
Filename C:\Vivaldi - La Viola Da Gamba In Concerto - Jordi Savall (2003) [FLAC]\16 - Concerto con 2 Violini e Viola da gamba RV 578 - Allegro.wav

Pre-gap length 0:00:00.08

Peak level 99.3 %
Track quality 100.0 %
Test CRC 630E92B8
Copy CRC 630E92B8
Copy OK

Track 17
Filename C:\Vivaldi - La Viola Da Gamba In Concerto - Jordi Savall (2003) [FLAC]\17 - Concerto con 4 Violini e Violonchello RV 580 - Allegro.wav

Pre-gap length 0:00:11.73

Peak level 99.3 %
Track quality 100.0 %
Test CRC 33A9982D
Copy CRC 33A9982D
Copy OK

Track 18
Filename C:\Vivaldi - La Viola Da Gamba In Concerto - Jordi Savall (2003) [FLAC]\18 - Concerto con 4 Violini e Violonchello RV 580 - Largo.wav

Peak level 99.3 %
Track quality 100.0 %
Test CRC 90E735B7
Copy CRC 90E735B7
Copy OK

Track 19
Filename C:\Vivaldi - La Viola Da Gamba In Concerto - Jordi Savall (2003) [FLAC]\19 - Concerto con 4 Violini e Violonchello RV 580 - Larghetto Adagio Largo.wav

Peak level 99.3 %
Track quality 100.0 %
Test CRC 23C0AB5C
Copy CRC 23C0AB5C
Copy OK

Track 20
Filename C:\Vivaldi - La Viola Da Gamba In Concerto - Jordi Savall (2003) [FLAC]\20 - Concerto con 4 Violini e Violonchello RV 580 - Allegro.wav

Peak level 99.3 %
Track quality 100.0 %
Test CRC 72FFD162
Copy CRC 72FFD162
Copy OK

Track 21
Filename C:\Vivaldi - La Viola Da Gamba In Concerto - Jordi Savall (2003) [FLAC]\21 - Concerto con molti Istromenti RV 555 - Allegro.wav

Pre-gap length 0:00:09.26

Peak level 99.3 %
Track quality 99.9 %
Test CRC C905E459
Copy CRC C905E459
Copy OK

Track 22
Filename C:\Vivaldi - La Viola Da Gamba In Concerto - Jordi Savall (2003) [FLAC]\22 - Concerto con molti Istromenti RV 555 - Largo e spiccato.wav

Peak level 74.9 %
Track quality 100.0 %
Test CRC B1F181AC
Copy CRC B1F181AC
Copy OK

Track 23
Filename C:\Vivaldi - La Viola Da Gamba In Concerto - Jordi Savall (2003) [FLAC]\23 - Concerto con molti Istromenti RV 555 - Allegro.wav

Peak level 99.3 %
Track quality 100.0 %
Test CRC 1972B0A6
Copy CRC 1972B0A6
Copy OK

No errors occured


End of status report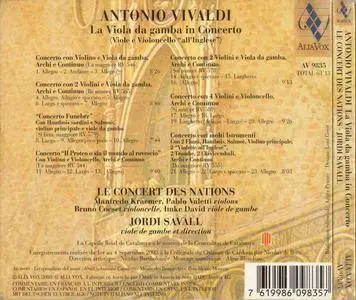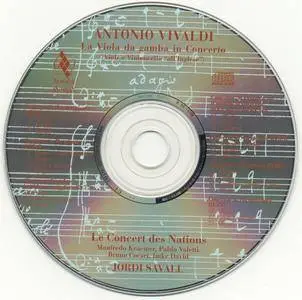 ===