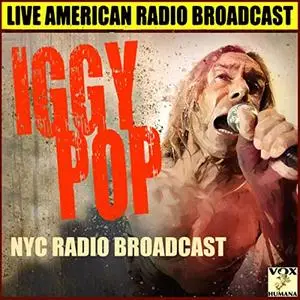 Iggy Pop - NYC Radio Broadcasts (Live) (2020)
FLAC tracks | 53:09 | 358 Mb
Genre: Rock, Alternative Rock, Punk / Label: Vox Humana
Initially playing a raw, primitive style of rock and roll, the Stooges sold few records in their original incarnation and gained a reputation for their confrontational performances, which often involved acts of self-mutilation by Pop. He had a long collaborative and personal friendship with David Bowie over the course of his career, beginning with the Stooges' album Raw Power in 1973. With both musicians having relocated to West Berlin to wean themselves off their respective drug addictions, Pop began his solo career by collaborating with Bowie on the 1977 albums The Idiot and Lust for Life with Pop usually contributing the lyrics. Throughout his career, Pop is well known for his outrageous and unpredictable stage antics, poetic lyrics and distinctive voice. He was one of the first performers to do a stage-dive and popularized the activity. Pop, who traditionally (but not exclusively) performs bare-chested, also performed such stage theatrics as rolling around in broken glass and exposing himself to the crowd.