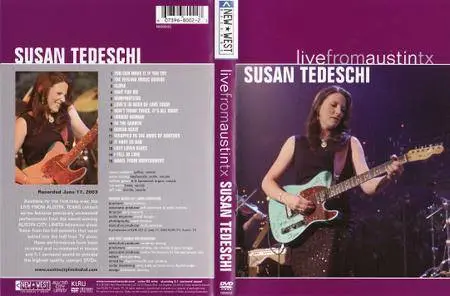 Susan Tedeschi - Live from Austin, Texas (2004)
DVD5 | NTSC | 4:3 (720x480) VBR | AC3 5.1, 448 kbps or 2.0, 192 kbps | ~ 3.6 Gb
Modern Electric Blues, Roots Rock | Label: New West | # NW8002 | Time: 01:23:32
Though the Austin City Limits series often spotlights Texas talent, this 2003 taping finds New England blueswoman Susan Tedeschi making herself right at home. Like Bonnie Raitt a few decades earlier, Tedeschi extends her musical inclinations beyond blues purism, sampling from the songbooks of Sly Stone ("You Can Make It If You Try"), Bob Dylan ("Don't Think Twice, It's All Right"), Stevie Wonder ("Love's in Need of Love Today"), and John Prine ("Angel from Montgomery," also a signature tune for Raitt) in addition to the more straightforward blues of Koko Taylor ("Voodoo Woman"). Though Tedeschi's stinging lead guitar provides the focus, she receives strong support from a band featuring the interplay of electric pianist Jason Crosby (who doubles on violin) and William Green on Hammond B-3 organ. Highlights include a tribute to jam-band inspiration Col. Bruce Hampton on "Hampmotized" and the simmering "Wait for Me," with its echoes of Aretha Franklin. Tedeschi has yet to show the suppleness as a vocalist to complement her guitar chops, but the musical range she displays here bodes well for her artistic development.