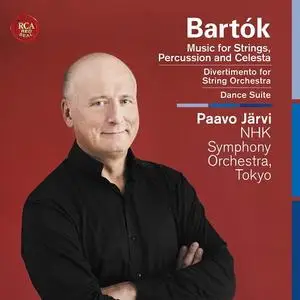 Paavo Järvi - Bartók: Music for Strings, Percussion and Celesta, Divertimento & Dance Suite (2019)
FLAC tracks | 1:12:52 | 287 Mb
Genre: Classical / Label: RCA Red Seal
The elder son of Estonian/American conductor Neeme Järvi, Paavo Järvi has achieved much, including appointment as the 12th music director of the Cincinnati Symphony Orchestra. Although a musician of broad interests and a resident of the United States for the greater part of his life, he has continued to champion the music of his native Estonia in live performances and on disc. Blessed with directing gifts that transcend mere talent, Järvi is among the handful of younger conductors regarded as true successors to the great maestros of the past. Born in Tallin, Estonia, Järvi began his studies in conducting and percussion at the Tallin School of Music.