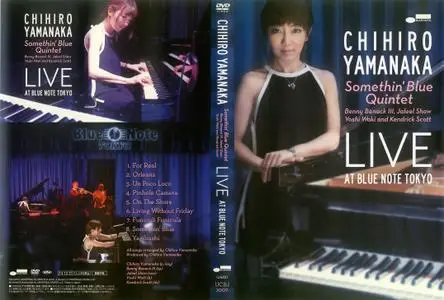 Chihiro Yamanaka Somethin' Blue Quintet - Live At Blue Note Tokyo (2014)
DVD9 | NTSC | 16:9 (720x480) VBR | LPCM, 2ch, 1536 kbps | ~ 5.5 Gb
Label: Universal Music Company / Blue Note | # UCBJ-1007 | Time: 01:20:37
Contemporary Jazz, Post-Bop, Neo-Bop, Piano Jazz
The Chihiro Yamanaka album, Somethin' Blue, is her Blue Note Records debut. Ms. Yamanaka, who most often performs and records in trio format, assembled a sextet for these sessions and created a new compositional universe that places Somethin' Blue in the lineage of classic Blue Note recordings. Chihiro Yamanaka's music pivots between her strikingly original compositions and her unique arrangements in which she accomplishes the impressive feat of introducing the element of surprise into some of the most famous songs in the jazz repertoire, contemporary popular music, and even the works of classical composers.