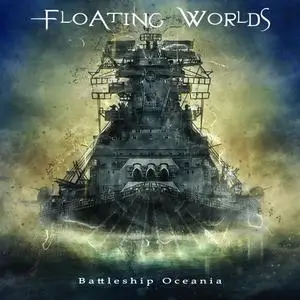 Floating Worlds - Battleship Oceania (2019)
WEB FLAC (tracks) ~ 494.96 Mb | MP3 CBR 320kbps ~ 162.92 Mb | 01:10:52 | Cover
Melodic Progressive Metal | Country: Greece | Label: Pride & Joy Music
Progressive rock/metal bands have never been ones to shy away from atmosphere and 'out-there' sounds, and FLOATING WORLDS is no exception. First track "Oceania" starts off with about a minute of ethereal, calming ocean sounds, and when the riffing starts, it is soon joined by overlaid symphonic keys, lending a transcendent air to the track. It is an instrumental intro, though there is some chorus 'ahhing' added in for effect. Continuing the ocean theme, "Sailing in History" opens similarly, but this time a plaintive flute-y melody accompanies the maritime atmosphere. The vocals are similarly plaintive at first, and they move in perfect tandem with the underlying keys. Percussion doesn't kick in until past the 3-minute mark, and guitars follow soon after. The vocals remain soaring, and the heavy chugging is fairly straightforward; the melodic work is still being handled by the symphonic instruments. There is a bare-bones lead towards the end, showing that this is a band more concerned with musicality than being impressive.