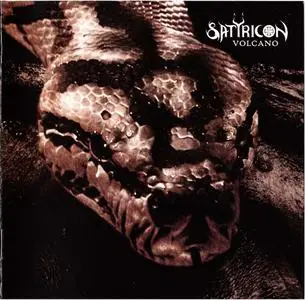 Satyricon - Volcano (2002)
Norway | MP3 CBR 320 Kbps | 155 MB
Black Metal | Label : Capitol Records
Volcano is the fifth studio album by Norwegian black metal band Satyricon. It was released on October 25, 2002, through Capitol Records. The album is one of the band's more successful records, having won several awards including the Norwegian Grammy for Best Metal Album, Alarm awards for Metal Album of the Year, Song of the Year for "Fuel for Hatred" and an Oslo award for Best Overall Album. SATYRICON drummer Frost commented on the album's musical direction by saying that "I perceive Volcano as a very dark, eerie and powerful album. Something I find to be really strange about Volcano is that all the songs are sounding very different, yet there is one distinct feeling that is present in all of them. Musical direction? Black metal, created and performed with the unmistakable quality and authority of SATYRICON."