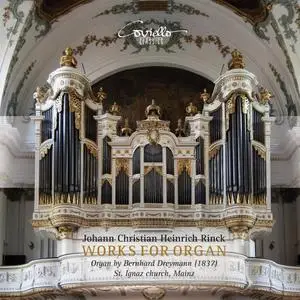 Christian Heinrich Rinck - Works for Organ (Organ by Bernhard Dreymann (1837) St. Ignaz Church, Mainz) (2021)
FLAC tracks +booklet | 01:54:14 | 438 Mb
Genre: Classical / Label: Coviello Classics
An "exemplary instrument" was the Dreymann organ built in 1837 in the St. Ignaz Church in the centre of Mainz. This was written by someone who should know: Johann Christian Heinrich Rinck, composer, organ virtuoso, author of an organ school and expert in the service of the Grand Duke of Hesse-Darmstadt, who commissioned the construction of the instrument. Unfortunately, the organ did not survive the centuries and wars unscathed; minor repairs were made again and again, but it was not until 2015 to 2019 that it was restored from the ground up. This inspired organ professor Gerhard Gnann from Mainz to embark on a project close to his heart: students are bringing the old sound back to life; he himself is also involved, of course. The chosen works were naturally obvious: they are all by the aforementioned Rinck, who, by the way, was born in the same year as Beethoven and is thus also a 250th anniversary of this year. His works at the transition from the late classical to the romantic period bring out the fine nuances of the organ's timbres to best advantage.