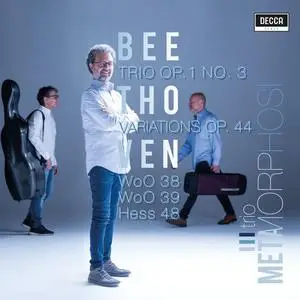 Trio Metamorphosi - Trio Metamorphosi:Piano Trio Op. 1 N. 3 / Variations Op. 44 / WoO 38, 39 / Hess 48 (2021)
FLAC tracks / MP3 320 kbps | 01:07:33 | 155 / 251 Mb
Genre: Classical / Label: Universal Music Italia srL.
Beethoven was born in Bonn in 1770, the son of a singer in the musical establishment of the Archbishop-Elector of Cologne and grandson of the old music director. The latter's fame was stressed in the family by Beethoven's mother, whose husband could never reach the standards so set, leading the composer to take charge of the family after her death, a responsibility that he took all too seriously. In 1792 he settled in Vienna with the encouragement of the Archbishop of Cologne, his patron, an ecclesiastic whose choice of profession was dictated in part by his parentage, as son of the Empress, and in part by weakness in his legs, which had ruled out a military career.