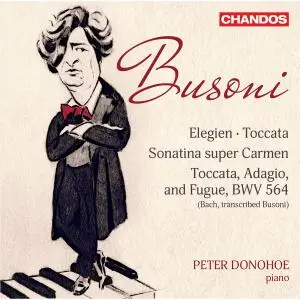 Peter Donohoe - Busoni: Toccata, BV 287, Elegien, BV 252, Sonatina No. 6, BV 284 & Toccata, Adagio & Fugue in C Major, BV B 29 No. 1 (2021)
MP3 CBR 320 kbps | Digital booklet | 01:10:57 | 166 Mb
Classical | Label: Chandos Records
In this electrifying recording, pianist Peter Donohoe shows how much more there is to Ferruccio Busoni than solo transcriptions of J.S. Bach. Many of the late-19th-century Italian composer's original works, though, still pay homage to musical heroes. "Sonatina No. 6" ("Super Carmen") is a wildly imaginative fantasy on Bizet's opera, packed with perhaps more drama and nonchalance than the original. It's the seven brooding Elegien that get to the heart of Busoni's genius, however, each thrilling miniature a showcase for some astonishing, inventive piano writing. ("No. 4," for example, transforms "Greensleeves" into a technical tour de force of sparkling originality.) Still, no Busoni recording would be complete without Bach, and this album's final tracks are devoted to the Toccata, Adagio & Fugue in C Major, a mighty homage to the power of the pipe organ.