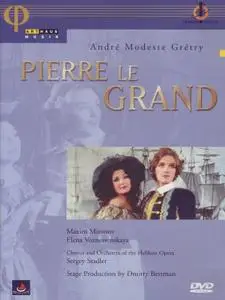 Sergey Stadler, Chorus and Orchestra of the Helikon Opera - André Modeste Grétry: Pierre le Grand (2002)
NTSC 4:3 (720x480) | Français/Русский | Dolby AC3, 2 ch | Dolby AC3, 6 ch | DTS, 5 ch | 7.03 Gb (DVD9) | 94 min
Classical | Arthaus | Sub.: Deutsch, English, Francais, Russian
Peter the Great was staged to celebrate the 300th anniversary of St. Petersburg. In order to understand the needs and sorrows of his people the young and dashing Tsar Peter decides to live and work incognito among the working classes. He falls in love with Catherine, a commoner's daughter and, still preserving his real identity, wants to marry her. Gretry's opera, premiered in Paris 1790, is one of the first operas about Russian emporor Peter I. Despite the fact that there are real historical characters in the comic opera, it remains a fairytale. There are no negative characters here; no one performs improper deeds; Virtue, Friendship and Sincerity are glorified.