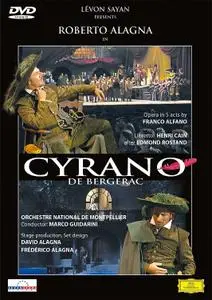 Marco Guidarini, Orchestre National de Montpellier - Alfano: Cyrano de Bergerac (2005/2003)
NTSC 16:9 (720x480) | Français (LinearPCM, 2 ch) | (Dolby AC3, 6 ch) | 7.06 Gb (DVD9) | 133 min
Classical | Deutsche Grammophon | Sub.: Français, English, Deutsch, Italiano, Español
This is, by operatic standards of fidelity, a very faithful musical treatment of Edmond Rostand's classic drama about the swashbuckling poet and swordsman with the big nose. The music is competent but not spectacular; that quality is found in the libretto. The title role is expertly filled by Roberto Alagna, who not only has the best tenor voice in France but also turns out to be an accomplished actor in a demanding role. He is well-supported by a cast that clearly loves the story, its various characters and its often brilliant dialogue.