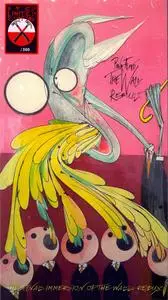 Pink Floyd - The Wall Rebuilt (The Complete Version) (1979/2019)
MP3 CBR 320 kbps | 04:07:12 | 580 Mb
Progressive Rock, Psychedelic Rock | Label: Brickwall Records & Tapes | Bootleg
4 CD boxset of the complete version of Pink Floyd's The Wall with all the missing and restored tracks. Pink Floyd The Wall is more than just a classic album. It is a true rock opera — a musical, visual, and cinematic spectacle on a grand scale. It is perhaps the finest example of rock and roll theatre ever produced. It is a complex, intricate work worthy of the recognition and study we often reserve for traditional classical works. It is huge in scope and full of big themes yet at its core it's still a deeply personal album about isolation and the damage we inflict upon ourselves. The sound of the album is timeless. Throughout the years, its messages adapt. Decades after its release, The Wall is still a relevant and important work.