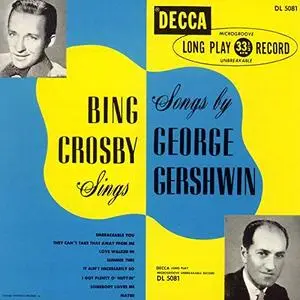 Bing Crosby - Sings Songs by George Gershwin (Expanded Edition) (1949/2019)
MP3 CBR 320kbps ~ 96.84 Mb | 00:42:01 | Cover
Pop, Easy Listening, Jazz | Country: USA | Label: Geffen
Harry Lillis "Bing" Crosby Jr. (May 3, 1903 – October 14, 1977) was an American singer and actor. The first multimedia star, Crosby was a leader in record sales, radio ratings, and motion picture grosses from 1931 to 1954. His early career coincided with recording innovations that allowed him to develop an intimate singing style that influenced many male singers who followed him, including Perry Como, Frank Sinatra, Dick Haymes, and Dean Martin. Yank magazine said that he was "the person who had done the most for the morale of overseas servicemen" during World War II. In 1948, American polls declared him the "most admired man alive", ahead of Jackie Robinson and Pope Pius XII. Also in 1948, Music Digest estimated that his recordings filled more than half of the 80,000 weekly hours allocated to recorded radio music.
Track List:
01. Swanee
02. Summertime
03. I Got Plenty O' Nuttin'
04. It Ain't Necessarily So
05. Somebody Loves Me
06. Maybe
07. But Not For Me
08. Judy Garland feat. Bing Crosby - Mine
09. Embraceable You
10. They Can't Take That Away From Me
11. Love Walked In
12. Liza
13. They All Laughed
14. Nice Work If You Can Get It
15. Somebody Loves Me