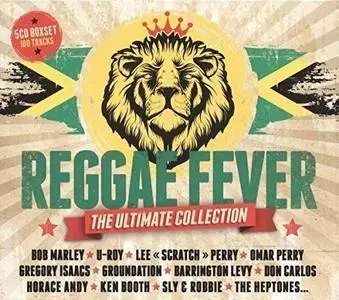 V. A. - Reggae Fever: Ultimate Collection (2016)
Label: Wagram Music | MP3 320 kbps CBR | 394:16 min | 902 mb
Dub, Reggae, Dancehall, World
Dancehall trendy and energetic dance that originated in the 60s of last century the streets of sunny Jamaica, and soon gained popularity around the world. The name "dance hall" translated to English means "dance floor." It is on the dance floors of Kingston originated new musical rhythms that blacks Jamaican capital used as a basis for the creation of a new direction.
Tracklist:
CD1
01 Bob Marley - Natural Mystic (5:10)
02 Lee Scratch Perry - Soul Fire (3:44)
03 Barrington Levy - Warm And Sunny Day (3:26)
04 Gregory Isaacs - Warning (3:16)
05 Dillinger - Cool Operator (2:48)
06 Sly And Robbie - Stick By Me (3:19)
07 Freddy Mcgregor - Sugar Baby (3:10)
08 Horace Andy - Cus Cus (2:31)
09 John Holt - Be My Girl (2:46)
10 Dennis Brown - Hold On To What You Got (5:35)
11 Sugar Minott - Devil Pickney (4:47)
12 Black Uhuru - Leaving To Zion (5:29)
13 Don Carlos - Better Must Come (3:41)
14 Stepper - Frenchman In Kingstown (3:53)
15 Passenger 7 Feat Lena - Ill Be Missing You (4:13)
16 Tarrus Riley And Jimmy Riley - Stronger (3:59)
17 Owen Grey - Island In The Stream (4:17)
18 The Heptones - Take Me Darling (2:41)
19 Gregory Isaacs - Motherless Child (6:00)
20 Motherless Child - I Shot The Sheriff (Dub) (4:38)
CD2
01 Sly And Robbie - Danger Zone (3:34)
02 Dennis Brown - Sitting And Watching (4:15)
03 Sugar Minott - Herbman Hustling (4:25)
04 Lee Scratch Perry - Jah Jah Jah Ah Natty Dread (3:34)
05 Clint Eastwoord - Love Story (2:32)
06 Don Carlos - Rivers Of Babylon (3:18)
07 Ricky Grant - Rocky Road (3:22)
08 Freddy Mcgregor - Roots Man Skanking (3:19)
09 Judge Dread - Rudy A Message To You (3:17)
10 Bob Marley - African Herbsman (2:23)
11 U Roy - Night Nurse (3:50)
12 Horace Andy - I'm Alive (7:14)
13 Sly And Robbie - World A Music (5:47)
14 Jackie Edwards - Le Me Go Girl (3:04)
15 The Wailers - No Woman No Cry (Dub) (3:06)
16 Ken Booth - Silver Words (2:49)
17 Horace Andy - Mek It Bum (3:33)
18 Gregory Isaacs - Slave Driver (6:07)
19 Sly And Robbie - Woman Needs Love (3:24)
20 Lee Scratch Perry - Throw Some Water In (3:35)
CD3
01 Horace Andy - Horse With No Name (3:54)
02 Dennis Brown - Africa (3:36)
03 Sugar Minott - Save The Children (4:49)
04 U Roy - I Need A Rood (4:12)
05 Lee Scratch Perry - Stick Together (2:43)
06 Gregory Isaacs - Mistake (5:05)
07 Black Uhuru - Guess Who's Coming To Dinner (5:03)
08 Dennis Brown - Rub A Dub (3:50)
09 Sly And Robbie - Chalice In Hand (2:46)
10 Lee Scratch Perry - Bird In Hand (3:21)
11 Ambelique - Walking On The Moon (4:12)
12 Sugar Minott - Fools Fall In Love (3:41)
13 Alpha Blondy - No Brain No Headache (3:51)
14 Gregory Isaacs - Greedy Girl (3:40)
15 Dennis Brown - Revolution Part One (5:04)
16 Horace Andy - Holy Mount Zion (4:42)
17 Black Uhuru - Shine Eye Gal (4:02)
18 Bob Marley - Trenchtown Rock (2:58)
19 U Roy - Power Of Love (3:55)
20 Sly And Robbie - Love And Devotion (3:52)
CD4
01 The Wailers - Get Up Stand Up (Dub) (3:33)
02 Prince Lincoln Thompson - Jungle Fever (5:40)
03 Luciano - If You Are Not (3:58)
04 Mitch - Original Yard Man (3:59)
05 Bob Marley - Sun Is Shining (2:12)
06 Sugar Minott - Wanted (3:56)
07 Gregory Isaacs - Soon Forward (4:59)
08 U Roy - Money (3:55)
09 Horace Andy - Satta Massagna (3:33)
10 Sly And Robbie - We Are Africa (3:16)
11 Horace Andy - Living Upright (4:30)
12 Hawkeye - Cant Stop We (3:54)
13 Chaka Chaks - We Will Rock You (3:30)
14 U Roy - When Jah Come (3:59)
15 Dennis Brown - Have You Ever (3:50)
16 Gregory Isaacs - You'll Never Know (4:02)
17 Alpha Blondy - Sweet Fanta Diallo (5:18)
18 Black Uhuru - Let Him Go (3:40)
19 Beenie Man - Pardon (4:04)
20 Mr Vegas - Lean With It (3:46)
CD5
01 Groundation - Riddim Hold Dem (5:50)
02 Nostalgia 77 Feat Alice Russel - Seven Nation Army (Grant Phabao Remix) (4:28)
03 Omar Perry - Blaze This Ya Fire (3:30)
04 Winston Mc Anuff And Fixi - Garden Of Love (3:24)
05 Skarra Mucci - My Sound (4:17)
06 Bitty Mclean - Running Over (4:03)
07 Taiwan Mc - Diskodub (4:23)
08 Black Roots - Son Of Man (4:43)
09 Rootz Underground - Fret Not Thyself (3:39)
10 Raging Fyah - Barriers (3:47)
11 Nicodrum - Rainy Days (3:23)
12 No Maddz - Romance (4:16)
13 Tanto Metro And Devonte - Falling In Love (4:12)
14 General Levy - Head Corner Stone (3:57)
15 Tairo And Little Pepe - Homies (3:51)
16 Biga Ranx Feat Big Red - Sexy (3:28)
17 Omar Perry - Cant Stop Me Flow (4:02)
18 David Hinds - Soon Come (3:37)
19 Turbulence - Looking For (3:35)
20 Konshens - I've Got To Go (3:08)