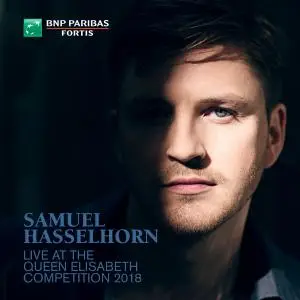 Samuel Hasselhorn - Samuel Hasselhorn Live at the Queen Elisabeth Competition 2018 (2019)
WEB FLAC (tracks+booklet) - 187 MB | Tracks: 12 | 42:14 min
Style: Classical | Label: Queen Elisabeth Competition
Anyone who heard Samuel Hasselhorn singing in the 2018 Queen Elisabeth Competition could not have failed to be impressed by the aura of maturity projected by this young man, who is clearly endowed with copious innate gifts. In addition to Debussy and Verdi, his renderings of the multi-faceted musical genius of Schubert, Mendelssohn, Schumann, Brahms, Wolf and Mahler - plus the poetic genius of Goethe, Heine and Eichendorff - served to make one thing absolutely clear: the sheer extent of this young man's talent is opening the path to a brilliant future. Accordingly, he was awarded first prize by the jury, a decision acclaimed by the vast majority of the audience.
Samuel Hasselhorn, baritone
Tracklist:
01. Pelléas et Mélisande, L. 88: Oh, qu'est-ce que c'est: (Pelléas) (Live)
02. Erlkönig D. 328 (Live)
03. Romanzen und Balladen, Vol. IV, Op. 64: III. Tragödie :Entflieh mit mir: (Live)
04. Italienisches Liederbuch: XXXV. Benedeit die sel'ge Mutter (Live)
05. Romanzen und Balladen, Vol. II, Op. 49: I. Die beiden Grenadiere (Live)
06. Gebet während der Schlacht D. 171 (Live)
07. Vier ernste Gesänge, Op. 121: III. O Tod, wie bitter bist du (Live)
08. Gedichte von Joseph V. Eichendorff: XIII. Seemanns Abschied (Live)
09. Des Knaben Wunderhorn: VII. Wer hat dies Liedlein erdacht: (Live)
10. Des Knaben Wunderhorn: VI. Wo die schönen Trompeten blasen (Live)
11. Elias, Op. 70: XXVI. Es ist genug (Live)
12. Don Carlos, Act V: Carlos écoute - Ah, je meurs (Rodrigo) (Live)

FILE: 01. Pelléas et Mélisande, L. 88_ Oh, qu'est-ce que c'est_ (Pelléas) (Live).flac
Size: 13436602 Hash: F412105255CB1E9F393D49DF5E2861EC Accuracy: -m0
Conclusion: CDDA 100%
Signature: 7C7E29DF13670EB6083E1CCA3B3A3297445C3FA0
FILE: 02. Erlkönig D. 328 (Live).flac
Size: 19888779 Hash: F3719F6DC50DAE1D52B265A6FB448B8D Accuracy: -m0
Conclusion: CDDA 99%
Signature: 473429F27B9EC6F627796E5B19EB29B93024EE5A
FILE: 03. Romanzen und Balladen, Vol. IV, Op. 64_ III. Tragödie _Entflieh mit mir_ (Live).flac
Size: 6474710 Hash: 87E06C86E53E81DB42171EFE3896DEFB Accuracy: -m0
Conclusion: CDDA 99%
Signature: BA6820F40D4B11CAAA4B611414BD46E017BC3B50
FILE: 04. Italienisches Liederbuch_ XXXV. Benedeit die sel'ge Mutter (Live).flac
Size: 15992475 Hash: 1E90061A389FCA3DEF0AF4E13909CE8E Accuracy: -m0
Conclusion: CDDA 100%
Signature: 2822212F5FC5E007A1FE26BD7EA87C43739DF8CC
FILE: 05. Romanzen und Balladen, Vol. II, Op. 49_ I. Die beiden Grenadiere (Live).flac
Size: 16363281 Hash: 5EE1EFDD4C83D89DFF100404864B7471 Accuracy: -m0
Conclusion: CDDA 100%
Signature: 74D3C375ECED76A4671B9F865FEB9ADABE2E4415
FILE: 06. Gebet während der Schlacht D. 171 (Live).flac
Size: 14487754 Hash: 8E0E764313232B48C737FB208681AF63 Accuracy: -m0
Conclusion: CDDA 100%
Signature: E7D777639114F77AC6EF5BE80E70AC04BD9D5BC1
FILE: 07. Vier ernste Gesänge, Op. 121_ III. O Tod, wie bitter bist du (Live).flac
Size: 14391808 Hash: 7A00676CE365468FFD956C16DFA465EA Accuracy: -m0
Conclusion: CDDA 99%
Signature: 1FC7AB596F26FD9A2CA68A8FB9C287B470081CC4
FILE: 08. Gedichte von Joseph V. Eichendorff_ XIII. Seemanns Abschied (Live).flac
Size: 11555223 Hash: E94B2E96B8A27FD23BDEF6C028214AE4 Accuracy: -m0
Conclusion: CDDA 100%
Signature: F0CDEA19E82B4B5EC8600702ABF4867402A3C2B0
FILE: 09. Des Knaben Wunderhorn_ VII. Wer hat dies Liedlein erdacht_ (Live).flac
Size: 10225501 Hash: 3791C3747BE0BC967E2CDC30B44AFD12 Accuracy: -m0
Conclusion: CDDA 100%
Signature: BE98B3B128906DCCEA0AD0DD1710CBA0FC19B380
FILE: 10. Des Knaben Wunderhorn_ VI. Wo die schönen Trompeten blasen (Live).flac
Size: 29276009 Hash: C275676CE606D8841FDED5BD9CD18705 Accuracy: -m0
Conclusion: CDDA 86%
Signature: 860A9D5C48FC5A3F1605F917FF520D0D6A7D820A
FILE: 11. Elias, Op. 70_ XXVI. Es ist genug (Live).flac
Size: 24331754 Hash: 463BBAC881754BD1FF354CAAF873FA74 Accuracy: -m0
Conclusion: CDDA 99%
Signature: D29DBE3ED540BADF6E72A68513380C58C2F8182A
FILE: 12. Don Carlos, Act V_ Carlos écoute - Ah, je meurs (Rodrigo) (Live).flac
Size: 17434251 Hash: 64EEABE5DF13988D70A3CBAED64DE0E4 Accuracy: -m0
Conclusion: CDDA 100%
Signature: 3E2A8E543F49C21EF210FE74F95250CAF24FC563