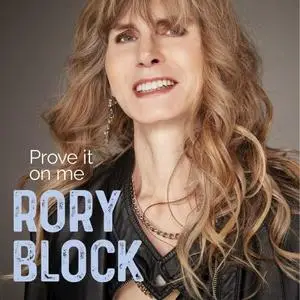 Rory Block - Prove It On Me (2020)
FLAC tracks / MP3 320 kbps | 41:24 | 95 / 246 Mb
Genre: Blues Folk / Label: Stony Plain Records
'Prove It On Me' is the second album from Rory Block's new Power Women of the Blues series. This recording celebrates the songs of nine ground-breaking female blues artists and includes one of her own originals. 'Prove It On Me' presents Rory's unique take on songs from phenomenal female performers and songwriters: Arizona Dranes, Elvie Thomas, Merline Johnson, Madlyn Davis, Helen Humes, Rosetta Howard, Lottie Kimbrough, Gertrude "Ma" Rainey and Memphis Minnie. Rory's goal for this release was to spotlight some of the more obscure names of the genre, some of whom did not become widely known "despite their immense talent". All songs are given the "Rory Block Band" treatment, while showcasing their own individual style and contribution to the genre.
Track List:
1. He May Be Your Man (4:10)
2. It's Red Hot (3:32)
3. If You're A Viper (4:10)
4. Prove It On Me (3:15)
5. I Shall Wear A Crown (4:10)
6. Eagles (4:27)
7. Wayward Girl Blues (4:42)
8. In My Girlish Days (3:22)
9. Milk Man Blues (4:50)
10. Motherless Child (4:52)
ANALYZER: auCDtect: CD records authenticity detector, version 0.8.2
Copyright © 2004 Oleg Berngardt. All rights reserved.
Copyright © 2004 Alexander Djourik. All rights reserved.


FILE: 01 - He May Be Your Man.flac
Size: 26926252 Hash: 87CC84123D87ECFEBDC0D949F26C75AC Accuracy: -m40
Conclusion: CDDA 100%
Signature: 7DBA7ADBC28A1270D1EA9E5850079321790747D2
FILE: 02 - It's Red Hot.flac
Size: 23565778 Hash: 2080DBC1A6106D0C43E887D8F1BD88BD Accuracy: -m40
Conclusion: CDDA 100%
Signature: 863C1E39D9B65BC370B5AFD02519661AB209B2B3
FILE: 03 - If You're A Viper.flac
Size: 26581143 Hash: 422C9E0DA15036ADEE7F5F84EB6D12C1 Accuracy: -m40
Conclusion: CDDA 100%
Signature: D18EA49A62451CB0F46994C3451BAAAE956472C6
FILE: 04 - Prove It On Me.flac
Size: 21398664 Hash: 8B1370C6F1BCFB4477425993A457B4CC Accuracy: -m40
Conclusion: CDDA 100%
Signature: 93C6AD1DD03EB0C6121916F02C84256EA2D9F431
FILE: 05 - I Shall Wear A Crown.flac
Size: 26952098 Hash: D9B334E111FE13C416CF9DB7D42011DD Accuracy: -m40
Conclusion: CDDA 100%
Signature: 719CAD7F7223020C041D1753D4FA6D48E62EC92E
FILE: 06 - Eagles.flac
Size: 28760448 Hash: 99F42C5AD2BC618A923E0D921AE135C6 Accuracy: -m40
Conclusion: CDDA 99%
Signature: 407A2F17A7F650AE5793EE1682821213E6A3E745
FILE: 07 - Wayward Girl Blues.flac
Size: 30308339 Hash: BA30D05EDF3646841DE6EBD3DA728005 Accuracy: -m40
Conclusion: CDDA 100%
Signature: 5E4D3B981337CEF5C9698763BB9B68A1A9A902A5
FILE: 08 - In My Girlish Days.flac
Size: 21040932 Hash: 40D5F793275AB76D46DC793DE04F352E Accuracy: -m40
Conclusion: CDDA 100%
Signature: AD6162C393B1BCEDE9897DB6D6AB63E9503C14C4
FILE: 09 - Milk Man Blues.flac
Size: 27838283 Hash: 30840B8B0AB60052A89AC21E8C3F7943 Accuracy: -m40
Conclusion: CDDA 100%
Signature: 34ADA1EE2A95D84BCE80C5D941D9A9FB3D03B34B
FILE: 10 - Motherless Child.flac
Size: 28212235 Hash: 76D5F92878790F3B2E3E16D7A467E4E2 Accuracy: -m40
Conclusion: CDDA 100%
Signature: 15D7FF255A1C252553BC137FF86EE512B33586F3