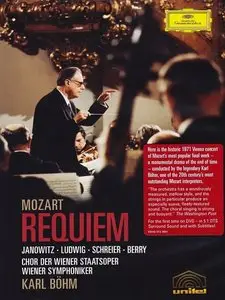 Karl Bohm, Wiener Symphoniker, Wiener Staatsopernchor - Mozart: Requiem [2005/1971]
NTSC 4:3 (720x480) VBR | Latin (LinearPCM, 2 ch) | (DTS, 6 ch) | 6.45 Gb (DVD9) | 64 min
Classical | Deutsche Grammophon | Sub: Latin, English, Deutsch, Francais, Espanol, Chinese
Karl Böhm conducting the Requiem: one of the foremost Mozart conductors of the 20th century in one of Mozart's most admired works. Singers Gundula Janowitz, Christa Ludwig, Peter Schreier and Walter Berry join forces to form a brilliant cast of soloists. Taped in 1971 at the Piaristenkirche in Vienna, this is a rare document of outstanding artistic quality.
Cast:
Gundula Janowitz, soprano
Christa Ludwig, contralto
Peter Schreier, tenor
Walter Berry, bass
Wiener Staatsopernchor
Wiener Symphoniker
Conductor - Karl Böhm
Track List:
01. Opening Credits
02. 1. Introitus: Requiem
03. 2. Kyrie
04. 3. Sequentia: Dies irae
05. 3. Sequentia: Tuba mirum
06. 3. Sequentia: Rex tremendae
07. 3. Sequentia: Recordare
08. 3. Sequentia: Confutatis
09. 3. Sequentia: Lacrimosa
10. 4. Offertorium: Domine Jesu
11. 4. Offertorium: Hostias
12. 5. Sanctus
13. 6. Benedictus
14. 7. Agnus Dei
15. 8.Communio: Lux aeterna