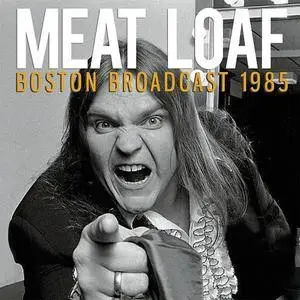 Meat Loaf - Boston Broadcast 1985 Live (2016)
Rock, Classic Rock, Hard Rock | MP3 CBR 320 kbps | 00:56:59 | 131 MB
Label: Zip City | Release Year: 2016
Despite the enormous levels of success achieved in the 1970s, by early in the new decade, Meat Loaf s career had taken an unexpected downturn. Bat Out Of Hell had been met with unprecedented acclaim upon its release in 1977, with its epic, theatrical style proving hugely popular, causing it to sell some 45 million copies worldwide. The album went 14 x Platinum in the US, and has never left the Top 75 UK Album Chart. His 1981 follow up, Dead Ringer, was also a hit, reaching the top spot in the UK, and with its title track and lead single - a duet with Cher - scoring highly too. Things were brought to a sudden halt, however, after the tour in support of Dead Ringer was cancelled after just one show, due to a lack of further funds. In the run up to his next release, Meat Loaf got involved in a bitter dispute with songwriter Jim Steinman, and the two didn t work together for almost a decade. As a result, 1983 s Midnight At The Lost And Found featured a rotating roster of composers, including Loaf himself. While not living up to his previous LPs, Midnight… did achieve modest success, with the album reaching No. 7 in the UK, and again its title track gracing the singles chart. His next two records however, Bad Attitude (1984) and Blind Before I Stop (1986) were both commercial failures, eventually leading to Meat Loaf s bankruptcy. However, even when things looked their bleakest, these events lead to a revitalisation of Meat Loaf s career. He began playing smaller venues, slowly developing a dedicated following until he was once again touring stadiums worldwide. In the wake of his newfound success, Meat Loaf reconciled with Steinman, and together they released Bat Out Of Hell: Back Into Hell along with its unstoppable lead single, I Would Do Anything For Love (But I Won t Do That) . The recording featured on this CD is from Loaf s show in Boston, MA on 21st May 1985, an event which was broadcast across and broadcast live on FM radio. Despite his troubles at the time, Meat Loaf proves that he is still a consummate, exciting and hugely professional performer and entertainer first and foremost, and remains one of the finest showmen that modern rock music has ever witnessed.
TRACKLIST
01. Bad Attitude
02. Dead Ringer For Love
03. Jumpin' The Gun
04. Nowhere Fast
05. Piece Of The Action
06. All Revved Up With No Place To Go
07. Modern Girl
08. Bat Out Of Hell