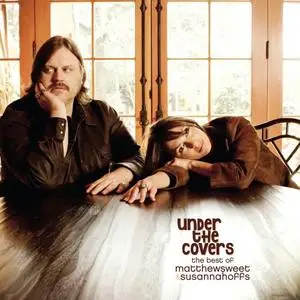 Matthew Sweet & Susanna Hoffs - Under the Covers The Best of Matthew Sweet & Susanna Hoffs (2020)
FLAC tracks / MP3 320 kbps | 01:54:08 | 803 / 263 Mb
Genre: Classic Rock, Pop, Rock / Label: Edsel
Between 2006 and 2013, alternative rock artist Matthew sweet and Bangles singer/guitarist susanna hoffs released three collaborative albums covering their favourite songs from the '60s, '70s and '80s. This new compilation brings together 30 of the very best tracks from across the under the covers series. "For me, making these recordings just felt like two music nerds getting together and having a really good time playing and recording songs that we worship," says hoffs, "they're kind of a love letter from us as fans. They're like the equivalent of an old school mix tape that you would give someone you're crazy about. There's something incredibly romantic about it." highlights include the rare promo tracks 'on my way home' And 'Sorry'. Includes guest appearances by Lindsey Buckingham ('second hand news'), Dhani Harrison ('beware of darkness') and Van Dyke Parks ('it's all over now, Baby Blue'). also available as a 28 track vinyl edition pressed on two heavyweight 180g translucent golden vinyl.
Track List:
1. And Your Bird Can Sing (2:08)
2. Second Hand News (3:14)
3. You're My Favorite Waste of Time (2:29)
4. They Don't Know (3:03)
5. You're so Vain (4:22)
6. Sunday Morning (3:25)
7. Maggie May (5:34)
8. On the Way Home (2:30)
9. (What's so Funny 'Bout) Peace, Love and Understanding (3:59)
10. Dreaming (2:53)
11. Train in Vain (3:00)
12. Sorry (2:37)
13. Different Drum (2:52)
14. Trouble (3:47)
15. Killing Moon (4:23)
16. I Would Die 4 U (2:53)
17. Beware of Darkness (3:35)
18. Cinnamon Girl (2:46)
19. Sitting Still (3:19)
20. It's All over Now, Baby Blue (3:44)
21. Melissa (4:15)
22. Bell Bottom Blues (5:04)
23. Care of Cell 44 (3:56)
24. Gimme Some Truth (3:28)
25. I Wanna Be Sedated (2:12)
26. I Can See for Miles (4:10)
27. How Soon Is Now (5:45)
28. Marquee Moon (10:51)
29. Free Fallin' (4:18)
30. All the Young Dudes (3:52)
ANALYZER: auCDtect: CD records authenticity detector, version 0.8.2
Copyright © 2004 Oleg Berngardt. All rights reserved.
Copyright © 2004 Alexander Djourik. All rights reserved.


FILE: 01 - And Your Bird Can Sing.flac
Size: 17221751 Hash: 386AB953EDF1E75FEB482D53FEEB678F Accuracy: -m40
Conclusion: CDDA 100%
Signature: B257AD1E7EB6D531A6286D2F08E141C2445BFE8F
FILE: 02 - Second Hand News.flac
Size: 24947804 Hash: 9E4B825BF939BFBFD5D76E7A7AF1892D Accuracy: -m40
Conclusion: CDDA 100%
Signature: 41A6DACEC9D3E27BE91B2B8EDF43140676BE4824
FILE: 03 - You're My Favorite Waste of Time.flac
Size: 18551687 Hash: 6C9BD4E466B8DC70B8B9AB5EA2FAB9B8 Accuracy: -m40
Conclusion: CDDA 42%
Signature: B57F11E65B917086FC3FC8EF72F25A50DBAEE9EA
FILE: 04 - They Don't Know.flac
Size: 20326480 Hash: 3ED6CB147CD239F517BC64D963963E65 Accuracy: -m40
Conclusion: CDDA 100%
Signature: 933ADE10024872F1B02647C54AC2A319B3B99851
FILE: 05 - You're so Vain.flac
Size: 30896762 Hash: 4E5E6C292BCC84C6D90F74E3F7805360 Accuracy: -m40
Conclusion: CDDA 100%
Signature: A3DC79A118FB988A8FD770112F81948F355D8898
FILE: 06 - Sunday Morning.flac
Size: 23500752 Hash: 155A38AEEAE91C9D7D493FF21953D6FF Accuracy: -m40
Conclusion: CDDA 100%
Signature: B5EA87A70EF69DB07F54833FC3180EFBAFB18EB5
FILE: 07 - Maggie May.flac
Size: 43267148 Hash: 5BC024B903F44DB2611017A644AEAC72 Accuracy: -m40
Conclusion: CDDA 100%
Signature: 94227A333327EA32DCA091FDCD6E72F1EE402630
FILE: 08 - On the Way Home.flac
Size: 19723274 Hash: 554F39A96E1CCCB5D6A3CE900061BDAE Accuracy: -m40
Conclusion: CDDA 100%
Signature: CDCF57FF6102FBCC855A7A07469A969A039AF5ED
FILE: 09 - (What's so Funny 'Bout) Peace, Love and Understanding.flac
Size: 29647406 Hash: 45E5FFB0443C4E6B9B51A48D44A90F0F Accuracy: -m40
Conclusion: CDDA 100%
Signature: ED41CD8B39036FDB0329C8E70F1EA8B7200DA5BC
FILE: 10 - Dreaming.flac
Size: 20979166 Hash: 907CED5DA433FD3320C8154D95FF356D Accuracy: -m40
Conclusion: CDDA 100%
Signature: 0F79BABA8F4CC26BD13510E33C96255BB3CA8878
FILE: 11 - Train in Vain.flac
Size: 22965675 Hash: ED1CBE1D57F7C8EF043F1BF32D0ED887 Accuracy: -m40
Conclusion: CDDA 76%
Signature: 665BD3EAE1C0874FBCC136084FCD86721206C55D
FILE: 12 - Sorry.flac
Size: 20303267 Hash: C99CE4028D5BEC8479C48084DDBCB175 Accuracy: -m40
Conclusion: MPEG 100%
Signature: 416BC825CC4D91D40A33EC2363002C41C7D59F93
FILE: 13 - Different Drum.flac
Size: 20764856 Hash: BBC8A5C481AB4601BACFA25DF3A3E46B Accuracy: -m40
Conclusion: CDDA 100%
Signature: 6BEE6BC32E57541F19397957F4A89366248025F3
FILE: 14 - Trouble.flac
Size: 28356812 Hash: 106F272801B1524D44863C437E7A15E3 Accuracy: -m40
Conclusion: MPEG 80%
Signature: F3BD12DC943548B66D0465343F7A9896198BEFED
FILE: 15 - Killing Moon.flac
Size: 30075338 Hash: FDA463D64A72B777B593E3261338EBB2 Accuracy: -m40
Conclusion: MPEG 79%
Signature: 61EBA30E62291E113DFA2CE5EC7AF68303CBC8BE
FILE: 16 - I Would Die 4 U.flac
Size: 22005392 Hash: 91AF695EA23F567B4F72BBD5B909EEC8 Accuracy: -m40
Conclusion: CDDA 94%
Signature: 5281CCCE076507DCC8085BB1A910B3F70C743948
FILE: 17 - Beware of Darkness.flac
Size: 25278933 Hash: 9BAC657BB1C466D91AEC18195981740B Accuracy: -m40
Conclusion: CDDA 99%
Signature: 6594602D7FEF2D672DC7832325873F01602EB0F5
FILE: 18 - Cinnamon Girl.flac
Size: 21316364 Hash: 9C662C6285C321647B6AFBA97A6F59E9 Accuracy: -m40
Conclusion: CDDA 100%
Signature: CA43172575B82FC7684DECF56AE3596E3F5ECD86
FILE: 19 - Sitting Still.flac
Size: 24701133 Hash: DAC701FC97BDDCBE9132F59D81C24C3D Accuracy: -m40
Conclusion: MPEG 89%
Signature: EA1BF3E703597B5A0503540C8176F281DC36B291
FILE: 20 - It's All over Now, Baby Blue.flac
Size: 28667862 Hash: E1F4AB6D66B4B344B6913FB804F4A7C8 Accuracy: -m40
Conclusion: CDDA 100%
Signature: B22302DBBC38CECF9A96137D132BF00001003A89
FILE: 21 - Melissa.flac
Size: 30470704 Hash: AE786722356930DF5CABB019CBE0971F Accuracy: -m40
Conclusion: CDDA 100%
Signature: B19DC47E1630CFBD36FA1AD3875DAAB3F0EB6F05
FILE: 22 - Bell Bottom Blues.flac
Size: 37767782 Hash: 57A13A1F01E866BCD01A962A88EF19A7 Accuracy: -m40
Conclusion: CDDA 100%
Signature: 8D3DE799DC76CA5A07218CC9466C2C785919D0B7
FILE: 23 - Care of Cell 44.flac
Size: 31387318 Hash: 60CCE4DCBD6C85511770FC9B9B387529 Accuracy: -m40
Conclusion: CDDA 99%
Signature: FCF1545290D301CC5DE50B4A008FFD28E31DE161
FILE: 24 - Gimme Some Truth.flac
Size: 25433874 Hash: AA5A4BDE72C4C9623F61BDE4462B7AE9 Accuracy: -m40
Conclusion: CDDA 100%
Signature: 5C26641E1A013E58D7110D33EC73400EB9C4897D
FILE: 25 - I Wanna Be Sedated.flac
Size: 17362264 Hash: 607E63721534F121BD185C1A306A7994 Accuracy: -m40
Conclusion: CDDA 100%
Signature: AF0149A14C0F9622A2E6F1129A4D9B04118E0128
FILE: 26 - I Can See for Miles.flac
Size: 32423048 Hash: F70C9299D07DF7DE317486A78FE70829 Accuracy: -m40
Conclusion: CDDA 100%
Signature: 6C8CB3D1D8D741A144C070B6799D4A9637D1F718
FILE: 27 - How Soon Is Now.flac
Size: 41762279 Hash: 92E46009C8B4BDB51D6E050B870DF5B9 Accuracy: -m40
Conclusion: MPEG 100%
Signature: F5995D492670059776DEFC463A065DBF2DBD950B
FILE: 28 - Marquee Moon.flac
Size: 79876298 Hash: 20589A0FEAC8DBD4603AB611C3CE7A18 Accuracy: -m40
Conclusion: CDDA 100%
Signature: EE93E70AB8C81FA058E1C070E6423EB24C2BDEF4
FILE: 29 - Free Fallin'.flac
Size: 30080277 Hash: 7B5CAEDF446B5C98C7E3FE5250B83E0D Accuracy: -m40
Conclusion: CDDA 100%
Signature: B4F6742E494A757B3293D057D0E5BB16C2930B7C
FILE: 30 - All the Young Dudes.flac
Size: 28484719 Hash: CD9B53A9F9E2411C419C0FE77994ECF0 Accuracy: -m40
Conclusion: CDDA 100%
Signature: 5F9E81E120FD000C80B2CF78F5358451DDB9A7F5