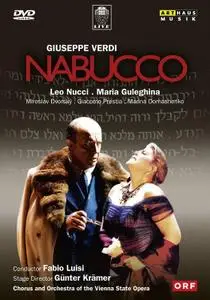 Fabio Luisi, Chor und Orchester der Wiener Staatsoper - Verdi: Nabucco (2009/2001)
NTSC 16:9 (720x480) | Italiano (LinearPCM, 2 ch) | (Dolby AC3, 6 ch) | (DTS, 6 ch) | 7.73 Gb (DVD9) | 126 min
Classical | Arthaus Musik | Sub.: English, Deutsch, Francais, Espanol, Italiano
After personal tragedies and the fiasco of his last opera Un giorno di regno, Verdi wanted to give up composing for ever. Fortunately he made a further attempt: Nabucco. His first real success, the first genuine "Verdi opera", was born. Nabucco – the complex story of Nebuchadnezzar the King of Babylon, who proclaims himself God and is hereon affl icted with madness – remains a success with audiences. The renowned director Günter Krämer paid particular attention to the interpersonal component of the opera accentuating the conflict-ridden king's loss of power as the core.