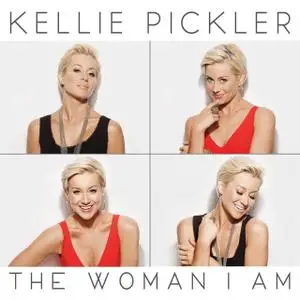 Kellie Pickler - The Woman I Am (2013)
WEB | FLAC (tracks) - 304 MB | MP3 (CBR 320 kbps) - 106 MB | 41:23
Genre: Country | Label: Black River Entertainment
By all rights, Kellie Pickler's third album 100 Proof should've been a blockbuster. A savvy update of classic country in the Tammy Wynette tradition, the 2012 record confirmed that Pickler could be a hell of a country singer, but the record stalled out on the charts, moving just a handful of copies – a significant decline from 2008's eponymous album, which almost went gold. BNA Records left her behind and she signed to the independent Black River Entertainment, working once again with 100 Proof producer Frank Liddell but also Luke Wooten, coming up with The Woman I Am, a record that's a bit bright and sweeter than its predecessor. At times, the record's indie roots are fairly apparent – the songs are modest, the production crisp but just short of gleaming – and the slight shift from neo-traditional to chipper country-pop suggests a tonal change that would perhaps have been called label-driven if a label had been involved. The sound might be happily commercial, but the songs are too subtle to be considered pandering, which means The Woman I Am is that rare record that manages to feel like a bid for mainstream success coming straight from the independent sector. It might lack a big strong hook – there is no song to pull in a skeptic – but the album has a nice, gentle sway and Pickler has expertly modulated her diva moves so she's now a skillful country singer. It's not an album that makes a career, but rather one that helps a career be built.
Track List:
01. Little Bit Gypsy 3:07
02. Ring For Sale 3:25
03. Buzzin' 3:29
04. The Woman I Am 3:03
05. Closer To Nowhere 3:25
06. Selma Drye 3:49
07. I Forgive You 3:33
08. Bonnie And Clyde 3:10
09. Where Did Your Love Go 3:52
10. No Cure For Crazy 2:57
11. Tough All Over 3:30
12. Someone Somewhere Tonight 4:08
–––––––––––-
DON'T MODIFY THIS FILE
–––––––––––-
PERFORMER: auCDtect Task Manager, ver. 1.6.0 RC1 build 1.6.0.1
Copyright © 2008-2010 y-soft. All rights reserved
http://y-soft.org
ANALYZER: auCDtect: CD records authenticity detector, version 0.8.2
Copyright © 2004 Oleg Berngardt. All rights reserved.
Copyright © 2004 Alexander Djourik. All rights reserved.
FILE: 1 Little Bit Gypsy.flac
Size: 22225441 Hash: 749D0982116AB22AC474BE3877B86151 Accuracy: -m0
Conclusion: CDDA 100%
Signature: 8701D7D50983CD19198BE769EDD6C52BC8E38E7A
FILE: 10 No Cure For Crazy (From CMT's -I Love Kellie Pickler-).flac
Size: 21595535 Hash: 5C4D17F39022BCF66043EB15C5C0E278 Accuracy: -m0
Conclusion: CDDA 100%
Signature: 7D004D16FD8C232AF988C32E48C127BD8050CBAA
FILE: 11 Tough All Over.flac
Size: 22068545 Hash: 2C35780DEDDBDA258DE8FEA2BE23DCCB Accuracy: -m0
Conclusion: CDDA 100%
Signature: 1E9406DD05AED28828253BBC14950ABAEC50D97E
FILE: 12 Someone Somewhere Tonight.flac
Size: 27304450 Hash: A9C3F2DEDEC55BD6EE96C8A0E7476051 Accuracy: -m0
Conclusion: CDDA 99%
Signature: 1F935498A46E649C9E696F3AB3C80C14D93DB7BD
FILE: 2 Ring for Sale.flac
Size: 25396470 Hash: 0228C4BCDB90630937F4E81D01898812 Accuracy: -m0
Conclusion: CDDA 100%
Signature: FFBFFA03C0F79CC689F7E7AC3BFD5ED12AF40DEF
FILE: 3 Buzzin'.flac
Size: 24243835 Hash: 94B4A0CA3925CD9B822FBC1A8BBF37CB Accuracy: -m0
Conclusion: CDDA 100%
Signature: 7B29104419230B4955282FC76691EDB1F8BE9BCF
FILE: 4 The Woman I Am.flac
Size: 18178338 Hash: 130801F1CEB4C0BC55E84C4D90294959 Accuracy: -m0
Conclusion: CDDA 99%
Signature: 9709372F56CBB3FA0E7CEBE471629C546363B095
FILE: 5 Closer to Nowhere.flac
Size: 24613291 Hash: 9B1C14CEDA53720941541495376B4207 Accuracy: -m0
Conclusion: CDDA 100%
Signature: 0130A3B98801E5F9E3DDD9C15B600AEACF989339
FILE: 6 Selma Drye.flac
Size: 28252661 Hash: F873337498D6153B2A8B43BBD85BEF14 Accuracy: -m0
Conclusion: CDDA 100%
Signature: B7AAAA3C7400FAA3793CEF6018863D6133686D6A
FILE: 7 I Forgive You.flac
Size: 24039258 Hash: 06D9CB83F2C61AF21B1CB51BEBB1F4CB Accuracy: -m0
Conclusion: CDDA 100%
Signature: 0393990BDD659DB9DF7081FDEA0720D9A589E577
FILE: 8 Bonnie and Clyde.flac
Size: 23500945 Hash: D4B11F77FB4305F99665CBAE1DA408F3 Accuracy: -m0
Conclusion: CDDA 100%
Signature: 5C43727EC68A85B98AECD7E9329889A477A73682
FILE: 9 Where Did Your Love Go.flac
Size: 28316038 Hash: 011B4DDB265675DE40DE43E5C4CB504D Accuracy: -m0
Conclusion: CDDA 99%
Signature: B47BB1C9B22CF1EAF56C015295A7BAB9C452F517