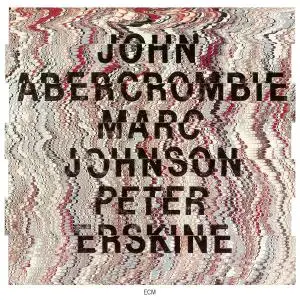 John Abercrombie - John Abercrombie, Marc Johnson, Peter Erskine (2019)
WEB FLAC (Tracks) 291 MB | Cover | 61:52 minutes | MP3 320Kbps | 144 MB
Jazz | Label: ECM Touchstone
Recorded live at Boston's Nightstage club in 1988 this album found John Abercrombie both pushing sonic boundaries on guitar synthesizer and, on regular jazz guitar, deepening his relationship to the world of standards. In this trio he had exceptional improvisational support from bass and drums.
Marc Johnson has said this band was the first that felt "like home" to him after the final Bill Evans Trio. And Peter Erskine was rechannelling Weather Report ideas about soloing inside the structures in this more intimate context.
TRACKLIST
1 Furs On Ice (Live)
2 Stella By Starlight (Live)
3 Alice In Wonderland (Live)
4 Beautiful Love (Live)
5 Innerplay (Live)
6 Light Beam (Live)
7 Drum Solo (Live)
8 Four On One (Live)
9 Samurai Hee-Haw (Live)
10 Haunted Heart (Live)
–––––––––––-
DON'T MODIFY THIS FILE
–––––––––––-
PERFORMER: auCDtect Task Manager, ver. 1.6.0 RC1 build 1.6.0.1
Copyright © 2008-2010 y-soft. All rights reserved
http://y-soft.org
ANALYZER: auCDtect: CD records authenticity detector, version 0.8.2
Copyright © 2004 Oleg Berngardt. All rights reserved.
Copyright © 2004 Alexander Djourik. All rights reserved.
FILE: 9 - Samurai Hee-Haw (Live).flac
Size: 52433626 Hash: 8FF7AF921AFD99A5E99EE2AA135AD016 Accuracy: -m0
Conclusion: CDDA 99%
Signature: 62CF7F860AC4173F8B5E962AD3FC6030D2C60F12
FILE: 8 - Four On One (Live).flac
Size: 33168987 Hash: 3F0D37F96999178F979FF03FED1B6EC3 Accuracy: -m0
Conclusion: CDDA 100%
Signature: 158DEC01C46E6E7D65398F5952D0C25468196BE9
FILE: 7 - Drum Solo (Live).flac
Size: 13054450 Hash: 0DAE5FBBD115D43D82ADF751A5A127C7 Accuracy: -m0
Conclusion: CDDA 100%
Signature: F823EB4274B52C56E13C108AE165F70F112D3AF6
FILE: 6 - Light Beam (Live).flac
Size: 11376371 Hash: 091B727E018AC6BCE774046CA4CACFAD Accuracy: -m0
Conclusion: CDDA 99%
Signature: AF4A3EA5DDEEC7FAFF328F07DE8861B2AA2664C6
FILE: 5 - Innerplay (Live).flac
Size: 21010477 Hash: 4960254228FE429DF4105064EA03F083 Accuracy: -m0
Conclusion: MPEG 95%
Signature: D5F5DE3EDE8305E6742BF9D08BB2A22FD12849FF
FILE: 4 - Beautiful Love (Live).flac
Size: 37959998 Hash: 9AF75EE2A8DF9AF31A871696F7B424A9 Accuracy: -m0
Conclusion: CDDA 100%
Signature: 9824EC07F9F452556F7C625B7EA2D282FD604C6A
FILE: 3 - Alice In Wonderland (Live).flac
Size: 30912853 Hash: DBF22F22EA7D95D9FD8A1DA735C5562F Accuracy: -m0
Conclusion: CDDA 100%
Signature: 99DD1917DF4EAB9CB3E8B22FE7A73436948A242D
FILE: 2 - Stella By Starlight (Live).flac
Size: 38255884 Hash: C7F5D105962BD071EE53273D955B0F15 Accuracy: -m0
Conclusion: CDDA 100%
Signature: 3072A7A9D20477A424F7C287BDBB0B433747D4E7
FILE: 10 - Haunted Heart (Live).flac
Size: 18408129 Hash: EE6D1A1E162AA93581DDFE1B1B8E6887 Accuracy: -m0
Conclusion: CDDA 100%
Signature: 01CAB77F91007046051C8BFD4312D878819B78FE
FILE: 1 - Furs On Ice (Live).flac
Size: 48497963 Hash: 5FB7BCF2405D0FE7FB4C750E7A6E18F2 Accuracy: -m0
Conclusion: CDDA 100%
Signature: 72E2A37808D48BF539521CDF39EAD06EC1DA69F0