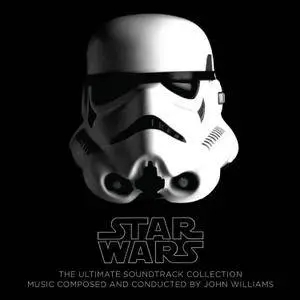 John Williams - Star Wars: The Ultimate Soundtrack Collection (2016) 10CD + DVD Box set
EAC | FLAC (Tracks) + cue.+log ~ 3.27 Gb | Time: 10:45:35 | Scans included + Booklet ~ 128 Mb
DVD5 | NTSC 16:9 (720x480) VBR | LPCM, 2.0 or AC3, 3/2 448 kbps | ~ 4 Gb | 01:10:28
Soundtrack, Score | Label: Sony Classical | # 88875167302
The most acclaimed and enduring film music in Hollywood history, the original soundtracks of Star Wars Episodes I VI, are now issued by Sony Classical in a new box set, Star Wars: The Ultimate Soundtrack Collection that includes 10 CDs plus a DVD. All composed by John Williams, the legendary five-time Oscar®-winning composer, this unique collector set is being released just as the latest chapter in the saga, Star Wars: The Force Awakens opens in theaters.
Star Wars: The Ultimate Soundtrack Collection includes the original six soundtracks in mini album jackets on 9 CDs, plus a bonus CD featuring a new audio interview with Harrison Ford (Han Solo) alongside an interview with John Williams. Also included is the DVD Star Wars: A Musical Journey, a one hour special hosted by actor Ian McDiarmid (Chancellor Palpatine) highlighting select musical themes alongside key sequences from the films. Rounding out the set are a fold-out poster and three collectable stickers.
With the mammoth cultural fanfare surrounding the release of The Force Awakens, the timing for a massive reissue was a good idea. Star Wars: The Ultimate Soundtrack Collection is a monster: 11 discs spanning the originals, the prequels, a "best-of" theme collection for instant gratification, and interviews with composer John Williams and Han Solo himself, Harrison Ford. The set is understandably lopsided: the less memorable music from the prequels claims just three discs, though diehards and fans looking to delve deeper into Williams' work will be rewarded. The Phantom Menace includes the most iconic song from the prequels, the apocalyptic "Duel of the Fates," yet also contains some playful whimsy, choral singing, and global instrumentation for the newly introduced worlds of Naboo and Tatooine. Important Easter eggs pop up too, like on "Anakin's Theme," which ends with some "Imperial March" foreshadowing. The cultural cache of memorable tunes dips off from there. Attack of the Clones introduces Anakin and Padme's "Across the Stars" love theme, where Williams creates more sweeping romance and foreboding danger than Lucas could wring from his actors' cringeworthy performances. A couple more exciting moments surprise faithful listeners: electric guitar zings forth on "Chase Through Coruscant" and emotions are roused on "Love Pledge and the Arena," but overall, like the movie, this is the weakest of the series. Revenge of the Sith is redeemed not only by the lamentful violin dirge of "Anakin's Dream," but by the scary excitement of "Palpatine's Teachings," which not only introduces the leitmotifs for "Emperor's Theme," "Imperial March," and "Force Theme," but also hints at The Force Awakens' mysterious "Snoke" with the bellow of ominous chanting. The prequel trilogy ends with the apt "A New Hope," where thematic nostalgia floods in and segues nicely into the original trilogy soundtracks. Each episode – A New Hope, Empire, and Jedi – receives two discs, and rightfully so: these are some of the most iconic and important themes in modern movie and cultural history. "Binary Sunset" ("Force Theme"), "Cantina Band," "Imperial March," and every beloved character's theme song: fans will know these songs in their bones. The musical portion of the collection ends with Jedi and – just like the 1997 Special Edition versions of the films – a bit of controversy: fans of the 1983 release will be dismayed to see the original tune from Jabba's sleaze lair – "Lapti Nek" ("Work It Out") – still gets no love, replaced by the much-reviled "Jedi Rocks" by the Max Rebo Band. On the other hand, it's not all disaster: the original trilogy-ending Ewok celebration song "Yub Nub" (a homophonic Ewokese pun on "Hooray!" and "Freedom") was likewise replaced by the 1997 version, though the replacement ("Victory Celebration") is a glorious highlight of the entire collection: bittersweet and triumphant, it is a perfect way to say goodbye to these characters, their epic saga, and ten discs of classic movie music. [The CD collection also includes a DVD, poster, and stickers.]



Neil Z. Yeung, All Music Guide
~
John Williams at Allmusic
~
John Williams at Wiki
Tracklist:
DISC 1 – Episode I: The Phantom Menace

1. Star Wars Main Title And The Arrival At Naboo 2:56
2. Duel Of The Fates 4:14
3. Anakin's Theme 3:09
4. Jar Jar's Introduction And The Swim To Otoh Gunga 5:08
5. The Sith Spacecraft And The Droid Battle 2:37
6. The Trip To The Naboo Temple And The Audience With Boss Nass 4:07
7. The Arrival At Tatooine And The Flag Parade 4:04
8. He Is The Chosen One 3:53
9. Anakin Defeats Sebulba 4:24
10. Passage Through The Planet Core 4:40
11. Watto's Deal And Kids At Play 4:57
12. Panaka And The Queen's Protectors 3:24
13. Queen Amidala And The Naboo Palace 4:52
14. The Droid Invasion And The Appearance Of Darth Maul 5:14
15. Qui-Gon's Noble End 3:48
16. The High Council Meeting And Qui-Gon's Funeral 3:09
17. Augie's Great Municipal Band And End Credits 9:40

DISC 2 – Episode II: Attack of the Clones

1. Star Wars Main Title And Ambush On Coruscant 3:48
2. Across The Stars (Love Theme From Star Wars: Episode II) 5:33
3. Zam The Assassin And The Chase Through Coruscant 11:07
4. Yoda And The Younglings 3:55
5. Departing Coruscant 1:45
6. Anakin And Padmé 3:56
7. Jango's Escape 3:48
8. The Meadow Picnic 4:14
9. Bounty Hunter's Pursuit 3:23
10. Return To Tatooine 6:57
11. The Tusken Camp And The Homestead 5:55
12. Love Pledge And The Arena 8:29
13. Confrontation With Count Dooku And Finale 10:44

DISC 3 – Episode III: Revenge of the Sith

1. Star Wars And Revenge Of The Sith 7:33
2. Anakin's Dream 4:46
3. Battle Of The Heroes 3:42
4. Anakin's Betrayal4:04
5. General Grievous 4:07
6. Palpatine's Teachings 5:25
7. Grievous And The Droids 3:28
8. Padmé's Ruminations 3:16
9. Anakin Vs. Obi-Wan 3:57
10. Anakin's Dark Deeds 4:05
11. Enter Lord Vader 4:14
12. The Immolation Scene 2:42
13. Grievous Speaks To Lord Sidious 2:49
14. The Birth Of The Twins And Padme's Destiny 3:37
15. A New Hope And End Credits 13:07

DISC 4 DVD – Star Wars: A Musical

Chapter 1: A Long Time Ago - "20th Century Fox Fanfare" / "Star Wars Main Title" (from all of the films)
Chapter 2: Dark Forces Conspire - "Duel of the Fates" (from Star Wars: Episode I The Phantom Menace)
Chapter 3: A Hero Rises - "Anakin's Theme" (from The Phantom Menace)
Chapter 4: A Fateful Love - "Across the Stars" (from Star Wars: Episode II Attack of the Clones)
Chapter 5: A Hero Falls - "Battle of the Heroes" (from Star Wars: Episode III Revenge of the Sith)
Chapter 6: An Empire Is Forged - "The Imperial March" (from Star Wars: Episode V The Empire Strikes Back)
Chapter 7: A Planet That Is Farthest From - "The Dune Sea Of Tatooine" / "Jawa Sandcrawler" (from Star Wars: Episode IV A New Hope)
Chapter 8: An Unlikely Alliance - "Binary Sunset" / "Cantina Band" (from A New Hope)
Chapter 9: A Defender Emerges - "Princess Leia's Theme" (from A New Hope)
Chapter 10: A Daring Rescue - "Ben's Death" / "Tie Fighter Attack" (from A New Hope)
Chapter 11: A Jedi Is Trained - "Yoda's Theme" (from The Empire Strikes Back)
Chapter 12: A Narrow Escape - "The Asteroid Field" (from The Empire Strikes Back)
Chapter 13: A Bond Unbroken - "Luke and Leia" (from Star Wars: Episode VI Return of the Jedi)
Chapter 14: A Sanctuary Moon - "In The Forest (Concert Suite)" (from Return of the Jedi)
Chapter 15: A Life Redeemed - "Light Of The Force" (from Return of the Jedi)
Chapter 16: A New Day Dawns - "The Throne Room" / "Finale" (from A New Hope)

DISC 5: Episode IV: A New Hope

1. 20th Century Fox Fanfare 0:23
2. Main Title / Rebel Blockade Runner 2:14
3. Imperial Attack 6:43
4. The Dune Sea Of Tatooine / Jawa Sandcrawler 5:02
5. The Moisture Farm 2:25
6. The Hologram / Binary Sunset 4:08
7. Landspeeder Search / Attack Of The Sand People 3:21
8. Tales Of A Jedi Knight / Learn About The Force 4:28
9. Burning Homestead 2:50
10. Mos Eisley Spaceport 2:16
11. Cantina Band 2:47
12. Cantina Band #2 3:55
13. Binary Sunset (Alternate) 17:00

DISC 6: Episode IV: A New Hope

1. Princess Leia's Theme 4:27
2. The Millenium Falcon / Imperial Cruiser Pursuit 3:51
3. Destruction Of Alderaan 1:33
4. The Death Star / The Stormtroopers 3:34
5. Wookiee Prisoner / Detention Block Ambush 4:01
6. Shootout In The Cell Bay / Dianoga 3:48
7. The Trash Compactor 3:06
8. The Tractor Beam / Chasm Crossfire 5:18
9. Ben Kenobi's Death / Tie Fighter Attack 3:51
10. The Battle Of Yavin (Launch From The Fourth Moon / X-Wings Draw Fire / Use The Force) 9:07
11. The Throne Room / End Title 5:37

DISC 7: Episode V: The Empire Strikes Back

1. 20th Century Fox Fanfare 0:22
2. Main Title / The Ice Planet Hoth 8:09
3. The Wampa's Lair / Vision Of Obi-Wan / Snowspeeders Take Flight 8:48
4. The Imperial Probe / Aboard The Executor 4:24
5. The Battle Of Hoth (Ion Cannon / Imperial Walkers / Beneath The AT-AT / Escape In The Millennium Falcon) 14:48
6. The Asteroid Field 4:16
7. Arrival On Dagobah 4:53
8. Luke's Nocturnal Visitor 2:35
9. Han Solo And The Princess 3:26
10. Jedi Master Revealed / Mynock Cave 5:44
11. The Training Of A Jedi Knight / The Magic Tree 5:17

DISC 8: Episode V: The Empire Strikes Back

1. The Imperial March (Darth Vader's Theme) 3:03
2. Yoda's Theme 3:30
3. Attacking A Star Destroyer 3:04
4. Yoda And The Force 4:02
5. Imperial Starfleet Deployed / City In The Clouds 6:03
6. Lando's Palace 3:53
7. Betrayal At Bespin 3:46
8. Deal With The Dark Lord 2:37
9. Carbon Freeze / Darth Vader's Trap / Departure Of Boba Fett 11:50
10. The Clash Of Lightsabers 4:18
11. Rescue From Cloud City / Hyperspace 9:08
12. The Rebel Fleet / End Title 6:28

DISC 9: Episode VI: Return of the Jedi

1. 20th Century Fox Fanfare 0:22
2. Main Title / Approaching The Death Star / Tatooine Rendezvous 9:17
3. The Droids Are Captured 1:17
4 Bounty For A Wookiee 2:50
5. Han Solo Returns 4:01
6. Luke Confronts Jabba / Den Of The Rancor / Sarlacc Sentence 8:49
7.The Pit Of Carkoon / Sail Barge Assault 6:02
8. The Emperor Arrives / The Death Of Yoda / Obi-Wan's Revelation 10:57
9. Alliance Assembly 2:11
10. Shuttle Tydirium Approaches Endor 4:07
11. Speeder Bike Chase / Land Of The Ewoks 9:38
12. The Levitation / Threepio's Bedtime Story 2:45
13. Jabba's Baroque Recital 3:04
14. Jedi Rocks 2:50
15. Sail Barge Assault (Alternate) 5:06

DISC 10: Episode VI: Return of the Jedi

1. Parade Of The Ewoks 3:28
2. Luke And Leia 4:46
3. Brother And Sister / Father And Son / The Fleet Enters Hyperspace 10:40
4. Emperor's Throne Room 3:26
5. The Battle Of Endor I (Into The Trap / Forest Ambush / Scout Walker Scramble / Prime Weapon Fires) 11:50
6. The Lightsaber / The Ewok Battle 4:31
7. The Battle Of Endor II (Leia Is Wounded - The Dual Begins / Overtaking The Bunker / The Dark Side Beckons / The Emperor's Death) 10:02
8. The Battle Of Endor III (Superstructure Chase / Darth Vader's Death / The Main Reactor) 6:03
9. Leia's News / Light Of The Force 3:21
10. Victory Celebration / End Title 8:33
11. Ewok Feast / Part Of The Tribe 4:00
12. The Forest Battle (Concert Suite) 4:06

DISC 11 Bonus Disc: Interviews with Harrison Ford and John Williams

An Interview With John Williams: His Life As A Composer:
1. Part I 9:19
2. Part II 8:07
3. Part III 11:22
An Interview With Harrison Ford: The Music Of Star Wars:
4. Part I 10:28
5. Part II 9:22
Exact Audio Copy V1.3 from 2. September 2016

EAC extraction logfile from 14. June 2018, 18:58

John Williams / Star Wars - Episode I: The Phantom Menace: The Ultimate Soundtrack Collection CD 1

Used drive : ATAPI iHBS312 2 Adapter: 1 ID: 1

Read mode : Secure
Utilize accurate stream : Yes
Defeat audio cache : Yes
Make use of C2 pointers : No

Read offset correction : 6
Overread into Lead-In and Lead-Out : No
Fill up missing offset samples with silence : Yes
Delete leading and trailing silent blocks : No
Null samples used in CRC calculations : Yes
Used interface : Native Win32 interface for Win NT & 2000
Gap handling : Appended to previous track

Used output format : User Defined Encoder
Selected bitrate : 1024 kBit/s
Quality : High
Add ID3 tag : No
Command line compressor : C:\Program Files\Exact Audio Copy\Flac\flac.exe
Additional command line options : -V -8 -T "Genre=%genre%" -T "Artist=%artist%" -T "Title=%title%" -T "Album=%albumtitle%" -T "Date=%year%" -T "Tracknumber=%tracknr%" -T "Comment=%comment%" %source%

TOC of the extracted CD

Track | Start | Length | Start sector | End sector
––––––––––––––––––––––––––––-
1 | 0:00.00 | 2:55.43 | 0 | 13167
2 | 2:55.43 | 4:14.27 | 13168 | 32244
3 | 7:09.70 | 3:08.43 | 32245 | 46387
4 | 10:18.38 | 5:07.42 | 46388 | 69454
5 | 15:26.05 | 2:37.00 | 69455 | 81229
6 | 18:03.05 | 4:07.27 | 81230 | 99781
7 | 22:10.32 | 4:04.17 | 99782 | 118098
8 | 26:14.49 | 3:53.13 | 118099 | 135586
9 | 30:07.62 | 4:23.57 | 135587 | 155368
10 | 34:31.44 | 4:39.41 | 155369 | 176334
11 | 39:11.10 | 4:57.06 | 176335 | 198615
12 | 44:08.16 | 3:24.00 | 198616 | 213915
13 | 47:32.16 | 4:51.43 | 213916 | 235783
14 | 52:23.59 | 5:14.27 | 235784 | 259360
15 | 57:38.11 | 3:47.72 | 259361 | 276457
16 | 61:26.08 | 3:08.38 | 276458 | 290595
17 | 64:34.46 | 9:39.40 | 290596 | 334060

Track 1

Filename F:\torrent\Star Wars_The Ultimate Soundtrack Collection__John Williams 11 CD\CD 1 Episode I The Phantom Menace\score\01. John Williams - Star Wars Main Title and The Arrival at Naboo.wav

Pre-gap length 0:00:02.00

Peak level 96.9 %
Extraction speed 5.1 X
Track quality 100.0 %
Test CRC AAB1149C
Copy CRC AAB1149C
Accurately ripped (confidence 34) [11827CCC] (AR v2)
Copy OK

Track 2

Filename F:\torrent\Star Wars_The Ultimate Soundtrack Collection__John Williams 11 CD\CD 1 Episode I The Phantom Menace\score\02. John Williams - Duel of the Fates.wav

Peak level 96.3 %
Extraction speed 5.9 X
Track quality 100.0 %
Test CRC 429D9181
Copy CRC 429D9181
Accurately ripped (confidence 34) [52951DF7] (AR v2)
Copy OK

Track 3

Filename F:\torrent\Star Wars_The Ultimate Soundtrack Collection__John Williams 11 CD\CD 1 Episode I The Phantom Menace\score\03. John Williams - Anakin's Theme.wav

Peak level 35.7 %
Extraction speed 4.9 X
Track quality 99.9 %
Test CRC 1FC531C5
Copy CRC 1FC531C5
Accurately ripped (confidence 34) [45B12F13] (AR v2)
Copy OK

Track 4

Filename F:\torrent\Star Wars_The Ultimate Soundtrack Collection__John Williams 11 CD\CD 1 Episode I The Phantom Menace\score\04. John Williams - Jar Jar's Introduction and The Swim to Otoh Gunga.wav

Peak level 59.2 %
Extraction speed 7.0 X
Track quality 100.0 %
Test CRC CEE59489
Copy CRC CEE59489
Accurately ripped (confidence 34) [A713D3CB] (AR v2)
Copy OK

Track 5

Filename F:\torrent\Star Wars_The Ultimate Soundtrack Collection__John Williams 11 CD\CD 1 Episode I The Phantom Menace\score\05. John Williams - The Sith Spacecraft and The Droid Battle.wav

Peak level 98.2 %
Extraction speed 5.2 X
Track quality 99.9 %
Test CRC 13F7D776
Copy CRC 13F7D776
Accurately ripped (confidence 34) [2F55F4DD] (AR v2)
Copy OK

Track 6

Filename F:\torrent\Star Wars_The Ultimate Soundtrack Collection__John Williams 11 CD\CD 1 Episode I The Phantom Menace\score\06. John Williams - The Trip to the Naboo Temple and The Audience with Boss Nass.wav

Peak level 89.7 %
Extraction speed 7.5 X
Track quality 100.0 %
Test CRC 382A65D2
Copy CRC 382A65D2
Accurately ripped (confidence 34) [A344F866] (AR v2)
Copy OK

Track 7

Filename F:\torrent\Star Wars_The Ultimate Soundtrack Collection__John Williams 11 CD\CD 1 Episode I The Phantom Menace\score\07. John Williams - The Arrival at Tatooine and The Flag Parade.wav

Peak level 94.1 %
Extraction speed 7.9 X
Track quality 100.0 %
Test CRC 5EBF6B09
Copy CRC 5EBF6B09
Accurately ripped (confidence 34) [118F274A] (AR v2)
Copy OK

Track 8

Filename F:\torrent\Star Wars_The Ultimate Soundtrack Collection__John Williams 11 CD\CD 1 Episode I The Phantom Menace\score\08. John Williams - He Is the Chosen One.wav

Peak level 58.5 %
Extraction speed 8.2 X
Track quality 100.0 %
Test CRC 7F68BA81
Copy CRC 7F68BA81
Accurately ripped (confidence 34) [9D17F0A6] (AR v2)
Copy OK

Track 9

Filename F:\torrent\Star Wars_The Ultimate Soundtrack Collection__John Williams 11 CD\CD 1 Episode I The Phantom Menace\score\09. John Williams - Anakin Defeats Sebulba.wav

Peak level 92.8 %
Extraction speed 8.7 X
Track quality 100.0 %
Test CRC 5AE97AE9
Copy CRC 5AE97AE9
Accurately ripped (confidence 34) [E7C28E14] (AR v2)
Copy OK

Track 10

Filename F:\torrent\Star Wars_The Ultimate Soundtrack Collection__John Williams 11 CD\CD 1 Episode I The Phantom Menace\score\10. John Williams - Passage Through the Planet Core.wav

Peak level 77.9 %
Extraction speed 7.7 X
Track quality 99.9 %
Test CRC 5199CDB9
Copy CRC 5199CDB9
Accurately ripped (confidence 34) [F3F9E39D] (AR v2)
Copy OK

Track 11

Filename F:\torrent\Star Wars_The Ultimate Soundtrack Collection__John Williams 11 CD\CD 1 Episode I The Phantom Menace\score\11. John Williams - Watto's Deal and Kids at Play.wav

Peak level 45.2 %
Extraction speed 9.6 X
Track quality 100.0 %
Test CRC DE687138
Copy CRC DE687138
Accurately ripped (confidence 33) [BE255002] (AR v2)
Copy OK

Track 12

Filename F:\torrent\Star Wars_The Ultimate Soundtrack Collection__John Williams 11 CD\CD 1 Episode I The Phantom Menace\score\12. John Williams - Panaka and the Queen's Protectors.wav

Peak level 83.6 %
Extraction speed 9.4 X
Track quality 100.0 %
Test CRC B5510F22
Copy CRC B5510F22
Accurately ripped (confidence 34) [59A9CEAF] (AR v2)
Copy OK

Track 13

Filename F:\torrent\Star Wars_The Ultimate Soundtrack Collection__John Williams 11 CD\CD 1 Episode I The Phantom Menace\score\13. John Williams - Queen Amidala and The Naboo Palace.wav

Peak level 95.7 %
Extraction speed 10.1 X
Track quality 100.0 %
Test CRC 288E509A
Copy CRC 288E509A
Accurately ripped (confidence 34) [B624FF3B] (AR v2)
Copy OK

Track 14

Filename F:\torrent\Star Wars_The Ultimate Soundtrack Collection__John Williams 11 CD\CD 1 Episode I The Phantom Menace\score\14. John Williams - The Droid Invasion and The Appearance of Darth Maul.wav

Peak level 87.9 %
Extraction speed 8.9 X
Track quality 99.9 %
Test CRC 763C554E
Copy CRC 763C554E
Accurately ripped (confidence 34) [9E3AC901] (AR v2)
Copy OK

Track 15

Filename F:\torrent\Star Wars_The Ultimate Soundtrack Collection__John Williams 11 CD\CD 1 Episode I The Phantom Menace\score\15. John Williams - Qui‐Gon's Noble End.wav

Peak level 74.7 %
Extraction speed 10.3 X
Track quality 100.0 %
Test CRC F4D613DF
Copy CRC F4D613DF
Accurately ripped (confidence 34) [2B26C413] (AR v2)
Copy OK

Track 16

Filename F:\torrent\Star Wars_The Ultimate Soundtrack Collection__John Williams 11 CD\CD 1 Episode I The Phantom Menace\score\16. John Williams - The High Council Meeting and Qui‐Gon's Funeral.wav

Peak level 36.2 %
Extraction speed 10.3 X
Track quality 100.0 %
Test CRC 8700CA64
Copy CRC 8700CA64
Accurately ripped (confidence 34) [DB22DEA6] (AR v2)
Copy OK

Track 17

Filename F:\torrent\Star Wars_The Ultimate Soundtrack Collection__John Williams 11 CD\CD 1 Episode I The Phantom Menace\score\17. John Williams - Augie's Great Municipal Band and End Credits.wav

Peak level 99.1 %
Extraction speed 5.3 X
Track quality 99.7 %
Test CRC 800F0BA9
Copy CRC 800F0BA9
Accurately ripped (confidence 33) [78BC0054] (AR v2)
Copy OK

All tracks accurately ripped

No errors occurred

End of status report

–– CUETools DB Plugin V2.1.6

[CTDB TOCID: JIwc1IvSidJBFtDZM0s0aUQejfQ-] found
Submit result: JIwc1IvSidJBFtDZM0s0aUQejfQ- has been confirmed
Track | CTDB Status
1 | (136/136) Accurately ripped
2 | (136/136) Accurately ripped
3 | (136/136) Accurately ripped
4 | (136/136) Accurately ripped
5 | (136/136) Accurately ripped
6 | (136/136) Accurately ripped
7 | (136/136) Accurately ripped
8 | (136/136) Accurately ripped
9 | (135/136) Accurately ripped
10 | (136/136) Accurately ripped
11 | (136/136) Accurately ripped
12 | (136/136) Accurately ripped
13 | (136/136) Accurately ripped
14 | (136/136) Accurately ripped
15 | (135/136) Accurately ripped
16 | (136/136) Accurately ripped
17 | (134/136) Accurately ripped

==== Log checksum 08D69D21262BDF979AD2DE8BAF2CD4AFB5D8021E3746D567CDC37924EDB67444 ====
Exact Audio Copy V1.3 from 2. September 2016

EAC extraction logfile from 14. June 2018, 20:56

John Williams / Star Wars Episode II: Attack of the Clones: The Ultimate Soundtrack Collection CD 2

Used drive : ATAPI iHBS312 2 Adapter: 1 ID: 1

Read mode : Secure
Utilize accurate stream : Yes
Defeat audio cache : Yes
Make use of C2 pointers : No

Read offset correction : 6
Overread into Lead-In and Lead-Out : No
Fill up missing offset samples with silence : Yes
Delete leading and trailing silent blocks : No
Null samples used in CRC calculations : Yes
Used interface : Native Win32 interface for Win NT & 2000
Gap handling : Appended to previous track

Used output format : User Defined Encoder
Selected bitrate : 1024 kBit/s
Quality : High
Add ID3 tag : No
Command line compressor : C:\Program Files\Exact Audio Copy\Flac\flac.exe
Additional command line options : -V -8 -T "Genre=%genre%" -T "Artist=%artist%" -T "Title=%title%" -T "Album=%albumtitle%" -T "Date=%year%" -T "Tracknumber=%tracknr%" -T "Comment=%comment%" %source%

TOC of the extracted CD

Track | Start | Length | Start sector | End sector
––––––––––––––––––––––––––––-
1 | 0:00.00 | 3:47.64 | 0 | 17088
2 | 3:47.64 | 5:32.47 | 17089 | 42035
3 | 9:20.36 | 11:07.31 | 42036 | 92091
4 | 20:27.67 | 3:55.20 | 92092 | 109736
5 | 24:23.12 | 1:45.08 | 109737 | 117619
6 | 26:08.20 | 3:56.19 | 117620 | 135338
7 | 30:04.39 | 3:48.20 | 135339 | 152458
8 | 33:52.59 | 4:14.29 | 152459 | 171537
9 | 38:07.13 | 3:23.10 | 171538 | 186772
10 | 41:30.23 | 6:56.55 | 186773 | 218027
11 | 48:27.03 | 5:54.49 | 218028 | 244626
12 | 54:21.52 | 8:29.04 | 244627 | 282805
13 | 62:50.56 | 10:44.01 | 282806 | 331106

Track 1

Filename F:\torrent\Star Wars_The Ultimate Soundtrack Collection__John Williams 11 CD\CD 2 Episode II Attack of the Clones\score\01. John Williams - Star Wars Main Title and Ambush on Coruscant.wav

Pre-gap length 0:00:02.00

Peak level 77.8 %
Extraction speed 1.1 X
Track quality 100.0 %
Test CRC 1E0EAC49
Copy CRC 1E0EAC49
Accurately ripped (confidence 33) [14D38E87] (AR v2)
Copy OK

Track 2

Filename F:\torrent\Star Wars_The Ultimate Soundtrack Collection__John Williams 11 CD\CD 2 Episode II Attack of the Clones\score\02. John Williams - Across the Stars (Love Theme from Star Wars- Episode II).wav

Peak level 68.1 %
Extraction speed 1.3 X
Track quality 99.9 %
Test CRC EA780B0A
Copy CRC EA780B0A
Accurately ripped (confidence 33) [746AD71C] (AR v2)
Copy OK

Track 3

Filename F:\torrent\Star Wars_The Ultimate Soundtrack Collection__John Williams 11 CD\CD 2 Episode II Attack of the Clones\score\03. John Williams - Zam the Assassin and The Chase Through Coruscant.wav

Peak level 94.2 %
Extraction speed 1.6 X
Track quality 100.0 %
Test CRC C4D6E466
Copy CRC C4D6E466
Accurately ripped (confidence 33) [1EB80AE3] (AR v2)
Copy OK

Track 4

Filename F:\torrent\Star Wars_The Ultimate Soundtrack Collection__John Williams 11 CD\CD 2 Episode II Attack of the Clones\score\04. John Williams - Yoda and the Younglings.wav

Peak level 59.0 %
Extraction speed 1.6 X
Track quality 100.0 %
Test CRC F9A3DBD4
Copy CRC F9A3DBD4
Accurately ripped (confidence 33) [2BC1F46B] (AR v2)
Copy OK

Track 5

Filename F:\torrent\Star Wars_The Ultimate Soundtrack Collection__John Williams 11 CD\CD 2 Episode II Attack of the Clones\score\05. John Williams - Departing Coruscant.wav

Peak level 80.4 %
Extraction speed 1.4 X
Track quality 100.0 %
Test CRC 76DCB416
Copy CRC 76DCB416
Accurately ripped (confidence 33) [C99F3751] (AR v2)
Copy OK

Track 6

Filename F:\torrent\Star Wars_The Ultimate Soundtrack Collection__John Williams 11 CD\CD 2 Episode II Attack of the Clones\score\06. John Williams - Anakin and Padmé.wav

Peak level 87.1 %
Extraction speed 1.8 X
Track quality 100.0 %
Test CRC C66EFCF1
Copy CRC C66EFCF1
Accurately ripped (confidence 33) [4DA8BE18] (AR v2)
Copy OK

Track 7

Filename F:\torrent\Star Wars_The Ultimate Soundtrack Collection__John Williams 11 CD\CD 2 Episode II Attack of the Clones\score\07. John Williams - Jango's Escape.wav

Peak level 92.0 %
Extraction speed 1.8 X
Track quality 100.0 %
Test CRC 4497C245
Copy CRC 4497C245
Accurately ripped (confidence 33) [819A1D65] (AR v2)
Copy OK

Track 8

Filename F:\torrent\Star Wars_The Ultimate Soundtrack Collection__John Williams 11 CD\CD 2 Episode II Attack of the Clones\score\08. John Williams - The Meadow Picnic.wav

Peak level 50.2 %
Extraction speed 1.9 X
Track quality 100.0 %
Test CRC D650B031
Copy CRC D650B031
Accurately ripped (confidence 33) [42A5F125] (AR v2)
Copy OK

Track 9

Filename F:\torrent\Star Wars_The Ultimate Soundtrack Collection__John Williams 11 CD\CD 2 Episode II Attack of the Clones\score\09. John Williams - Bounty Hunter's Pursuit.wav

Peak level 83.8 %
Extraction speed 1.9 X
Track quality 100.0 %
Test CRC FAB26F0C
Copy CRC FAB26F0C
Accurately ripped (confidence 33) [4E2DA464] (AR v2)
Copy OK

Track 10

Filename F:\torrent\Star Wars_The Ultimate Soundtrack Collection__John Williams 11 CD\CD 2 Episode II Attack of the Clones\score\10. John Williams - Return to Tatooine.wav

Peak level 93.1 %
Extraction speed 2.2 X
Track quality 100.0 %
Test CRC 03D20E7A
Copy CRC 03D20E7A
Accurately ripped (confidence 32) [0BA34EDB] (AR v2)
Copy OK

Track 11

Filename F:\torrent\Star Wars_The Ultimate Soundtrack Collection__John Williams 11 CD\CD 2 Episode II Attack of the Clones\score\11. John Williams - The Tusken Camp and The Homestead.wav

Peak level 85.1 %
Extraction speed 2.2 X
Track quality 100.0 %
Test CRC B131F4A9
Copy CRC B131F4A9
Accurately ripped (confidence 32) [9FF6BAC4] (AR v2)
Copy OK

Track 12

Filename F:\torrent\Star Wars_The Ultimate Soundtrack Collection__John Williams 11 CD\CD 2 Episode II Attack of the Clones\score\12. John Williams - Love Pledge and The Arena.wav

Peak level 94.1 %
Extraction speed 2.4 X
Track quality 100.0 %
Test CRC F78F4CF7
Copy CRC F78F4CF7
Accurately ripped (confidence 33) [7DE9A9B9] (AR v2)
Copy OK

Track 13

Filename F:\torrent\Star Wars_The Ultimate Soundtrack Collection__John Williams 11 CD\CD 2 Episode II Attack of the Clones\score\13. John Williams - Confrontation With Count Dooku and Finale.wav

Peak level 94.2 %
Extraction speed 2.6 X
Track quality 100.0 %
Test CRC 0DC7F875
Copy CRC 0DC7F875
Accurately ripped (confidence 34) [3626A6AE] (AR v2)
Copy OK

All tracks accurately ripped

No errors occurred

End of status report

–– CUETools DB Plugin V2.1.6

[CTDB TOCID: soNIkrdMWQdrIcyMPBECK3YjK_g-] found
Submit result: soNIkrdMWQdrIcyMPBECK3YjK_g- has been confirmed
Track | CTDB Status
1 | (127/127) Accurately ripped
2 | (127/127) Accurately ripped
3 | (127/127) Accurately ripped
4 | (127/127) Accurately ripped
5 | (127/127) Accurately ripped
6 | (127/127) Accurately ripped
7 | (127/127) Accurately ripped
8 | (127/127) Accurately ripped
9 | (127/127) Accurately ripped
10 | (126/127) Accurately ripped
11 | (127/127) Accurately ripped
12 | (127/127) Accurately ripped
13 | (126/127) Accurately ripped

==== Log checksum 02BAF1D420E78D75BED830D6D017ECC1A80FE9C73586001B45576CCFCC76BD1F ====
Exact Audio Copy V1.3 from 2. September 2016

EAC extraction logfile from 14. June 2018, 21:35

John Williams / Star Wars pisode III: Revenge of the Sith: The Ultimate Soundtrack Collection CD 3

Used drive : ATAPI iHBS312 2 Adapter: 1 ID: 1

Read mode : Secure
Utilize accurate stream : Yes
Defeat audio cache : Yes
Make use of C2 pointers : No

Read offset correction : 6
Overread into Lead-In and Lead-Out : No
Fill up missing offset samples with silence : Yes
Delete leading and trailing silent blocks : No
Null samples used in CRC calculations : Yes
Used interface : Native Win32 interface for Win NT & 2000
Gap handling : Appended to previous track

Used output format : User Defined Encoder
Selected bitrate : 1024 kBit/s
Quality : High
Add ID3 tag : No
Command line compressor : C:\Program Files\Exact Audio Copy\Flac\flac.exe
Additional command line options : -V -8 -T "Genre=%genre%" -T "Artist=%artist%" -T "Title=%title%" -T "Album=%albumtitle%" -T "Date=%year%" -T "Tracknumber=%tracknr%" -T "Comment=%comment%" %source%

TOC of the extracted CD

Track | Start | Length | Start sector | End sector
––––––––––––––––––––––––––––-
1 | 0:00.00 | 7:32.72 | 0 | 33971
2 | 7:32.72 | 4:45.40 | 33972 | 55386
3 | 12:18.37 | 3:42.24 | 55387 | 72060
4 | 16:00.61 | 4:03.38 | 72061 | 90323
5 | 20:04.24 | 4:07.18 | 90324 | 108866
6 | 24:11.42 | 5:25.03 | 108867 | 133244
7 | 29:36.45 | 3:27.49 | 133245 | 148818
8 | 33:04.19 | 3:16.33 | 148819 | 163551
9 | 36:20.52 | 3:57.20 | 163552 | 181346
10 | 40:17.72 | 4:05.22 | 181347 | 199743
11 | 44:23.19 | 4:14.06 | 199744 | 218799
12 | 48:37.25 | 2:42.09 | 218800 | 230958
13 | 51:19.34 | 2:49.28 | 230959 | 243661
14 | 54:08.62 | 3:37.08 | 243662 | 259944
15 | 57:45.70 | 13:07.01 | 259945 | 318970

Track 1

Filename F:\torrent\Star Wars_The Ultimate Soundtrack Collection__John Williams 11 CD\CD 3 Episode III Revenge of the Sith\score\01. John Williams - Star Wars and The Revenge of the Sith (Medley).wav

Pre-gap length 0:00:02.00

Peak level 93.3 %
Extraction speed 4.0 X
Track quality 100.0 %
Test CRC 2F62120A
Copy CRC 2F62120A
Accurately ripped (confidence 33) [8202E8AC] (AR v2)
Copy OK

Track 2

Filename F:\torrent\Star Wars_The Ultimate Soundtrack Collection__John Williams 11 CD\CD 3 Episode III Revenge of the Sith\score\02. John Williams - Anakin's Dream.wav

Peak level 88.2 %
Extraction speed 3.9 X
Track quality 99.9 %
Test CRC CF25EBFE
Copy CRC CF25EBFE
Accurately ripped (confidence 33) [0BAD460C] (AR v2)
Copy OK

Track 3

Filename F:\torrent\Star Wars_The Ultimate Soundtrack Collection__John Williams 11 CD\CD 3 Episode III Revenge of the Sith\score\03. John Williams - Battle of the Heroes.wav

Peak level 90.3 %
Extraction speed 4.5 X
Track quality 100.0 %
Test CRC 79C5D26C
Copy CRC 79C5D26C
Accurately ripped (confidence 32) [44C6BA73] (AR v2)
Copy OK

Track 4

Filename F:\torrent\Star Wars_The Ultimate Soundtrack Collection__John Williams 11 CD\CD 3 Episode III Revenge of the Sith\score\04. John Williams - Anakin's Betrayal.wav

Peak level 85.8 %
Extraction speed 4.9 X
Track quality 100.0 %
Test CRC 5F9FD581
Copy CRC 5F9FD581
Accurately ripped (confidence 33) [F9B252BB] (AR v2)
Copy OK

Track 5

Filename F:\torrent\Star Wars_The Ultimate Soundtrack Collection__John Williams 11 CD\CD 3 Episode III Revenge of the Sith\score\05. John Williams - General Grievous.wav

Peak level 93.3 %
Extraction speed 5.1 X
Track quality 100.0 %
Test CRC 9BC52BD5
Copy CRC 9BC52BD5
Accurately ripped (confidence 33) [ED37A690] (AR v2)
Copy OK

Track 6

Filename F:\torrent\Star Wars_The Ultimate Soundtrack Collection__John Williams 11 CD\CD 3 Episode III Revenge of the Sith\score\06. John Williams - Palpatine's Teachings.wav

Peak level 89.5 %
Extraction speed 5.1 X
Track quality 99.9 %
Test CRC 4CB0D3E7
Copy CRC 4CB0D3E7
Accurately ripped (confidence 33) [C7DBF82D] (AR v2)
Copy OK

Track 7

Filename F:\torrent\Star Wars_The Ultimate Soundtrack Collection__John Williams 11 CD\CD 3 Episode III Revenge of the Sith\score\07. John Williams - Grievous and the Droids.wav

Peak level 90.1 %
Extraction speed 5.5 X
Track quality 100.0 %
Test CRC 83A2C994
Copy CRC 83A2C994
Accurately ripped (confidence 33) [1FE7EC07] (AR v2)
Copy OK

Track 8

Filename F:\torrent\Star Wars_The Ultimate Soundtrack Collection__John Williams 11 CD\CD 3 Episode III Revenge of the Sith\score\08. John Williams - Padmé's Ruminations.wav

Peak level 50.4 %
Extraction speed 5.7 X
Track quality 100.0 %
Test CRC F23FF94D
Copy CRC F23FF94D
Accurately ripped (confidence 33) [CDF04FC4] (AR v2)
Copy OK

Track 9

Filename F:\torrent\Star Wars_The Ultimate Soundtrack Collection__John Williams 11 CD\CD 3 Episode III Revenge of the Sith\score\09. John Williams - Anakin Vs. Obi‐Wan.wav

Peak level 90.1 %
Extraction speed 6.0 X
Track quality 100.0 %
Test CRC 1931A4D0
Copy CRC 1931A4D0
Accurately ripped (confidence 33) [F22CE663] (AR v2)
Copy OK

Track 10

Filename F:\torrent\Star Wars_The Ultimate Soundtrack Collection__John Williams 11 CD\CD 3 Episode III Revenge of the Sith\score\10. John Williams - Anakin's Dark Deeds.wav

Peak level 90.2 %
Extraction speed 6.3 X
Track quality 100.0 %
Test CRC D61AAF44
Copy CRC D61AAF44
Accurately ripped (confidence 33) [F706F3CB] (AR v2)
Copy OK

Track 11

Filename F:\torrent\Star Wars_The Ultimate Soundtrack Collection__John Williams 11 CD\CD 3 Episode III Revenge of the Sith\score\11. John Williams - Enter Lord Vader.wav

Peak level 82.8 %
Extraction speed 6.5 X
Track quality 100.0 %
Test CRC 8CE31E68
Copy CRC 8CE31E68
Accurately ripped (confidence 33) [D2D5A682] (AR v2)
Copy OK

Track 12

Filename F:\torrent\Star Wars_The Ultimate Soundtrack Collection__John Williams 11 CD\CD 3 Episode III Revenge of the Sith\score\12. John Williams - The Immolation Scene.wav

Peak level 58.3 %
Extraction speed 6.2 X
Track quality 100.0 %
Test CRC 00F92CBA
Copy CRC 00F92CBA
Accurately ripped (confidence 33) [B70CD6E6] (AR v2)
Copy OK

Track 13

Filename F:\torrent\Star Wars_The Ultimate Soundtrack Collection__John Williams 11 CD\CD 3 Episode III Revenge of the Sith\score\13. John Williams - Grievous Speaks to Lord Sidious.wav

Peak level 90.1 %
Extraction speed 6.4 X
Track quality 100.0 %
Test CRC CC6328C8
Copy CRC CC6328C8
Accurately ripped (confidence 33) [FD5E1B0D] (AR v2)
Copy OK

Track 14

Filename F:\torrent\Star Wars_The Ultimate Soundtrack Collection__John Williams 11 CD\CD 3 Episode III Revenge of the Sith\score\14. John Williams - The Birth of the Twins and Padmé's Destiny (Medley).wav

Peak level 74.9 %
Extraction speed 5.9 X
Track quality 99.9 %
Test CRC D2622D49
Copy CRC D2622D49
Accurately ripped (confidence 33) [5DA30E66] (AR v2)
Copy OK

Track 15

Filename F:\torrent\Star Wars_The Ultimate Soundtrack Collection__John Williams 11 CD\CD 3 Episode III Revenge of the Sith\score\15. John Williams - A New Hope and End Credits (Medley).wav

Peak level 90.1 %
Extraction speed 8.0 X
Track quality 100.0 %
Test CRC D5AE3A70
Copy CRC D5AE3A70
Accurately ripped (confidence 33) [D1ECAE69] (AR v2)
Copy OK

All tracks accurately ripped

No errors occurred

End of status report

–– CUETools DB Plugin V2.1.6

[CTDB TOCID: bPHrmEhDirI7o2VbzqckmSo1OV8-] found
Submit result: bPHrmEhDirI7o2VbzqckmSo1OV8- has been confirmed
Track | CTDB Status
1 | (129/129) Accurately ripped
2 | (129/129) Accurately ripped
3 | (129/129) Accurately ripped
4 | (129/129) Accurately ripped
5 | (129/129) Accurately ripped
6 | (129/129) Accurately ripped
7 | (129/129) Accurately ripped
8 | (129/129) Accurately ripped
9 | (129/129) Accurately ripped
10 | (129/129) Accurately ripped
11 | (129/129) Accurately ripped
12 | (129/129) Accurately ripped
13 | (129/129) Accurately ripped
14 | (129/129) Accurately ripped
15 | (128/129) Accurately ripped

==== Log checksum 2C59836A1A72A3752A80C6FC51C0282A950DF04B431C578B6F3EBA9BAB3FA826 ====
Title: STAR_WARS_MUSICAL_JOURNEY_DVD
Size: 4.01 Gb ( 4 201 842,00 KBytes ) - DVD-5
Enabled regions: 1, 2, 3, 4, 5, 6, 7, 8

VTS_01 :
Play Length: 00:00:16
Video: NTSC 16:9 (720x480) VBR, Auto Letterboxed
Audio:
English (LinearPCM, 2 ch)
English (Dolby AC3, 6 ch)

VTS_02 :
Play Length: 01:10:28+{01:01:43}
Video: NTSC 16:9 (720x480) VBR, Auto Letterboxed
Audio:
English, LPCM, Delay = 0 mSec
English, AC3, 3/2 (L,C,R,SL,SR)+LFE ch, 448 kbps, Delay 0 mSec

VTS_03 :
Play Length: 00:00:11
Video: NTSC 16:9 (720x480) VBR, Auto Letterboxed
Audio:
English (LinearPCM, 2 ch)
English (Dolby AC3, 6 ch)

VTS_04 :
Play Length: 00:02:11
Video: NTSC 4:3 (720x480) VBR
Audio:
English (LinearPCM, 2 ch)
Exact Audio Copy V1.3 from 2. September 2016

EAC extraction logfile from 15. June 2018, 15:37

John Williams / Star Wars Episode IV: A New Hope: The Ultimate Soundtrack Collection CD 5

Used drive : ATAPI iHBS312 2 Adapter: 1 ID: 1

Read mode : Secure
Utilize accurate stream : Yes
Defeat audio cache : Yes
Make use of C2 pointers : No

Read offset correction : 6
Overread into Lead-In and Lead-Out : No
Fill up missing offset samples with silence : Yes
Delete leading and trailing silent blocks : No
Null samples used in CRC calculations : Yes
Used interface : Native Win32 interface for Win NT & 2000
Gap handling : Appended to previous track

Used output format : User Defined Encoder
Selected bitrate : 1024 kBit/s
Quality : High
Add ID3 tag : No
Command line compressor : C:\Program Files\Exact Audio Copy\Flac\flac.exe
Additional command line options : -V -8 -T "Genre=%genre%" -T "Artist=%artist%" -T "Title=%title%" -T "Album=%albumtitle%" -T "Date=%year%" -T "Tracknumber=%tracknr%" -T "Comment=%comment%" %source%

TOC of the extracted CD

Track | Start | Length | Start sector | End sector
––––––––––––––––––––––––––––-
1 | 0:00.00 | 0:22.52 | 0 | 1701
2 | 0:22.52 | 2:14.16 | 1702 | 11767
3 | 2:36.68 | 6:42.68 | 11768 | 41985
4 | 9:19.61 | 5:01.44 | 41986 | 64604
5 | 14:21.30 | 2:25.06 | 64605 | 75485
6 | 16:46.36 | 4:08.32 | 75486 | 94117
7 | 20:54.68 | 3:20.45 | 94118 | 109162
8 | 24:15.38 | 4:28.15 | 109163 | 129277
9 | 28:43.53 | 2:50.22 | 129278 | 142049
10 | 31:34.00 | 2:16.15 | 142050 | 152264
11 | 33:50.15 | 2:46.73 | 152265 | 164787
12 | 36:37.13 | 3:54.62 | 164788 | 182399
13 | 40:32.00 | 16:59.43 | 182400 | 258867

Track 1

Filename F:\torrent\Star Wars_The Ultimate Soundtrack Collection__John Williams 11 CD\CD 5 Episode IV - A New Hope-1\score\01 Alfred Newman - 20th Century Fox Fanfare (1954).wav

Pre-gap length 0:00:02.00

Peak level 94.2 %
Extraction speed 2.0 X
Track quality 100.0 %
Test CRC A98616C1
Copy CRC A98616C1
Accurately ripped (confidence 199) [B6ECFBB8] (AR v2)
Copy OK

Track 2

Filename F:\torrent\Star Wars_The Ultimate Soundtrack Collection__John Williams 11 CD\CD 5 Episode IV - A New Hope-1\score\02 John Williams - Main Title , Rebel Blockade Runner (Medley).wav

Peak level 100.0 %
Extraction speed 4.5 X
Track quality 100.0 %
Test CRC AB434069
Copy CRC AB434069
Accurately ripped (confidence 198) [A5B6C0F0] (AR v2)
Copy OK

Track 3

Filename F:\torrent\Star Wars_The Ultimate Soundtrack Collection__John Williams 11 CD\CD 5 Episode IV - A New Hope-1\score\03 John Williams - Imperial Attack.wav

Peak level 98.8 %
Extraction speed 5.9 X
Track quality 100.0 %
Test CRC 1797BCD5
Copy CRC 1797BCD5
Accurately ripped (confidence 197) [32D73BC7] (AR v2)
Copy OK

Track 4

Filename F:\torrent\Star Wars_The Ultimate Soundtrack Collection__John Williams 11 CD\CD 5 Episode IV - A New Hope-1\score\04 John Williams - The Dune Sea of Tatooine , Jawa Sandcrawler (Medley).wav

Peak level 96.4 %
Extraction speed 6.5 X
Track quality 100.0 %
Test CRC 9D72A3AF
Copy CRC 9D72A3AF
Accurately ripped (confidence 198) [E00B51A3] (AR v2)
Copy OK

Track 5

Filename F:\torrent\Star Wars_The Ultimate Soundtrack Collection__John Williams 11 CD\CD 5 Episode IV - A New Hope-1\score\05 John Williams - The Moisture Farm.wav

Peak level 73.1 %
Extraction speed 4.8 X
Track quality 99.9 %
Test CRC A406E455
Copy CRC A406E455
Accurately ripped (confidence 198) [4E2D3A76] (AR v2)
Copy OK

Track 6

Filename F:\torrent\Star Wars_The Ultimate Soundtrack Collection__John Williams 11 CD\CD 5 Episode IV - A New Hope-1\score\06 John Williams - The Hologram , Binary Sunset (Medley).wav

Peak level 97.3 %
Extraction speed 7.1 X
Track quality 100.0 %
Test CRC 4438BF70
Copy CRC 4438BF70
Accurately ripped (confidence 198) [D303BBFF] (AR v2)
Copy OK

Track 7

Filename F:\torrent\Star Wars_The Ultimate Soundtrack Collection__John Williams 11 CD\CD 5 Episode IV - A New Hope-1\score\07 John Williams - Landspeeder Search , Attack of the Sand People (Medley).wav

Peak level 100.0 %
Extraction speed 7.2 X
Track quality 100.0 %
Test CRC 2FA69C7B
Copy CRC 2FA69C7B
Accurately ripped (confidence 198) [DE4A77E7] (AR v2)
Copy OK

Track 8

Filename F:\torrent\Star Wars_The Ultimate Soundtrack Collection__John Williams 11 CD\CD 5 Episode IV - A New Hope-1\score\08 John Williams - Tales of a Jedi Knight , Learn About the Force (Medley).wav

Peak level 99.7 %
Extraction speed 7.9 X
Track quality 100.0 %
Test CRC F5FEFCFE
Copy CRC F5FEFCFE
Accurately ripped (confidence 198) [443FD538] (AR v2)
Copy OK

Track 9

Filename F:\torrent\Star Wars_The Ultimate Soundtrack Collection__John Williams 11 CD\CD 5 Episode IV - A New Hope-1\score\09 John Williams - Burning Homestead.wav

Peak level 97.0 %
Extraction speed 6.1 X
Track quality 99.9 %
Test CRC 6CD4E586
Copy CRC 6CD4E586
Accurately ripped (confidence 198) [CC1E4FB0] (AR v2)
Copy OK

Track 10

Filename F:\torrent\Star Wars_The Ultimate Soundtrack Collection__John Williams 11 CD\CD 5 Episode IV - A New Hope-1\score\10 John Williams - Mos Eisley Spaceport.wav

Peak level 100.0 %
Extraction speed 7.6 X
Track quality 100.0 %
Test CRC 6A6B56C6
Copy CRC 6A6B56C6
Accurately ripped (confidence 198) [3DA9CAF8] (AR v2)
Copy OK

Track 11

Filename F:\torrent\Star Wars_The Ultimate Soundtrack Collection__John Williams 11 CD\CD 5 Episode IV - A New Hope-1\score\11 John Williams - Cantina Band.wav

Peak level 79.5 %
Extraction speed 6.3 X
Track quality 99.9 %
Test CRC 39BA1FA8
Copy CRC 39BA1FA8
Accurately ripped (confidence 199) [BB093EBD] (AR v2)
Copy OK

Track 12

Filename F:\torrent\Star Wars_The Ultimate Soundtrack Collection__John Williams 11 CD\CD 5 Episode IV - A New Hope-1\score\12 John Williams - Cantina Band #2.wav

Peak level 80.3 %
Extraction speed 8.8 X
Track quality 100.0 %
Test CRC C85ADD62
Copy CRC C85ADD62
Accurately ripped (confidence 197) [C1BB6CD5] (AR v2)
Copy OK

Track 13

Filename F:\torrent\Star Wars_The Ultimate Soundtrack Collection__John Williams 11 CD\CD 5 Episode IV - A New Hope-1\score\13 John Williams - Binary Sunset (archival bonus track, alternate) (Medley).wav

Peak level 96.9 %
Extraction speed 10.1 X
Track quality 99.9 %
Test CRC 2A852AA0
Copy CRC 2A852AA0
Accurately ripped (confidence 196) [581666C1] (AR v2)
Copy OK

All tracks accurately ripped

No errors occurred

End of status report

–– CUETools DB Plugin V2.1.6

[CTDB TOCID: OTPHwBWUn6Bgn3dZRH9pPzgUY14-] found
Submit result: OTPHwBWUn6Bgn3dZRH9pPzgUY14- has been confirmed
Track | CTDB Status
1 | (680/682) Accurately ripped, or (2/682) differs in 1 samples @00:21:02
2 | (682/682) Accurately ripped
3 | (682/682) Accurately ripped
4 | (682/682) Accurately ripped
5 | (680/682) Accurately ripped
6 | (682/682) Accurately ripped
7 | (681/682) Accurately ripped
8 | (680/682) Accurately ripped
9 | (680/682) Accurately ripped
10 | (681/682) Accurately ripped
11 | (681/682) Accurately ripped
12 | (681/682) Accurately ripped
13 | (681/682) Accurately ripped

==== Log checksum 516CF81F7EEBBF3A5AF80187CFF31719A2221FBA642D30A1B3BA5B0F8A36CC3A ====
Exact Audio Copy V1.3 from 2. September 2016

EAC extraction logfile from 15. June 2018, 16:08

John Williams / Star Wars Episode IV: A New Hope: The Ultimate Soundtrack Collection CD 6

Used drive : ATAPI iHBS312 2 Adapter: 1 ID: 1

Read mode : Secure
Utilize accurate stream : Yes
Defeat audio cache : Yes
Make use of C2 pointers : No

Read offset correction : 6
Overread into Lead-In and Lead-Out : No
Fill up missing offset samples with silence : Yes
Delete leading and trailing silent blocks : No
Null samples used in CRC calculations : Yes
Used interface : Native Win32 interface for Win NT & 2000
Gap handling : Appended to previous track

Used output format : User Defined Encoder
Selected bitrate : 1024 kBit/s
Quality : High
Add ID3 tag : No
Command line compressor : C:\Program Files\Exact Audio Copy\Flac\flac.exe
Additional command line options : -V -8 -T "Genre=%genre%" -T "Artist=%artist%" -T "Title=%title%" -T "Album=%albumtitle%" -T "Date=%year%" -T "Tracknumber=%tracknr%" -T "Comment=%comment%" %source%

TOC of the extracted CD

Track | Start | Length | Start sector | End sector
––––––––––––––––––––––––––––-
1 | 0:00.00 | 4:27.18 | 0 | 20042
2 | 4:27.18 | 3:51.17 | 20043 | 37384
3 | 8:18.35 | 1:32.58 | 37385 | 44342
4 | 9:51.18 | 3:34.12 | 44343 | 60404
5 | 13:25.30 | 4:01.28 | 60405 | 78507
6 | 17:26.58 | 3:47.57 | 78508 | 95589
7 | 21:14.40 | 3:06.28 | 95590 | 109567
8 | 24:20.68 | 5:18.02 | 109568 | 133419
9 | 29:38.70 | 3:51.28 | 133420 | 150772
10 | 33:30.23 | 9:06.72 | 150773 | 191794
11 | 42:37.20 | 5:37.29 | 191795 | 217098

Track 1

Filename F:\torrent\Star Wars_The Ultimate Soundtrack Collection__John Williams 11 CD\CD 6 Episode IV - A New Hope-2\score\01. John Williams - Princess Leia's Theme.wav

Pre-gap length 0:00:02.00

Peak level 89.0 %
Extraction speed 4.4 X
Track quality 99.9 %
Test CRC BD9DBC86
Copy CRC BD9DBC86
Accurately ripped (confidence 174) [ED6096B7] (AR v2)
Copy OK

Track 2

Filename F:\torrent\Star Wars_The Ultimate Soundtrack Collection__John Williams 11 CD\CD 6 Episode IV - A New Hope-2\score\02. John Williams - The Millennium Falcon , Imperial Cruiser Pursuit.wav

Peak level 95.3 %
Extraction speed 5.7 X
Track quality 100.0 %
Test CRC F6D13A02
Copy CRC F6D13A02
Accurately ripped (confidence 174) [7B2B4E6F] (AR v2)
Copy OK

Track 3

Filename F:\torrent\Star Wars_The Ultimate Soundtrack Collection__John Williams 11 CD\CD 6 Episode IV - A New Hope-2\score\03. John Williams - Destruction of Alderaan.wav

Peak level 99.4 %
Extraction speed 5.0 X
Track quality 100.0 %
Test CRC 5172C5A1
Copy CRC 5172C5A1
Accurately ripped (confidence 174) [423EF0D9] (AR v2)
Copy OK

Track 4

Filename F:\torrent\Star Wars_The Ultimate Soundtrack Collection__John Williams 11 CD\CD 6 Episode IV - A New Hope-2\score\04. John Williams - The Death Star , The Stormtroopers.wav

Peak level 97.6 %
Extraction speed 6.2 X
Track quality 100.0 %
Test CRC D9D4CCA9
Copy CRC D9D4CCA9
Accurately ripped (confidence 174) [2569B92E] (AR v2)
Copy OK

Track 5

Filename F:\torrent\Star Wars_The Ultimate Soundtrack Collection__John Williams 11 CD\CD 6 Episode IV - A New Hope-2\score\05. John Williams - Wookiee Prisoner , Detention Block Ambush.wav

Peak level 99.6 %
Extraction speed 5.7 X
Track quality 99.9 %
Test CRC F343A2E1
Copy CRC F343A2E1
Accurately ripped (confidence 174) [55126279] (AR v2)
Copy OK

Track 6

Filename F:\torrent\Star Wars_The Ultimate Soundtrack Collection__John Williams 11 CD\CD 6 Episode IV - A New Hope-2\score\06. John Williams - Shootout in the Cell Bay , Dianoga.wav

Peak level 96.4 %
Extraction speed 5.9 X
Track quality 99.9 %
Test CRC 2DB2C822
Copy CRC 2DB2C822
Accurately ripped (confidence 174) [65C15FAE] (AR v2)
Copy OK

Track 7

Filename F:\torrent\Star Wars_The Ultimate Soundtrack Collection__John Williams 11 CD\CD 6 Episode IV - A New Hope-2\score\07. John Williams - The Trash Compactor.wav

Peak level 96.6 %
Extraction speed 7.2 X
Track quality 100.0 %
Test CRC 912FD286
Copy CRC 912FD286
Accurately ripped (confidence 174) [D4054519] (AR v2)
Copy OK

Track 8

Filename F:\torrent\Star Wars_The Ultimate Soundtrack Collection__John Williams 11 CD\CD 6 Episode IV - A New Hope-2\score\08. John Williams - The Tractor Beam , Chasm Crossfire.wav

Peak level 92.6 %
Extraction speed 7.1 X
Track quality 99.9 %
Test CRC 9C1AD242
Copy CRC 9C1AD242
Accurately ripped (confidence 173) [290144F8] (AR v2)
Copy OK

Track 9

Filename F:\torrent\Star Wars_The Ultimate Soundtrack Collection__John Williams 11 CD\CD 6 Episode IV - A New Hope-2\score\09. John Williams - Ben Kenobi's Death , TIE Fighter Attack.wav

Peak level 98.6 %
Extraction speed 6.8 X
Track quality 99.9 %
Test CRC 118B4710
Copy CRC 118B4710
Accurately ripped (confidence 173) [2FD178E5] (AR v2)
Copy OK

Track 10

Filename F:\torrent\Star Wars_The Ultimate Soundtrack Collection__John Williams 11 CD\CD 6 Episode IV - A New Hope-2\score\10. John Williams - The Battle of Yavin (Launch From the Fourth Moon , X‐Wings Draw Fire , Use the Force).wav

Peak level 97.0 %
Extraction speed 9.5 X
Track quality 100.0 %
Test CRC C1665852
Copy CRC C1665852
Accurately ripped (confidence 175) [08F1CB43] (AR v2)
Copy OK

Track 11

Filename F:\torrent\Star Wars_The Ultimate Soundtrack Collection__John Williams 11 CD\CD 6 Episode IV - A New Hope-2\score\11. John Williams - The Throne Room , End Title.wav

Peak level 94.6 %
Extraction speed 9.7 X
Track quality 100.0 %
Test CRC D60BA08F
Copy CRC D60BA08F
Accurately ripped (confidence 175) [06BFDF4C] (AR v2)
Copy OK

All tracks accurately ripped

No errors occurred

End of status report

–– CUETools DB Plugin V2.1.6

[CTDB TOCID: 2gNc5ZM8PczwSxvb4X36zwtSkgk-] found
Submit result: 2gNc5ZM8PczwSxvb4X36zwtSkgk- has been confirmed
Track | CTDB Status
1 | (686/688) Accurately ripped
2 | (687/688) Accurately ripped
3 | (687/688) Accurately ripped
4 | (687/688) Accurately ripped
5 | (687/688) Accurately ripped
6 | (687/688) Accurately ripped
7 | (686/688) Accurately ripped
8 | (687/688) Accurately ripped
9 | (686/688) Accurately ripped
10 | (686/688) Accurately ripped
11 | (687/688) Accurately ripped

==== Log checksum 777D922E80B63CAE61D05DA4C532D7CFCFAEDABDC64BD5E2DE362289622BA902 ====
Exact Audio Copy V1.3 from 2. September 2016

EAC extraction logfile from 15. June 2018, 17:04

John Williams / Star Wars Episode V: The Empire Strikes Back: The Ultimate Soundtrack Collection CD 7

Used drive : ATAPI iHBS312 2 Adapter: 1 ID: 1

Read mode : Secure
Utilize accurate stream : Yes
Defeat audio cache : Yes
Make use of C2 pointers : No

Read offset correction : 6
Overread into Lead-In and Lead-Out : No
Fill up missing offset samples with silence : Yes
Delete leading and trailing silent blocks : No
Null samples used in CRC calculations : Yes
Used interface : Native Win32 interface for Win NT & 2000
Gap handling : Appended to previous track

Used output format : User Defined Encoder
Selected bitrate : 1024 kBit/s
Quality : High
Add ID3 tag : No
Command line compressor : C:\Program Files\Exact Audio Copy\Flac\flac.exe
Additional command line options : -V -8 -T "Genre=%genre%" -T "Artist=%artist%" -T "Title=%title%" -T "Album=%albumtitle%" -T "Date=%year%" -T "Tracknumber=%tracknr%" -T "Comment=%comment%" %source%

TOC of the extracted CD

Track | Start | Length | Start sector | End sector
––––––––––––––––––––––––––––-
1 | 0:00.00 | 0:22.02 | 0 | 1651
2 | 0:22.02 | 8:08.51 | 1652 | 38302
3 | 8:30.53 | 8:48.22 | 38303 | 77924
4 | 17:19.00 | 4:24.15 | 77925 | 97739
5 | 21:43.15 | 14:48.00 | 97740 | 164339
6 | 36:31.15 | 4:15.64 | 164340 | 183528
7 | 40:47.04 | 4:52.61 | 183529 | 205489
8 | 45:39.65 | 2:35.30 | 205490 | 217144
9 | 48:15.20 | 3:26.22 | 217145 | 232616
10 | 51:41.42 | 5:43.53 | 232617 | 258394
11 | 57:25.20 | 5:16.59 | 258395 | 282153

Track 1

Filename F:\torrent\Star Wars_The Ultimate Soundtrack Collection__John Williams 11 CD\CD 7 Episode V The Empire Strikes Back-1\score\01 Alfred Newman - 20th Century Fox Fanfare (1954).wav

Pre-gap length 0:00:02.00

Peak level 71.8 %
Extraction speed 2.0 X
Track quality 100.0 %
Test CRC 16EE7173
Copy CRC 16EE7173
Accurately ripped (confidence 163) [F77E456A] (AR v2)
Copy OK

Track 2

Filename F:\torrent\Star Wars_The Ultimate Soundtrack Collection__John Williams 11 CD\CD 7 Episode V The Empire Strikes Back-1\score\02 John Williams - Main Title , The Ice Planet Hoth (Medley).wav

Peak level 98.2 %
Extraction speed 5.3 X
Track quality 99.9 %
Test CRC 800B0F30
Copy CRC 800B0F30
Accurately ripped (confidence 162) [B4D2ED88] (AR v2)
Copy OK

Track 3

Filename F:\torrent\Star Wars_The Ultimate Soundtrack Collection__John Williams 11 CD\CD 7 Episode V The Empire Strikes Back-1\score\03 John Williams - The Wampa's Lair , Vision of Obi‐Wan , Snowspeeders Take Flight (Medley).wav

Peak level 96.0 %
Extraction speed 7.0 X
Track quality 100.0 %
Test CRC F8C57B64
Copy CRC F8C57B64
Accurately ripped (confidence 162) [5BA88F8D] (AR v2)
Copy OK

Track 4

Filename F:\torrent\Star Wars_The Ultimate Soundtrack Collection__John Williams 11 CD\CD 7 Episode V The Empire Strikes Back-1\score\04 John Williams - The Imperial Probe , Aboard the Executor (Medley).wav

Pre-gap length 0:00:03.30

Peak level 97.3 %
Extraction speed 7.3 X
Track quality 100.0 %
Test CRC 3F9F2B69
Copy CRC 3F9F2B69
Accurately ripped (confidence 162) [44B59461] (AR v2)
Copy OK

Track 5

Filename F:\torrent\Star Wars_The Ultimate Soundtrack Collection__John Williams 11 CD\CD 7 Episode V The Empire Strikes Back-1\score\05 John Williams - The Battle of Hoth (Ion Cannon , Imperial Walkers , Beneath the AT‐AT , Escape in the Millennium Fa

Pre-gap length 0:00:01.34

Peak level 94.8 %
Extraction speed 8.9 X
Track quality 100.0 %
Test CRC 722EA1B3
Copy CRC 722EA1B3
Accurately ripped (confidence 161) [0BDB7919] (AR v2)
Copy OK

Track 6

Filename F:\torrent\Star Wars_The Ultimate Soundtrack Collection__John Williams 11 CD\CD 7 Episode V The Empire Strikes Back-1\score\06 John Williams - The Asteroid Field.wav

Peak level 98.0 %
Extraction speed 8.9 X
Track quality 100.0 %
Test CRC 54CCAF3F
Copy CRC 54CCAF3F
Accurately ripped (confidence 163) [61436931] (AR v2)
Copy OK

Track 7

Filename F:\torrent\Star Wars_The Ultimate Soundtrack Collection__John Williams 11 CD\CD 7 Episode V The Empire Strikes Back-1\score\07 John Williams - Arrival on Dagobah.wav

Peak level 94.4 %
Extraction speed 8.0 X
Track quality 99.9 %
Test CRC CA2D2EC9
Copy CRC CA2D2EC9
Accurately ripped (confidence 161) [2DD461D3] (AR v2)
Copy OK

Track 8

Filename F:\torrent\Star Wars_The Ultimate Soundtrack Collection__John Williams 11 CD\CD 7 Episode V The Empire Strikes Back-1\score\08 John Williams - Luke's Nocturnal Visitor.wav

Peak level 23.2 %
Extraction speed 8.7 X
Track quality 100.0 %
Test CRC AFDC3FA1
Copy CRC AFDC3FA1
Accurately ripped (confidence 161) [DBFF3CAF] (AR v2)
Copy OK

Track 9

Filename F:\torrent\Star Wars_The Ultimate Soundtrack Collection__John Williams 11 CD\CD 7 Episode V The Empire Strikes Back-1\score\09 John Williams - Han Solo and the Princess.wav

Pre-gap length 0:00:01.26

Peak level 91.5 %
Extraction speed 9.4 X
Track quality 100.0 %
Test CRC FC89556F
Copy CRC FC89556F
Accurately ripped (confidence 162) [328D3CA6] (AR v2)
Copy OK

Track 10

Filename F:\torrent\Star Wars_The Ultimate Soundtrack Collection__John Williams 11 CD\CD 7 Episode V The Empire Strikes Back-1\score\10 John Williams - Jedi Master Revealed , Mynock Cave (Medley).wav

Peak level 94.0 %
Extraction speed 10.4 X
Track quality 100.0 %
Test CRC 7D3D56E1
Copy CRC 7D3D56E1
Accurately ripped (confidence 162) [8EA78510] (AR v2)
Copy OK

Track 11

Filename F:\torrent\Star Wars_The Ultimate Soundtrack Collection__John Williams 11 CD\CD 7 Episode V The Empire Strikes Back-1\score\11 John Williams - The Training of a Jedi Knight , The Magic Tree (Medley).wav

Peak level 93.2 %
Extraction speed 4.6 X
Track quality 99.7 %
Test CRC 02057C3E
Copy CRC 02057C3E
Accurately ripped (confidence 161) [6B27413A] (AR v2)
Copy OK

All tracks accurately ripped

No errors occurred

End of status report

–– CUETools DB Plugin V2.1.6

[CTDB TOCID: Vqag1MkDxqhbAh7cIBpgOULzo8U-] found
Submit result: Vqag1MkDxqhbAh7cIBpgOULzo8U- has been confirmed
Track | CTDB Status
1 | (626/626) Accurately ripped
2 | (625/626) Accurately ripped
3 | (625/626) Accurately ripped
4 | (625/626) Accurately ripped
5 | (625/626) Accurately ripped
6 | (625/626) Accurately ripped
7 | (625/626) Accurately ripped
8 | (625/626) Accurately ripped
9 | (625/626) Accurately ripped
10 | (624/626) Accurately ripped
11 | (621/626) Accurately ripped

==== Log checksum 7332A94A1883FCF62BB4A71BD4555563FFE75203C7AACB0FEE9DBF45F182DAB2 ====
Exact Audio Copy V1.3 from 2. September 2016

EAC extraction logfile from 15. June 2018, 17:44

John Williams / Star Wars Episode V: The Empire Strikes Back: The Ultimate Soundtrack Collection CD 8

Used drive : ATAPI iHBS312 2 Adapter: 1 ID: 1

Read mode : Secure
Utilize accurate stream : Yes
Defeat audio cache : Yes
Make use of C2 pointers : No

Read offset correction : 6
Overread into Lead-In and Lead-Out : No
Fill up missing offset samples with silence : Yes
Delete leading and trailing silent blocks : No
Null samples used in CRC calculations : Yes
Used interface : Native Win32 interface for Win NT & 2000
Gap handling : Appended to previous track

Used output format : User Defined Encoder
Selected bitrate : 1024 kBit/s
Quality : High
Add ID3 tag : No
Command line compressor : C:\Program Files\Exact Audio Copy\Flac\flac.exe
Additional command line options : -V -8 -T "Genre=%genre%" -T "Artist=%artist%" -T "Title=%title%" -T "Album=%albumtitle%" -T "Date=%year%" -T "Tracknumber=%tracknr%" -T "Comment=%comment%" %source%

TOC of the extracted CD

Track | Start | Length | Start sector | End sector
––––––––––––––––––––––––––––-
1 | 0:00.00 | 3:02.73 | 0 | 13722
2 | 3:02.73 | 3:29.74 | 13723 | 29471
3 | 6:32.72 | 3:04.02 | 29472 | 43273
4 | 9:36.74 | 4:02.28 | 43274 | 61451
5 | 13:39.27 | 6:03.35 | 61452 | 88711
6 | 19:42.62 | 3:53.31 | 88712 | 106217
7 | 23:36.18 | 3:46.00 | 106218 | 123167
8 | 27:22.18 | 2:36.46 | 123168 | 134913
9 | 29:58.64 | 11:50.22 | 134914 | 188185
10 | 41:49.11 | 4:17.66 | 188186 | 207526
11 | 46:07.02 | 9:08.26 | 207527 | 248652
12 | 55:15.28 | 6:27.69 | 248653 | 277746

Track 1

Filename F:\torrent\Star Wars_The Ultimate Soundtrack Collection__John Williams 11 CD\CD 8 Episode V The Empire Strikes Back-2\score\01. John Williams - The Imperial March (Darth Vader's Theme).wav

Pre-gap length 0:00:02.00

Peak level 94.7 %
Extraction speed 4.8 X
Track quality 100.0 %
Test CRC 94F58118
Copy CRC 94F58118
Accurately ripped (confidence 169) [283877FE] (AR v2)
Copy OK

Track 2

Filename F:\torrent\Star Wars_The Ultimate Soundtrack Collection__John Williams 11 CD\CD 8 Episode V The Empire Strikes Back-2\score\02. John Williams - Yoda's Theme.wav

Peak level 46.0 %
Extraction speed 5.4 X
Track quality 100.0 %
Test CRC D9FA9822
Copy CRC D9FA9822
Accurately ripped (confidence 169) [F35DBF50] (AR v2)
Copy OK

Track 3

Filename F:\torrent\Star Wars_The Ultimate Soundtrack Collection__John Williams 11 CD\CD 8 Episode V The Empire Strikes Back-2\score\03. John Williams - Attacking a Star Destroyer.wav

Peak level 96.5 %
Extraction speed 5.7 X
Track quality 100.0 %
Test CRC C4E235E5
Copy CRC C4E235E5
Accurately ripped (confidence 169) [2F52EAF0] (AR v2)
Copy OK

Track 4

Filename F:\torrent\Star Wars_The Ultimate Soundtrack Collection__John Williams 11 CD\CD 8 Episode V The Empire Strikes Back-2\score\04. John Williams - Yoda and the Force.wav

Peak level 89.2 %
Extraction speed 5.3 X
Track quality 99.9 %
Test CRC D9D2E9F8
Copy CRC D9D2E9F8
Accurately ripped (confidence 169) [A2F814EC] (AR v2)
Copy OK

Track 5

Filename F:\torrent\Star Wars_The Ultimate Soundtrack Collection__John Williams 11 CD\CD 8 Episode V The Empire Strikes Back-2\score\05. John Williams - Imperial Starfleet Deployed , City in the Clouds (Medley).wav

Peak level 96.2 %
Extraction speed 7.2 X
Track quality 100.0 %
Test CRC 3B743AA8
Copy CRC 3B743AA8
Accurately ripped (confidence 168) [504E17B4] (AR v2)
Copy OK

Track 6

Filename F:\torrent\Star Wars_The Ultimate Soundtrack Collection__John Williams 11 CD\CD 8 Episode V The Empire Strikes Back-2\score\06. John Williams - Lando's Palace.wav

Peak level 96.9 %
Extraction speed 7.3 X
Track quality 100.0 %
Test CRC 0BA677B9
Copy CRC 0BA677B9
Accurately ripped (confidence 169) [3FA4747A] (AR v2)
Copy OK

Track 7

Filename F:\torrent\Star Wars_The Ultimate Soundtrack Collection__John Williams 11 CD\CD 8 Episode V The Empire Strikes Back-2\score\07. John Williams - Betrayal at Bespin.wav

Peak level 100.0 %
Extraction speed 7.7 X
Track quality 100.0 %
Test CRC 1DFC3A4B
Copy CRC 1DFC3A4B
Accurately ripped (confidence 168) [DDD6CAEB] (AR v2)
Copy OK

Track 8

Filename F:\torrent\Star Wars_The Ultimate Soundtrack Collection__John Williams 11 CD\CD 8 Episode V The Empire Strikes Back-2\score\08. John Williams - Deal With Dark Lord.wav

Peak level 78.3 %
Extraction speed 7.5 X
Track quality 100.0 %
Test CRC 41492398
Copy CRC 41492398
Accurately ripped (confidence 168) [0140ADB9] (AR v2)
Copy OK

Track 9

Filename F:\torrent\Star Wars_The Ultimate Soundtrack Collection__John Williams 11 CD\CD 8 Episode V The Empire Strikes Back-2\score\09. John Williams - Carbon Freeze , Darth Vader's Trap , Departure of Boba Fett (Medley).wav

Peak level 96.9 %
Extraction speed 9.5 X
Track quality 100.0 %
Test CRC E9E6975B
Copy CRC E9E6975B
Accurately ripped (confidence 169) [481BBF97] (AR v2)
Copy OK

Track 10

Filename F:\torrent\Star Wars_The Ultimate Soundtrack Collection__John Williams 11 CD\CD 8 Episode V The Empire Strikes Back-2\score\10. John Williams - The Clash of Lightsabers.wav

Peak level 94.4 %
Extraction speed 9.4 X
Track quality 100.0 %
Test CRC 4076AB1F
Copy CRC 4076AB1F
Accurately ripped (confidence 167) [932D7DCB] (AR v2)
Copy OK

Track 11

Filename F:\torrent\Star Wars_The Ultimate Soundtrack Collection__John Williams 11 CD\CD 8 Episode V The Empire Strikes Back-2\score\11. John Williams - Rescue From Cloud City , Hyperspace (Medley).wav

Peak level 97.5 %
Extraction speed 10.5 X
Track quality 100.0 %
Test CRC 7165F5BE
Copy CRC 7165F5BE
Accurately ripped (confidence 169) [DB11F314] (AR v2)
Copy OK

Track 12

Filename F:\torrent\Star Wars_The Ultimate Soundtrack Collection__John Williams 11 CD\CD 8 Episode V The Empire Strikes Back-2\score\12. John Williams - The Rebel Fleet , End Title (Medley).wav

Peak level 97.6 %
Extraction speed 10.7 X
Track quality 100.0 %
Test CRC 1B28885C
Copy CRC 1B28885C
Accurately ripped (confidence 169) [15009093] (AR v2)
Copy OK

All tracks accurately ripped

No errors occurred

End of status report

–– CUETools DB Plugin V2.1.6

[CTDB TOCID: 5cLKDyh4csu2Lr3dOS5IyvgC6ig-] found
Submit result: 5cLKDyh4csu2Lr3dOS5IyvgC6ig- has been confirmed
Track | CTDB Status
1 | (642/643) Accurately ripped
2 | (643/643) Accurately ripped
3 | (643/643) Accurately ripped
4 | (643/643) Accurately ripped
5 | (642/643) Accurately ripped
6 | (641/643) Accurately ripped
7 | (643/643) Accurately ripped
8 | (642/643) Accurately ripped
9 | (640/643) Accurately ripped
10 | (641/643) Accurately ripped
11 | (641/643) Accurately ripped
12 | (641/643) Accurately ripped

==== Log checksum 6F2791B38DEA3EF10019DEBA2663BCA8B30ABD00D2895A0B31337A6C4FEA29F6 ====
Exact Audio Copy V1.3 from 2. September 2016

EAC extraction logfile from 15. June 2018, 18:32

John Williams / Star Wars Episode VI: Return of the Jedi: The Ultimate Soundtrack Collection CD 9

Used drive : ATAPI iHBS312 2 Adapter: 1 ID: 1

Read mode : Secure
Utilize accurate stream : Yes
Defeat audio cache : Yes
Make use of C2 pointers : No

Read offset correction : 6
Overread into Lead-In and Lead-Out : No
Fill up missing offset samples with silence : Yes
Delete leading and trailing silent blocks : No
Null samples used in CRC calculations : Yes
Used interface : Native Win32 interface for Win NT & 2000
Gap handling : Appended to previous track

Used output format : User Defined Encoder
Selected bitrate : 1024 kBit/s
Quality : High
Add ID3 tag : No
Command line compressor : C:\Program Files\Exact Audio Copy\Flac\flac.exe
Additional command line options : -V -8 -T "Genre=%genre%" -T "Artist=%artist%" -T "Title=%title%" -T "Album=%albumtitle%" -T "Date=%year%" -T "Tracknumber=%tracknr%" -T "Comment=%comment%" %source%

TOC of the extracted CD

Track | Start | Length | Start sector | End sector
––––––––––––––––––––––––––––-
1 | 0:00.00 | 0:22.35 | 0 | 1684
2 | 0:22.35 | 9:17.00 | 1685 | 43459
3 | 9:39.35 | 1:17.27 | 43460 | 49261
4 | 10:56.62 | 2:50.30 | 49262 | 62041
5 | 13:47.17 | 4:01.25 | 62042 | 80141
6 | 17:48.42 | 8:48.40 | 80142 | 119781
7 | 26:37.07 | 6:02.23 | 119782 | 146954
8 | 32:39.30 | 10:57.30 | 146955 | 196259
9 | 43:36.60 | 2:10.65 | 196260 | 206074
10 | 45:47.50 | 4:06.56 | 206075 | 224580
11 | 49:54.31 | 9:38.09 | 224581 | 267939
12 | 59:32.40 | 2:44.40 | 267940 | 280279
13 | 62:17.05 | 3:03.40 | 280280 | 294044
14 | 65:20.45 | 2:49.72 | 294045 | 306791
15 | 68:10.42 | 5:06.09 | 306792 | 329750

Track 1

Filename F:\torrent\Star Wars_The Ultimate Soundtrack Collection__John Williams 11 CD\CD 9 Episode VI Return of the Jedi-1\score\01 Alfred Newman - 20th Century Fox Fanfare (1954).wav

Pre-gap length 0:00:02.00

Peak level 65.5 %
Extraction speed 2.2 X
Track quality 100.0 %
Test CRC 4CEB152A
Copy CRC 4CEB152A
Accurately ripped (confidence 159) [9058FBF8] (AR v2)
Copy OK

Track 2

Filename F:\torrent\Star Wars_The Ultimate Soundtrack Collection__John Williams 11 CD\CD 9 Episode VI Return of the Jedi-1\score\02 John Williams - Main Title , Approaching the Death Star , Tatooine Rendezvous (Medley).wav

Peak level 85.5 %
Extraction speed 6.3 X
Track quality 100.0 %
Test CRC DBDFC9DA
Copy CRC DBDFC9DA
Accurately ripped (confidence 159) [F0C6F99D] (AR v2)
Copy OK

Track 3

Filename F:\torrent\Star Wars_The Ultimate Soundtrack Collection__John Williams 11 CD\CD 9 Episode VI Return of the Jedi-1\score\03 John Williams - The Droids Are Captured.wav

Peak level 81.2 %
Extraction speed 3.4 X
Track quality 99.8 %
Test CRC 23258B2C
Copy CRC 23258B2C
Accurately ripped (confidence 159) [B319BA42] (AR v2)
Copy OK

Track 4

Filename F:\torrent\Star Wars_The Ultimate Soundtrack Collection__John Williams 11 CD\CD 9 Episode VI Return of the Jedi-1\score\04 John Williams - Bounty for a Wookiee.wav

Peak level 82.5 %
Extraction speed 6.3 X
Track quality 100.0 %
Test CRC 201CD676
Copy CRC 201CD676
Accurately ripped (confidence 160) [92301924] (AR v2)
Copy OK

Track 5

Filename F:\torrent\Star Wars_The Ultimate Soundtrack Collection__John Williams 11 CD\CD 9 Episode VI Return of the Jedi-1\score\05 John Williams - Han Solo Returns.wav

Peak level 80.9 %
Extraction speed 5.9 X
Track quality 99.9 %
Test CRC 79BBB909
Copy CRC 79BBB909
Accurately ripped (confidence 160) [72FA7214] (AR v2)
Copy OK

Track 6

Filename F:\torrent\Star Wars_The Ultimate Soundtrack Collection__John Williams 11 CD\CD 9 Episode VI Return of the Jedi-1\score\06 John Williams - Luke Confronts Jabba , Den of the Rancor , Sarlacc Sentence (Medley).wav

Peak level 83.6 %
Extraction speed 7.5 X
Track quality 99.9 %
Test CRC 9C2394F6
Copy CRC 9C2394F6
Accurately ripped (confidence 160) [6AE94DD7] (AR v2)
Copy OK

Track 7

Filename F:\torrent\Star Wars_The Ultimate Soundtrack Collection__John Williams 11 CD\CD 9 Episode VI Return of the Jedi-1\score\07 John Williams - The Pit of Carkoon , Sail Barge Assault (Medley).wav

Peak level 85.9 %
Extraction speed 8.7 X
Track quality 100.0 %
Test CRC 98AA022E
Copy CRC 98AA022E
Accurately ripped (confidence 158) [1C482798] (AR v2)
Copy OK

Track 8

Filename F:\torrent\Star Wars_The Ultimate Soundtrack Collection__John Williams 11 CD\CD 9 Episode VI Return of the Jedi-1\score\08 John Williams - The Emperor Arrives , The Death of Yoda , Obi‐Wan's Revelation (Medley).wav

Peak level 86.4 %
Extraction speed 9.8 X
Track quality 100.0 %
Test CRC E09FC3AD
Copy CRC E09FC3AD
Accurately ripped (confidence 161) [A38D9813] (AR v2)
Copy OK

Track 9

Filename F:\torrent\Star Wars_The Ultimate Soundtrack Collection__John Williams 11 CD\CD 9 Episode VI Return of the Jedi-1\score\09 John Williams - Alliance Assembly.wav

Peak level 77.4 %
Extraction speed 8.4 X
Track quality 100.0 %
Test CRC D3CE7C18
Copy CRC D3CE7C18
Accurately ripped (confidence 159) [20EE0037] (AR v2)
Copy OK

Track 10

Filename F:\torrent\Star Wars_The Ultimate Soundtrack Collection__John Williams 11 CD\CD 9 Episode VI Return of the Jedi-1\score\10 John Williams - Shuttle Tydirium Approaches Endor.wav

Peak level 84.3 %
Extraction speed 9.7 X
Track quality 100.0 %
Test CRC 80386CF2
Copy CRC 80386CF2
Accurately ripped (confidence 159) [A6620BD8] (AR v2)
Copy OK

Track 11

Filename F:\torrent\Star Wars_The Ultimate Soundtrack Collection__John Williams 11 CD\CD 9 Episode VI Return of the Jedi-1\score\11 John Williams - Speeder Bike Chase , Land of the Ewoks (Medley).wav

Peak level 85.7 %
Extraction speed 11.0 X
Track quality 100.0 %
Test CRC 235D0C9A
Copy CRC 235D0C9A
Accurately ripped (confidence 159) [D2F5AB8B] (AR v2)
Copy OK

Track 12

Filename F:\torrent\Star Wars_The Ultimate Soundtrack Collection__John Williams 11 CD\CD 9 Episode VI Return of the Jedi-1\score\12 John Williams - The Levitation , Threepio's Bedtime Story (Medley).wav

Peak level 53.5 %
Extraction speed 9.9 X
Track quality 100.0 %
Test CRC F790D5D6
Copy CRC F790D5D6
Accurately ripped (confidence 159) [0411AA36] (AR v2)
Copy OK

Track 13

Filename F:\torrent\Star Wars_The Ultimate Soundtrack Collection__John Williams 11 CD\CD 9 Episode VI Return of the Jedi-1\score\13 John Williams - Jabba's Baroque Recital.wav

Peak level 41.8 %
Extraction speed 10.3 X
Track quality 100.0 %
Test CRC F5458CC2
Copy CRC F5458CC2
Accurately ripped (confidence 157) [BADB3B62] (AR v2)
Copy OK

Track 14

Filename F:\torrent\Star Wars_The Ultimate Soundtrack Collection__John Williams 11 CD\CD 9 Episode VI Return of the Jedi-1\score\14 John Williams - Jedi Rocks.wav

Peak level 88.6 %
Extraction speed 8.0 X
Track quality 99.9 %
Test CRC F3C097B2
Copy CRC F3C097B2
Accurately ripped (confidence 156) [EE98FE79] (AR v2)
Copy OK

Track 15

Filename F:\torrent\Star Wars_The Ultimate Soundtrack Collection__John Williams 11 CD\CD 9 Episode VI Return of the Jedi-1\score\15 John Williams - Sail Barge Assault (alternate).wav

Peak level 84.7 %
Extraction speed 9.7 X
Track quality 99.9 %
Test CRC 0CCA82C3
Copy CRC 0CCA82C3
Accurately ripped (confidence 157) [1FD791A2] (AR v2)
Copy OK

All tracks accurately ripped

No errors occurred

End of status report

–– CUETools DB Plugin V2.1.6

[CTDB TOCID: CdpkebLTTlTrGILchYHls8iAYcI-] found
Submit result: CdpkebLTTlTrGILchYHls8iAYcI- has been confirmed
Track | CTDB Status
1 | (547/548) Accurately ripped
2 | (546/548) Accurately ripped
3 | (547/548) Accurately ripped
4 | (547/548) Accurately ripped
5 | (547/548) Accurately ripped
6 | (547/548) Accurately ripped
7 | (547/548) Accurately ripped
8 | (546/548) Accurately ripped
9 | (546/548) Accurately ripped
10 | (546/548) Accurately ripped
11 | (544/548) Accurately ripped
12 | (543/548) Accurately ripped
13 | (542/548) Accurately ripped
14 | (543/548) Accurately ripped, or (4/548) differs in 40 samples @00:41:29
15 | (543/548) Accurately ripped

==== Log checksum 77037D9ADA361F71EAA8B99B63E2410C212833347E11B744011DB51107D1C8BF ====
Exact Audio Copy V1.3 from 2. September 2016

EAC extraction logfile from 15. June 2018, 19:02

John Williams / Star Wars Episode VI: Return of the Jedi: The Ultimate Soundtrack Collection CD 10

Used drive : ATAPI iHBS312 2 Adapter: 1 ID: 1

Read mode : Secure
Utilize accurate stream : Yes
Defeat audio cache : Yes
Make use of C2 pointers : No

Read offset correction : 6
Overread into Lead-In and Lead-Out : No
Fill up missing offset samples with silence : Yes
Delete leading and trailing silent blocks : No
Null samples used in CRC calculations : Yes
Used interface : Native Win32 interface for Win NT & 2000
Gap handling : Appended to previous track

Used output format : User Defined Encoder
Selected bitrate : 1024 kBit/s
Quality : High
Add ID3 tag : No
Command line compressor : C:\Program Files\Exact Audio Copy\Flac\flac.exe
Additional command line options : -V -8 -T "Genre=%genre%" -T "Artist=%artist%" -T "Title=%title%" -T "Album=%albumtitle%" -T "Date=%year%" -T "Tracknumber=%tracknr%" -T "Comment=%comment%" %source%

TOC of the extracted CD

Track | Start | Length | Start sector | End sector
––––––––––––––––––––––––––––-
1 | 0:00.00 | 3:27.59 | 0 | 15583
2 | 3:27.59 | 4:45.60 | 15584 | 37018
3 | 8:13.44 | 10:39.73 | 37019 | 85016
4 | 18:53.42 | 3:25.40 | 85017 | 100431
5 | 22:19.07 | 11:50.37 | 100432 | 153718
6 | 34:09.44 | 4:31.28 | 153719 | 174071
7 | 38:40.72 | 10:02.32 | 174072 | 219253
8 | 48:43.29 | 6:03.25 | 219254 | 246503
9 | 54:46.54 | 3:21.20 | 246504 | 261598
10 | 58:07.74 | 8:33.35 | 261599 | 300108
11 | 66:41.34 | 4:00.03 | 300109 | 318111
12 | 70:41.37 | 4:06.01 | 318112 | 336562

Track 1

Filename F:\torrent\Star Wars_The Ultimate Soundtrack Collection__John Williams 11 CD\CD 10 Episode VI Return of the Jedi-2\score\01. John Williams - Parade of the Ewoks.wav

Pre-gap length 0:00:02.00

Peak level 91.1 %
Extraction speed 4.3 X
Track quality 99.9 %
Test CRC ACECC594
Copy CRC ACECC594
Accurately ripped (confidence 162) [5D69A5DE] (AR v2)
Copy OK

Track 2

Filename F:\torrent\Star Wars_The Ultimate Soundtrack Collection__John Williams 11 CD\CD 10 Episode VI Return of the Jedi-2\score\02. John Williams - Luke and Leia.wav

Peak level 97.2 %
Extraction speed 6.2 X
Track quality 100.0 %
Test CRC FBEEED68
Copy CRC FBEEED68
Accurately ripped (confidence 162) [1AB6024A] (AR v2)
Copy OK

Track 3

Filename F:\torrent\Star Wars_The Ultimate Soundtrack Collection__John Williams 11 CD\CD 10 Episode VI Return of the Jedi-2\score\03. John Williams - Brother and Sister , Father and Son , The Fleet Enters Hyperspace , Heroic Ewok (Medley).wav

Peak level 97.8 %
Extraction speed 7.5 X
Track quality 100.0 %
Test CRC 700DFF7D
Copy CRC 700DFF7D
Accurately ripped (confidence 162) [0FDA98DE] (AR v2)
Copy OK

Track 4

Filename F:\torrent\Star Wars_The Ultimate Soundtrack Collection__John Williams 11 CD\CD 10 Episode VI Return of the Jedi-2\score\04. John Williams - Emperor's Throne Room.wav

Peak level 92.0 %
Extraction speed 6.1 X
Track quality 99.9 %
Test CRC 910808FC
Copy CRC 910808FC
Accurately ripped (confidence 163) [C290C606] (AR v2)
Copy OK

Track 5

Filename F:\torrent\Star Wars_The Ultimate Soundtrack Collection__John Williams 11 CD\CD 10 Episode VI Return of the Jedi-2\score\05. John Williams - The Battle of Endor I (Into the Trap , Forest Ambush , Scout Walker Scramble , Prime Weapon Fires) (M

Peak level 97.6 %
Extraction speed 8.5 X
Track quality 99.9 %
Test CRC 8C73D83D
Copy CRC 8C73D83D
Accurately ripped (confidence 161) [8604F349] (AR v2)
Copy OK

Track 6

Filename F:\torrent\Star Wars_The Ultimate Soundtrack Collection__John Williams 11 CD\CD 10 Episode VI Return of the Jedi-2\score\06. John Williams - The Lightsaber , The Ewok Battle (Medley).wav

Peak level 97.3 %
Extraction speed 9.1 X
Track quality 100.0 %
Test CRC E22BE91D
Copy CRC E22BE91D
Accurately ripped (confidence 163) [EE1A1727] (AR v2)
Copy OK

Track 7

Filename F:\torrent\Star Wars_The Ultimate Soundtrack Collection__John Williams 11 CD\CD 10 Episode VI Return of the Jedi-2\score\07. John Williams - The Battle of Endor II (Leia Is Wounded — The Duel Begins , Overtaking the Bunker , The Dark Side Beck

Peak level 97.3 %
Extraction speed 10.3 X
Track quality 100.0 %
Test CRC 395123DF
Copy CRC 395123DF
Accurately ripped (confidence 162) [50239CA8] (AR v2)
Copy OK

Track 8

Filename F:\torrent\Star Wars_The Ultimate Soundtrack Collection__John Williams 11 CD\CD 10 Episode VI Return of the Jedi-2\score\08. John Williams - The Battle of Endor III (Superstructure Chase , Darth Vader's Death , The Main Reactor) (Medley).wav

Peak level 97.7 %
Extraction speed 10.5 X
Track quality 100.0 %
Test CRC 7B8562DB
Copy CRC 7B8562DB
Accurately ripped (confidence 163) [4A32C9B9] (AR v2)
Copy OK

Track 9

Filename F:\torrent\Star Wars_The Ultimate Soundtrack Collection__John Williams 11 CD\CD 10 Episode VI Return of the Jedi-2\score\09. John Williams - Leia's News , Light of the Force (Medley).wav

Peak level 95.2 %
Extraction speed 10.1 X
Track quality 100.0 %
Test CRC B596CBD6
Copy CRC B596CBD6
Accurately ripped (confidence 162) [F456F517] (AR v2)
Copy OK

Track 10

Filename F:\torrent\Star Wars_The Ultimate Soundtrack Collection__John Williams 11 CD\CD 10 Episode VI Return of the Jedi-2\score\10. John Williams - Victory Celebration , End Title (Medley).wav

Peak level 99.2 %
Extraction speed 11.5 X
Track quality 100.0 %
Test CRC 22E74325
Copy CRC 22E74325
Accurately ripped (confidence 160) [296E57B8] (AR v2)
Copy OK

Track 11

Filename F:\torrent\Star Wars_The Ultimate Soundtrack Collection__John Williams 11 CD\CD 10 Episode VI Return of the Jedi-2\score\11. John Williams - Ewok Feast , Part of the Tribe (Medley).wav

Peak level 96.2 %
Extraction speed 9.1 X
Track quality 99.9 %
Test CRC 5392B3BD
Copy CRC 5392B3BD
Accurately ripped (confidence 161) [466D1AA4] (AR v2)
Copy OK

Track 12

Filename F:\torrent\Star Wars_The Ultimate Soundtrack Collection__John Williams 11 CD\CD 10 Episode VI Return of the Jedi-2\score\12. John Williams - The Forest Battle (concert suite).wav

Peak level 94.7 %
Extraction speed 6.4 X
Track quality 99.8 %
Test CRC 26FAD291
Copy CRC 26FAD291
Accurately ripped (confidence 159) [F10A6CE0] (AR v2)
Copy OK

All tracks accurately ripped

No errors occurred

End of status report

–– CUETools DB Plugin V2.1.6

[CTDB TOCID: RwVQmdcFRtWRaz8mUePVUPd2JII-] found
Submit result: RwVQmdcFRtWRaz8mUePVUPd2JII- has been confirmed
Track | CTDB Status
1 | (536/536) Accurately ripped
2 | (536/536) Accurately ripped
3 | (536/536) Accurately ripped
4 | (536/536) Accurately ripped
5 | (534/536) Accurately ripped
6 | (536/536) Accurately ripped
7 | (536/536) Accurately ripped
8 | (536/536) Accurately ripped
9 | (536/536) Accurately ripped
10 | (535/536) Accurately ripped
11 | (535/536) Accurately ripped
12 | (530/536) Accurately ripped

==== Log checksum 629824A86DB0AEB1C6369DCCD73CA3D52C13FFDBE463E879D661CA7DBCE6F287 ====
Exact Audio Copy V1.3 from 2. September 2016

EAC extraction logfile from 15. June 2018, 19:46

John Williams & Harrison Ford / Star Wars Interviews: The Ultimate Soundtrack Collection (Bonus CD 11)

Used drive : ATAPI iHBS312 2 Adapter: 1 ID: 1

Read mode : Secure
Utilize accurate stream : Yes
Defeat audio cache : Yes
Make use of C2 pointers : No

Read offset correction : 6
Overread into Lead-In and Lead-Out : No
Fill up missing offset samples with silence : Yes
Delete leading and trailing silent blocks : No
Null samples used in CRC calculations : Yes
Used interface : Native Win32 interface for Win NT & 2000
Gap handling : Appended to previous track

Used output format : User Defined Encoder
Selected bitrate : 1024 kBit/s
Quality : High
Add ID3 tag : No
Command line compressor : C:\Program Files\Exact Audio Copy\Flac\flac.exe
Additional command line options : -V -8 -T "Genre=%genre%" -T "Artist=%artist%" -T "Title=%title%" -T "Album=%albumtitle%" -T "Date=%year%" -T "Tracknumber=%tracknr%" -T "Comment=%comment%" %source%

TOC of the extracted CD

Track | Start | Length | Start sector | End sector
––––––––––––––––––––––––––––-
1 | 0:00.00 | 9:18.70 | 0 | 41919
2 | 9:18.70 | 8:07.35 | 41920 | 78479
3 | 17:26.30 | 11:21.57 | 78480 | 129611
4 | 28:48.12 | 10:27.58 | 129612 | 176694
5 | 39:15.70 | 9:21.64 | 176695 | 218833

Track 1

Filename F:\torrent\Star Wars_The Ultimate Soundtrack Collection__John Williams 11 CD\CD 11 Bonus Disc Interviews with Harrison Ford and John Williams\interviews\01 John Williams - An Interview with John Williams - His Life As a Composer - Part 1.wav

Pre-gap length 0:00:02.00

Peak level 87.6 %
Extraction speed 5.8 X
Track quality 100.0 %
Test CRC 91877E8D
Copy CRC 91877E8D
Accurately ripped (confidence 12) [3DB2FDB1] (AR v2)
Copy OK

Track 2

Filename F:\torrent\Star Wars_The Ultimate Soundtrack Collection__John Williams 11 CD\CD 11 Bonus Disc Interviews with Harrison Ford and John Williams\interviews\02 John Williams - An Interview with John Williams - His Life As a Composer - Part 2.wav

Peak level 92.2 %
Extraction speed 7.0 X
Track quality 100.0 %
Test CRC 9090D8B4
Copy CRC 9090D8B4
Accurately ripped (confidence 12) [2CA519ED] (AR v2)
Copy OK

Track 3

Filename F:\torrent\Star Wars_The Ultimate Soundtrack Collection__John Williams 11 CD\CD 11 Bonus Disc Interviews with Harrison Ford and John Williams\interviews\03 John Williams - An Interview with John Williams - His Life As a Composer - Part 3.wav

Peak level 95.9 %
Extraction speed 8.2 X
Track quality 100.0 %
Test CRC FD146511
Copy CRC FD146511
Accurately ripped (confidence 12) [007CF525] (AR v2)
Copy OK

Track 4

Filename F:\torrent\Star Wars_The Ultimate Soundtrack Collection__John Williams 11 CD\CD 11 Bonus Disc Interviews with Harrison Ford and John Williams\interviews\04 Harrison Ford - An Interview with Harrison Ford - The Music of Star Wars - Part 4.wav

Pre-gap length 0:00:03.18

Peak level 99.0 %
Extraction speed 8.5 X
Track quality 99.9 %
Test CRC CB07F1A1
Copy CRC CB07F1A1
Accurately ripped (confidence 12) [F1DCC9C1] (AR v2)
Copy OK

Track 5

Filename F:\torrent\Star Wars_The Ultimate Soundtrack Collection__John Williams 11 CD\CD 11 Bonus Disc Interviews with Harrison Ford and John Williams\interviews\05 Harrison Ford - An Interview with Harrison Ford - The Music of Star Wars - Part 5.wav

Peak level 99.0 %
Extraction speed 10.0 X
Track quality 100.0 %
Test CRC 0E34D202
Copy CRC 0E34D202
Accurately ripped (confidence 12) [A703A17B] (AR v2)
Copy OK

All tracks accurately ripped

No errors occurred

End of status report

–– CUETools DB Plugin V2.1.6

[CTDB TOCID: JUKAyy6u3Czg5XDedhRfWvjUvDY-] found
Submit result: JUKAyy6u3Czg5XDedhRfWvjUvDY- has been confirmed
Track | CTDB Status
1 | (46/46) Accurately ripped
2 | (46/46) Accurately ripped
3 | (46/46) Accurately ripped
4 | (46/46) Accurately ripped
5 | (46/46) Accurately ripped

==== Log checksum 9225B9AB88180F3D1A3D4DC100FB180F12445D2C3FD6B280553396B918976E49 ====