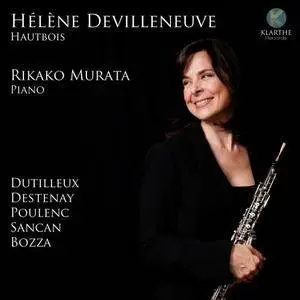 Hélène Devilleneuve & Rikako Murata - Musique Française pour hautbois (2017)
Classical | MP3 CBR 320 kbps | 01:00:26 | 139 MB
Label: Klarthe
The French oboist Hélène Devilleneuve, famous worldwide as soloist and also First Oboe solo of the Philharmonic Orchestra of Radio France since 1995, has selected some works from the French repertoire of which a good proportion comes out of the usual. Because if one gives often enough the Sonata de Poulenc, sometimes that of Dutilleux, we strictly never hear those of Eugene Bozza, Pierre Sancan and even less - which is not to say little - the Trio for Oboe , Clarinet and piano by Edouard Destenay. Bozza, however, was crowned with a First Grand Prix of Rome, and his style happily accepts all the influences of his time, from Stravinsky to Milhaud through jazz as well as, much further, the polyphonic rigor of Bach; Pierre Sancan, it is true better known as a great pianist and pedagogue, delivers here a delicious Sonata, with touches to the Debussy and some incursions modernist perhaps factious. As for Edouard Destenay (1850-1924), one does not know much of his life as a musician, especially since he made a career in the highest ranks of the French Army. Hélène Devilleneuve is accompanied on the piano by Rikako Murata, winner of the Maria Canals Competition in Barcelona.
TRACKLIST
01. Fantaisie pastorale, Op. 37: I. Lent
02. Fantaisie pastorale, Op. 37: II. Moderato
03. Fantaisie pastorale, Op. 37: III. Allegro ma non troppo
04. Sonatine pour hautbois et piano: I. Modéré
05. Sonatine pour hautbois et piano: II. Andante
06. Sonatine pour hautbois et piano: III. Presto
07. Sonate pour hautbois et piano, FP 185: I. Élégie
08. Sonate pour hautbois et piano, FP 185: II. Scherzo
09. Sonate pour hautbois et piano, FP 185: III. Déploration
10. Sonate pour hautbois et piano: I. Aria. Grave
11. Sonate pour hautbois et piano: II. Scherzo. Vif
12. Sonate pour hautbois et piano: III. Finale. Assez allant
13. Trio en Si Mineur pour hautbois, clarinette et piano, Op. 27: I. Allegro vivace
14. Trio en Si Mineur pour hautbois, clarinette et piano, Op. 27: II. Andante non troppo
15. Trio en Si Mineur pour hautbois, clarinette et piano, Op. 27: III. Presto