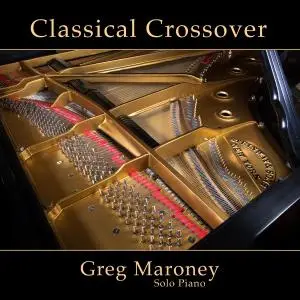 Greg Maroney - Classical Crossover (2019)
WEB FLAC (tracks) - 157 MB | Tracks: 9 | 43:08 min
Style: New Age, Instrumental, Piano, Contemporary Classical | Label: Greg Maroney Music
Contemporary instrumentalist Greg Maroney's solo piano compositions evoke wistful stories and images of the rural American countryside, in particular south central Pennsylvania, where he resides with his wife and many animals. His simple yet masterfully performed music spans emotions ranging from tranquil and relaxed to nostalgic, but is always representative of a life lived at peace with nature. The award-winning musician has released dozens of recordings since the 1990s, the majority of which are self-penned, including 2002's Sentinel and 2005's Wind Chimes. He has also released religious recordings, such as 2011's A Christmas Collection and 2016's Hymns: Healing Piano Solos.
Maroney began studying both classical and jazz piano at age five and later, in the early '70s, studied classical Indian music as well. The pianist performs throughout the Pennsylvania area – at local restaraunts, radio stations, weddings, private parties, even the governor's mansion – in addition to venues across the United States. His first album, Songs of the Water Rose, appeared in 1997. Since then, he has regularly released material, including Copper Hat (2001), Harmony Grove (2003), and The Garden Gate (2009). Holiday-themed A Christmas Collection appeared in 2011, as did The Spectrum of Love. Following additional solo piano works such as 2014's Coming Home, Maroney released The Light Within, an album of ambient mixes, in 2016. The year also saw the release of Hymns: Healing Piano Solos and the first volume of Quiet Piano Improvisations. Its sequel appeared in 2017, followed by Star Light, Star Bright. In 2018, Maroney released a series of albums of solo piano improvisations dedicated to each of the four seasons. Remembrances, a collaboration with Sherry Finzer, appeared near the end of the year. ~ Jason Birchmeier & Paul Simpson
Tracklist:
01. Stolen Moments
02. Love Lay Sleeping
03. Prelude
04. The Missing Piece
05. Dreaming
06. A Life of Blessings
07. Moonlight
08. A Sky Full of Stars
09. All of My Heart

FILE: 01. Stolen Moments.flac
Size: 16440435 Hash: 1A5448EFE2C75516FB32DB6D6B25C2B2 Accuracy: -m0
Conclusion: CDDA 43%
Signature: EC71B4D37FCAB89D70AB7462B110EB5C3D28C56D
FILE: 02. Love Lay Sleeping.flac
Size: 18868011 Hash: B5FE2E34623AD4304271B5B3AF0A9D56 Accuracy: -m0
Conclusion: MPEG 80%
Signature: 6B6EC73B1C9DBE5EF65595E36ECD8EF7B28A2BA7
FILE: 03. Prelude.flac
Size: 24418984 Hash: 1DA09C6FEA5C72AE9EC2740683765D6E Accuracy: -m0
Conclusion: CDDA 100%
Signature: BC7D0F5FFACD1BCED6851364C2E759221CED73EC
FILE: 04. The Missing Piece.flac
Size: 14144150 Hash: C7CEF6937841B887A3806DD8ACD13B23 Accuracy: -m0
Conclusion: CDDA 42%
Signature: C93721D3A23760BADF44724D42D627E85DDFA039
FILE: 05. Dreaming.flac
Size: 15675751 Hash: 4965D7C69BA7F1F5EA0B0DF17CFBFC5C Accuracy: -m0
Conclusion: CDDA 49%
Signature: 437EB1C7B160A34538B4227F1FDA7A8F419E780C
FILE: 06. A Life of Blessings.flac
Size: 17677864 Hash: 03CA9FA5DFE36AF8EDF928E58446F736 Accuracy: -m0
Conclusion: CDDA 54%
Signature: BB3DD732B2878287C90EB55C933AA9F0A43B1119
FILE: 07. Moonlight.flac
Size: 25688607 Hash: 908CDAED5748ABE5AF80EBDAA7984914 Accuracy: -m0
Conclusion: CDDA 100%
Signature: B6C7F08E4DB2051CD6C2E9B4B95266C284407462
FILE: 08. A Sky Full of Stars.flac
Size: 13890925 Hash: 8C123AC0451B841D4924289A8439C193 Accuracy: -m0
Conclusion: CDDA 49%
Signature: 9B5C402E8F6CE74943B074B0DA28F7AED6770674
FILE: 09. All of My Heart.flac
Size: 18385892 Hash: 9F1825363387303C8F69BAB287213E13 Accuracy: -m0
Conclusion: CDDA 100%
Signature: EA6E81E3B6CE91006828A0C6943F35C54460478B