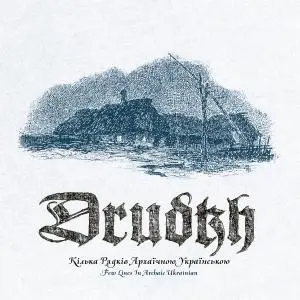 Drudkh - A Few Lines On Archaic Ukrainian (2019)
Ukraine | MP3 CBR 320 Kbps | 112 MB
Black Metal | Label : Season of Mist Underground Activists
'Few Lines in Archaic Ukrainian' collects the cold majesty of DRUDKH's 2015-2017 split album output into a single compendium. The set includes their tracks, six in total, from splits with HADES ALMIGHTY, GRIFT, and PAYSAGE D'HIVER and represents the first time many appear on a format outside of vinyl. 'Few Lines in Archaic Ukrainian' is yet another noteworthy marker in the journey of one of black metal's most crucial champions.
Tracklist:
1. Golden Horse
2. Fiery Serpent
3. His Twenty-Fourth Spring
4. Autumn in Sepia
5. All Shades of Silence
6. The Night Walks Towards Her Throne
Total playing time 55:53
Tracks 1 and 2 are taken from the 2015 split with Hades Almighty.
Tracks 3 and 4 are taken from the 2016 split with Grift.
Tracks 5 and 6 are taken from the 2017 split with Paysage d'Hiver.